Russian-American Relations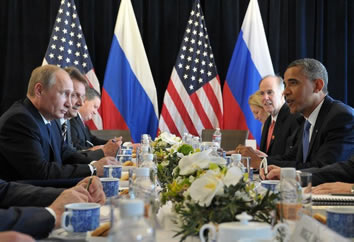 Since March, 2014 the U.S. Administration imposed a freeze on the activities of the Bilateral Presidential Commission, gradually introducing restrictive measures against Russian citizens and organizations.
Balancing on verge of the breaching of the NATO-Russia Founding Act of 1997 the United States put pressure on the NATO allies to support their military presence in Europe.
Russia adequately responds to those steps and stresses the need to follow the principles of equality, mutual respect and non-interference in the internal affairs of other nations. With that Russia continues to interact with the United States in areas where it meets Russian interests and goals to maintain international security.
We consistently push for settlement of problems in our bilateral agenda that were created by Washington even before the Ukrainian crisis. We demand from the U.S. law enforcement authorities to stop "the hunt" for Russian citizens in third countries. Special emphasis is made on protecting the rights of Russian adoptees who have been mistreated by their U.S. adoptive parents.
Despite difficulties in our relations we continue to implement dozens of Russian-American agreements. Among them: 2010 Treaty between the United States of America and the Russian Federation on Measures for the Further Reduction and Limitation of Strategic Offensive Arms, that is crucial for maintaining global strategic stability.
Contacts between the Heads of State have not ceased. For the past year Vladimir Putin and Barack Obama at the American request met on the sidelines of multilateral fora, including the UN General Assembly in New York on September 28, 2015. G20 Summit in Antalya on November 15, 2015, the UN Conference on Global Climate Change in Paris on November 30, 2015. In addition to that the Heads of State had three telephone conversations.
Minister of Foreign Affairs of Russia Sergey Lavrov and U.S. Secretary of State John Kerry remain highly active in their contacts as well. In 2015 they met about 20 times and had dozens of phone conversations. John Kerry traveled to Russia twice in the past year where at the initiative of the U.S. side he met with President Vladimir Putin.
In the field of interparliamentary cooperation in March, 2015 a delegation of Russian legislators visited Washington D.C. to take part in the annual meeting of the Standing Committee of Parliamentarians of the Arctic Region. In October, 2015 Konstantin I. Kosachev, Chair of the Federation Council Foreign Affairs Committee, visited New York and Washington D.C. to participate in the meeting of the U.S.-Russia Economic Council and hold a number of meetings on the Capitol Hill.
In August 2015 a delegation of U.S. Congress headed by chair of the U.S. House Foreign Affairs Subcommittee on Europe, Eurasia and Emerging Threats Dana Rohrabacher visited Saint-Petersburg. Meetings were held with government officials, representatives of businesses and scientific circles. In October, 2015 Chair of the U.S. House Subcommittee on CIA Eric Swalwell and congressman Dutch Ruppersberger visited Moscow.