Constitution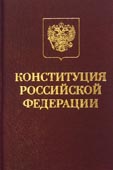 The Constitution of the Russian Federation was adopted on December 12, 1993.
The new constitution came into force on December 25, 1993, at the moment of its official publication.
The adoption of the 1993 Constitution marked the beginning of a new era in the history of Russian statehood.
The Constitution forms the country's legal foundation, proclaims the President of the Russian Federation the head of state and lays upon him the responsibility for defending the Constitution, human rights and civil liberties, safeguarding Russia's sovereignty, independence and territorial integrity, and ensuring the coordinated functioning and cooperation of the state bodies of power.