Vladimir Putin presented the Order of Friendship to Susan E. Lehrman, Founder and Chair of the Advisory Committee of the Carmel Institute of Russian Culture and History
November 4, 2016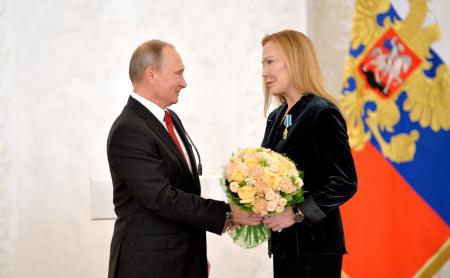 Vladimir Putin: "The educational programmes initiated in the United States by Susan Lehrman represent an important mission. They are especially important today, when our relations with the United States are being tested. This shows that both in Russia and the United States there are people who value the relations between us, respect and love both the culture of the United States and the culture of Russia. Of course, this brings people together, and gives hope for the full restoration of our relations for the sake of our peoples."
*****
President of Lehrman LLC Susan Lehrman (speaking in Russian):
Thank you very much for this honour.
(Speaking in English): In all my philanthropic endeavours, Fyodor Dostoyevsky's principle that "Beauty will save the world" has guided me.
The Carmel Institute of Russian Culture and History that I founded is based on his principle.
Only be appreciating the beauty of culture and by respecting each other's cultural roots and history can we establish stronger and more authentic bonds.
Real change must come from the heart, and I sincerely believe that the greatest way to reach the hearts and minds of people is through the beauty of cultural sharing and cultural dialogue.
Thank you from my heart, Mr President.