Sergey Lavrov's participation in a ministerial meeting on Syria - from regular briefing by Maria Zakharova
October 13, 2016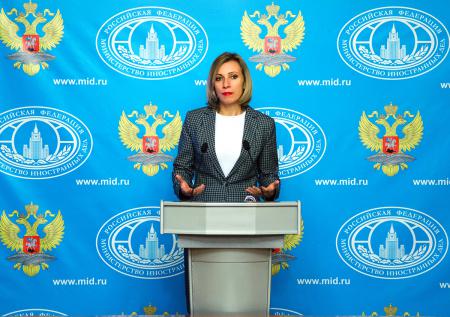 On October 15, a limited attendance ministerial meeting on Syria will take place in Lausanne. It will be attended by Foreign Minister Sergey Lavrov. It will be based on the corresponding agreements between Sergey Lavrov and US Secretary of State John Kerry. The heads of foreign policy agencies of the US and a number of influential states in the region also plan to attend. Considering that the agreement was reached with Mr Kerry, the US side is also expected to participate.
The main topic will be the prospect for a Syrian settlement with an emphasis on the need to resume the ceasefire regime based on the agreements reached between Russia and the US on September 9 in Geneva. To this end, it is necessary to ensure the separation of the "moderate" opposition from the militants of Jabhat Fateh al-Sham (previously known as Jabhat al-Nusra) and other groups affiliated with it, primarily in Aleppo. This is a key point for the normalisation of the situation with humanitarian access to those in need, taking into account the obstacles created by terrorists along aid convoy routes, and for the de-escalation of hostilities in Aleppo and Syria in general. As we stated previously, terrorists there use civilians as a human shield, and regularly and repeatedly stage military provocations.
To ensure the success of the Lausanne meeting, all the key players will need to assume certain obligations and, of course, duly work with the forces on the ground to ensure that all parties unconditionally adhere to the ceasefire terms.
If successful, the meeting will create effective prerequisites for the resumption of the internal political settlement process in Syria. There is a need and a necessity to proceed from this prerequisite. Of course, there is a growing realisation in the world and in the Middle East region of the need for an internal Syrian settlement, as well as its practical organisation along these lines. The effective eradication of the terrorist hotbed in Syria is directly related to the consolidation of the Syrian government's efforts and the efforts of all of Syria's constructive internal and external opposition forces advocating a sovereign, independent and reborn Syria. This is the kind of state that will ensure comfortable and safe living for all ethnic and religious groups of the population. This is our starting point. This, as you know, is our principled position.
Russia is open to close and effective cooperation with its international and regional partners in the interest of the speedy restoration of peace in Syria, the eradication of the hotbed of terrorism in that country and the facilitation of an end to the internal crisis based on existing international legal documents and the entire international legal foundation.
Source: Foreign Ministry of Russia