Remarks by Permanent Representative of the Russian Federation to the OSCE Alexander Lukashevich at the OSCE Permanent Council's meeting on the situation in Ukraine and the need to comply with the Minsk Agreements
April 22, 2016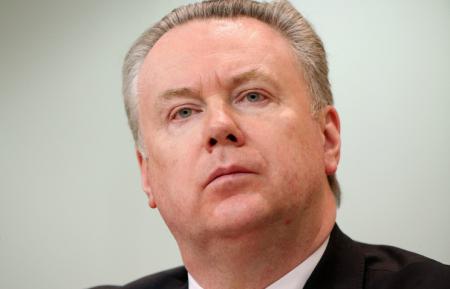 Mr Chairman,
We would like to reiterate that the key to a peace settlement in Ukraine through the implementation of the Minsk agreements is to establish a direct dialogue between Kiev and Donbass. In this regard, all parties interested in a peace settlement should provide all necessary assistance for this dialogue, which is going on in the respective subgroups of the Contact Group in Minsk.
The plan and sequence of steps to resolve the conflict have been defined in the Minsk Package of Measures. It requires, in particular, to formalise the special status of Donbass, introduce corresponding amendments into the Ukrainian Constitution, grant genuine amnesty, coordinate modalities for holding local elections, and ensure an all-for-all prisoner exchange. This process should not be artificially blocked.
Talks in the Contact Group have already produced positive results, such as security agreements: with regard to mine-clearing operations, the cessation of firing exercises and the resumption of the prisoner exchange.
We are also waiting for more productive and stimulating signals to the Ukrainian authorities from our European partners in the Normandy format, which continues to play an important role in facilitating a settlement in Ukraine.
We hope that Ukraine's new government will work in good faith to implement the Package of Measures, not the way this was done previously. We understand that there are no longer any grounds for citing differences between the Ukrainian president and prime minister.
Unfortunately, as we have often seen in Ukraine, changes that take place in Kiev do not immediately reach other parts of the country. In Donbass, far from declining, tensions have in fact escalated. We note a sharp increase in ceasefire violations and the use of heavy weapons.
At the same time it is useless to try to veil Ukrainian military operations with empty phrases about provocations on the part of the local militias or the aggressive tactics of the so-called separatists. Such phrases are worthless when we see Ukrainian security forces purposely occupying additional sections of the "neutral zone" along the line of contact and bringing their firing positions closer to militia-controlled territory. This is in fact a deliberate escalation of tension. A few days ago, the Ukrainian military moved another checkpoint three kilometres closer to the line of contact, at Berezovoye.
The shelling of militia-controlled population centres continues. Observers from the OSCE Special Monitoring Mission have reported casualties and the destruction of homes as a result of the indiscriminate use of weapons by Ukrainian military against Kominternovo (Donetsk Region) on April 14 and 17, Kalinovo (Lugansk Region) on April 14 and Prishib (Lugansk Region) on April 14.
Ukrainian armed forces are concentrating their weapons systems in the "security zone". Between April 4 and 18, the SMM spotted 45 Ukrainian large-calibre artillery systems, and 62 tanks and cannons with a calibre of less than 100 millimetres near the line of contact. In addition to prohibited weapons, according to the SMM, there are no less than 160 APCs and SAM systems of the Ukrainian armed forces in the "security zone". Checks at Ukrainian military depots on April 4-18 showed 411 pieces of military equipment missing.
Reports of Ukrainian military equipment in the Dnepropetrovsk and Zaporozhye regions arouse serious concern. With no SMM data available, we can only engage in guesswork as to how many Ukrainian tanks and artillery systems can be redeployed to the line of contact on short notice, within two to four hours. This situation is all the more unacceptable in a situation where the SMM reports daily on the situation across the entire militia-controlled territory, all the way down to the Ukraine-Russia border. In the past two weeks, monitors have visited border crossing points 21 times.
Regarding Ukrainian military tactics, they are quite crude: sustaining tensions to drag out the political negotiations process on election modalities, special status and amnesty, by enacting "a law banning the prosecution and punishment of persons with regard to the events in certain districts of the Donetsk and Lugansk regions of Ukraine." Incidentally, it is important not only for Donbass residents but also for many Ukrainian political figures, including those holding high-ranking positions in the government, those who have made the decision to launch a punitive operation in Donbass.
We take note of the provocative action on the border with Russia. According to the SMM, radical elements have organised an illegal firing range near the village of Ataman (Kherson Region). Shooting on the border occurs with the connivance of law enforcement agencies, which are purportedly unable to catch the offenders even though there were spotted by SMM observers.
The mission notes the restriction of freedom of movement across the line of contact. The Kiev-established blockade forces elderly people and children to spend hours or even days at Ukrainian checkpoints. Security forces take advantage of this, extorting bribes and threatening people with weapons. On April 17, a man in camouflage fatigues from a Ukrainian checkpoint near Maryinka threatened to throw a grenade at a line of local residents unless they calmed down. We believe that such incidents merit the same level of attention as threats made to SMM observers. Neither is acceptable.
Ladies and gentlemen,
Over the past few weeks, the political situation in Kiev has clearly changed. A large number of mixed signals issued by politicians show that the change of government in Ukraine has created not only additional opportunities but also additional risks.
In particular, the creation of a ministry for the so-called occupied territories arouses concern. Presumably Kiev does not believe that by signing the Minsk Package of Measures, Donbass has agreed to live in a single Ukrainian state on the terms stipulated in this document. This logic suggests either Donbass's further separation from Ukraine, which is in fact prevented by the Package of Measures, or an attempt to force Donbass to return to Ukraine by military means.
This is not the only case. We have taken note of the statement made by Ukrainian Deputy Prime Minister Pavel Rozenko regarding the cessation of social payments, including pensions to Donbass residents. What's more, this also applies to those who lived in other parts of Ukraine as internally displaced persons and returned to Donbass. Time will tell whether this is dictated by simple greed or the desire to push Donbass further away from Ukraine.
We are compelled to note that not only our Western colleagues but also representatives of the Ukrainian delegation use terminology that is not provided for by the Package of Measures: in particular, they refer to the Donbass militias as separatists. If the former can be excused through ignorance, we have a question for our Ukrainian colleagues: Does Kiev really believe that the goal of Donbass representatives at the Minsk talks is to break away from Ukraine? Or is this Kiev's goal?
Thank you.