Press release on the telephone conversation between Foreign Minister Sergey Lavrov and US Secretary of State John Kerry
September 16, 2016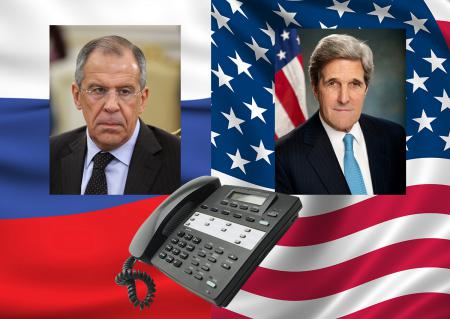 On September 16, Russian Foreign Minister Sergey Lavrov spoke over the phone with US Secretary of State John Kerry, with the US side initiating the conversation.
They focused on the implementation of the Russian-US agreement of September 9 aimed at launching a peace process in Syria, alleviating the humanitarian plight in that country and joint efforts against terrorists. The Secretary of State stressed the need to rapidly ensure access of humanitarian aid to Aleppo. After Sergey Lavrov clarified the actual situation in that area, John Kerry promised to push for the solution to the problems arising from the requirement to properly register the humanitarian convoys according to the UN rules, as well as from the threats issued by illegal armed groups in the region of Aleppo not to let humanitarian convoys enter the eastern part of the city.
The officials noted the generally satisfactory compliance with the ceasefire regime and spoke in favour of making it permanent. At the same time, Mr Lavrov drew his counterpart's attention to ceasefire breaches by illegal armed groups, and urged Washington to fulfil the promise to separate moderate opposition units from Jabhat al-Nusra and other terrorist groups that do not support the truce. He noted that the list of groups that have signed the ceasefire compliance agreement with the United States, which Russia received from US partners, contains a number of openly terrorist groups that collaborate closely with Jabhat al-Nusra.
The Russian minister again called for making public the entire package of Russian-US agreements that he and John Kerry finalised at their meeting on September 9, 2016 and for the approval of this package by the UN Security Council.
The officials agreed to continue their contacts on the entire range of Syrian settlement issues.