Press release on the telephone conversation between Foreign Minister Sergey Lavrov and US Secretary of State John Kerry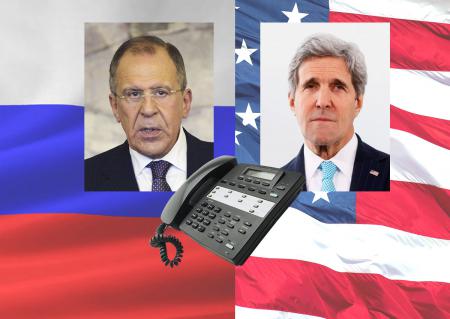 On May 9, Russian Foreign Minister Sergey Lavrov talked on the phone with US Secretary of State John Kerry, with the US side initiating the conversation.
The Minister and the Secretary of State exchanged Victory Day greetings and emphasised the importance of adhering to the historical truth about the Second World War.
The conversation focused on Russian and US efforts as co-chairs of the International Syria Support Group to resolve the conflict in that country. They underlined the need to continue negotiations between the Syrian government and the entire spectrum of opposition groups, under UN mediation and while strictly observing the ceasefire. They also noted the critical role of coordination between Russian and US military, as well as through the joint operations center established in Geneva. Mr Lavrov reiterated both the need for the earliest possible dissociation of anti-government forces supported by Washington from terrorist groups and his insistence on the need to cut off the funding and supply routes for the extremists via Turkey.
They discussed other current international issues, including the problems of settlement of the Nagorno-Karabakh conflict and the possible steps of the OSCE Minsk Group at this stage. They also touched on some other aspects of bilateral relations.