Press release on Foreign Minister Sergey Lavrov's telephone conversation with US Secretary of State John Kerry
December 20, 2016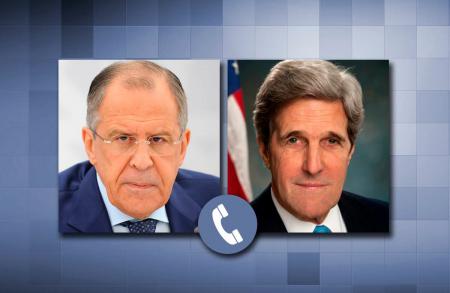 On December 20, Foreign Minister Sergey Lavrov had a telephone conversation with US Secretary of State John Kerry, who initiated the call.
John Kerry expressed condolences on the heinous murder of Russian Ambassador to Turkey Andrey Karlov.
The two officials discussed issues related to overcoming the conflict in Syria, including efforts to completely normalise the situation in eastern Aleppo with the voluntary evacuation of civilians and the departure of fighters coming to an end, as well as the resumption of the intra-Syrian negotiating process without preconditions, which the opposition backed by the West had previously put forward. Having informed the US Secretary of State on the outcome of the December 20 meeting in Moscow of Russian, Iranian and Turkish foreign ministers, Sergey Lavrov drew the attention of his US colleague to the plans to sign an agreement between the Government of the Syrian Arab Republic and the armed opposition groups, and the support for Kazakhstan's invitation to hold talks between the parties to this agreement in Astana with a view to launching a political settlement. This will provide an incentive for accelerating the dialogue under UN auspices in Geneva, which has been deadlocked for a long time due to ultimatums coming from Syria's external opposition groups.
Sergey Lavrov and John Kerry also exchanged views on the prospects of the Israeli-Palestinian peace process, as well as progress in implementing the comprehensive plan of action on the Iranian nuclear programme.