Press release on Foreign Minister Sergey Lavrov's telephone conversation with US Secretary of State John Kerry
December 14, 2016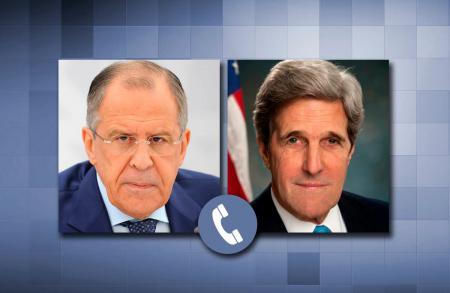 A telephone conversation initiated by the United States took place between Minister Lavrov and Secretary Kerry on December 14.
The Syria conflict, in particular the need to normalise the situation in eastern Aleppo, was the focus of the conversation. Minister Lavrov pointed out that the Syrian authorities have long been ready to provide unrestricted exit to blocked militants, but the latter refuse to cease fire, as ordered by their Jabhat al-Nusra ringleaders. The Minister urged the United States to use its influence with the armed opposition groups that are supported by Washington.
They discussed the humanitarian aspects of the situation in Aleppo. The Russian side outlined efforts being made by the Syrian authorities with the support of Russia to alleviate the plight of the civilian population.
When considering the prospects for a political settlement, John Kerry assured his counterpart that the United States is working with the same opposition groups that sabotage the UN Security Council's demand for an immediate start of intra-Syrian talks without any preconditions.
The ministers also touched upon the situation in Yemen, Libya and the Palestinian-Israeli settlement.