Press release on Foreign Minister Sergey Lavrov's telephone conversation with US Secretary of State John Kerry
May 29, 2016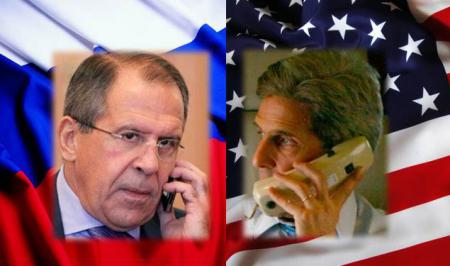 On May 29, Foreign Ministry Sergey Lavrov spoke over the phone with US Secretary of State John Kerry at the latter's initiative.
The two officials continued their discussion of the developments in Syria and Russia's proposals to conduct joint operations against those terrorist groups and other illegal armed forces in Syria that violate the ceasefire regime. Sergey Lavrov once again highlighted the importance of closing the Syrian border with Turkey, where fighters are still able to infiltrate into Syria. He went on to reiterate his call for the US to deliver on its promise to facilitate the withdrawal of US-backed Syrian opposition forces from areas controlled by Jabhat al-Nusra terrorists who are not subject to the ceasefire.
Sergey Lavrov and John Kerry agreed to step up efforts with all the parties in Syria and interested countries with a view of ensuring strict observance of the decisions by the International Syria Support Group and UN Security Council resolutions 2254 and 2268.
The Russian Foreign Minister and his US counterpart also went over other important issues on the international agenda, including the Ukraine settlement, and certain aspects of bilateral relations.