Press release on Foreign Minister Sergey Lavrov's telephone conversation with US Secretary of State John Kerry
April 29, 2016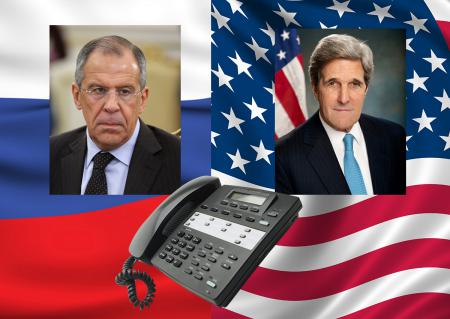 On April 29, Foreign Minister Sergey Lavrov spoke over the phone with US Secretary of State John Kerry. The call was initiated by the US side.
The officials continued to discuss ways of resolving the Syria conflict by preserving and consolidating the ceasefire regime that was established through the joint efforts of Russia and the United States, providing humanitarian aid to the residents of areas under blockade and promoting a stable political process. Mr Lavrov reiterated the need for the Syrian Kurds' full participation in talks between the country's authorities and their opponents, as well as for the earliest possible dissociation of moderate opposition groups from terrorist groups such as ISIS and Jabhat al Nusra, which are not part of the ceasefire arrangement.
Other pressing international issues were also addressed, including the situation in Ukraine and Nagorno-Karabakh, as well as certain bilateral issues.