Press release on Foreign Minister Sergey Lavrov's telephone conversation with US Secretary of State John Kerry
April 25, 2016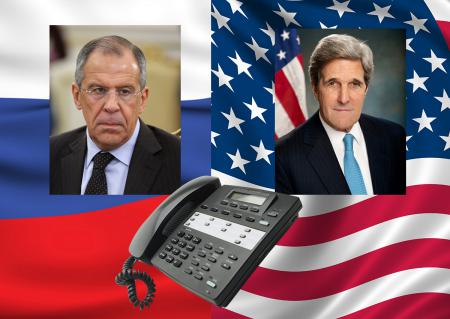 On April 25, Foreign Minister Sergey Lavrov spoke over the telephone with US Secretary of State John Kerry at the American side's initiative.
The foreign ministers continued considering the ways for Russia and the United States to cooperate in the interests of maintaining and consolidating the ceasefire in Syria, providing humanitarian aid to its population, and starting a stable process of political settlement. They confirmed their full support for the talks between the country's Government and its opponents on determining the future structure of the state that are taking place in Geneva under the auspices of the UN. Sergey Lavrov stressed the need for a speedy withdrawal of the moderate opposition's forces from the territories controlled by the ISIS and Jabhat al-Nusra terrorist groups and for blocking the channels for bringing reinforcements to the extremists.
The officials agreed to continue cooperation within the framework of the International Syria Support Group.
They also addressed other international issues, including settlement in the Middle East and topical issues of bilateral relations.