Press release on Foreign Minister Sergey Lavrov's telephone conversation with US Secretary of State John Kerry
April 10, 2016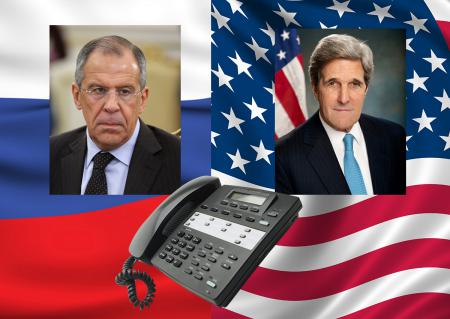 On April 10, Foreign Minister Sergey Lavrov spoke on the phone with US Secretary of State John Kerry at the latter's request.
They discussed the situation in Syria, focusing on the need to strengthen Russia-US cooperation in the interests of a lasting ceasefire. They also reaffirmed their resolve to build up efforts to combat ISIS, Jabhat al-Nusra and the terrorist groups linked with them. They also agreed to take additional measures to cut short the supply of militants and weapons to these groups across the border.
The diplomats expressed support for the efforts of the UN Secretary-General's Special Envoy for Syria, Staffan de Mistura, to convene the next round of Geneva talks between the Syrian Government and its opponents. They also reaffirmed the importance of an inclusive intra-Syrian dialogue, which calls for the equal participation of the Syrian Kurds in these talks.
The Russian Foreign Minister and the US Secretary of State welcomed the agreement on a ceasefire in the Nagorno-Karabakh conflict zone and agreed to facilitate normalisation in that region.
They also discussed other issues on the bilateral agenda.