Press release on Foreign Minister Sergey Lavrov's telephone conversation with US Secretary of State John Kerry
April 4, 2016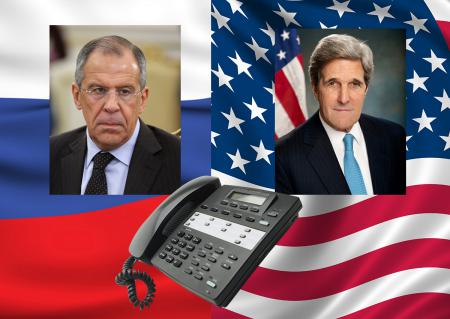 On April 4, Foreign Minister Sergey Lavrov had a telephone conversation with US Secretary of State John Kerry on the US initiative.
The minister and the secretary of state exchanged opinions on possible resolutions to the Syrian conflict through the joint fight against ISIS, Jabhat Al Nusra and other terrorist groups, and through consolidating the ceasefire and further UN-led negotiations between the Syrian leadership and the whole spectrum of opposition forces in the interests of early agreement on peaceful settlement parameters.
The two foreign policy chiefs expressed serious concerns over the conflict escalation in Nagorno-Karabakh, reiterating their call for an immediate ceasefire. The sides also agreed to step up efforts by Russia, the United States and France as co-chairs of the OSCE Minsk Group for Nagorno-Karabakh. Mr Lavrov and Mr Kerry condemned certain "external players'" efforts to flare up the confrontation around Karabakh.
The sides also discussed ways of building up international support for the Minsk Agreements on the Ukraine crisis and other topical issues on the joint agenda.