Press release on Foreign Minister Sergey Lavrov's telephone conversation with US Secretary of State John Kerry
March 17,2016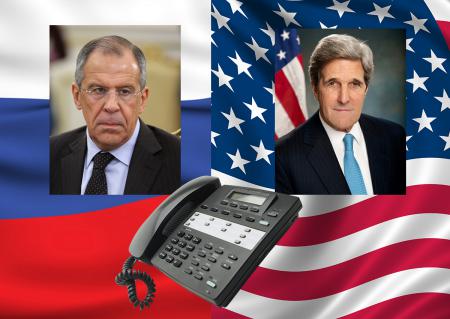 On March 16, Foreign Minister Sergey Lavrov spoke over the telephone with US Secretary of State John Kerry on US initiative.
In keeping with instructions from the presidents of Russia and the United States, who agreed on March 14 to build up Russian-US cooperation to settle the Syrian crisis, the ministers discussed ways to strengthen bilateral coordination, including between the militaries, in order to maintain the ceasefire agreement and to prevent ceasefire violations in Syria, enhance humanitarian access and continue the political process based on a dialogue between the Syrian Government and the entire range of opposition forces.
Sergey Lavrov pointed out that President Putin's decision to withdraw the main part of the Aerospace Forces in view of the fulfilment of its main mission in Syria has created favourable conditions for the intra-Syrian talks underway in Geneva, during which the Syrians should be able to decide the future of their country.
The parties also discussed other international issues, in particular the settlement of the conflict in Yemen and restoration of Yemeni statehood, as well as some issues pertaining to Russian-US relations.
In accordance with a request by the US Secretary of State, it was agreed that Mr Kerry would come to Moscow on a working visit next week to continue discussions on current issues on the Russian-US agenda.