Press release on Foreign Minister Sergey Lavrov's telephone conversation with US Secretary of State John Kerry
March 10, 2016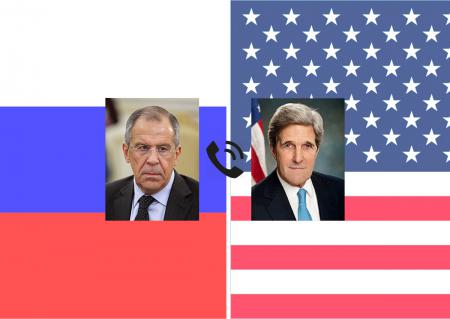 On March 10 Foreign Minister Sergey Lavrov had a telephone conversation with US Secretary of State John Kerry at the latter's initiative. They continued their ongoing discussion of the ways to settle the Syrian conflict based on UN Security Council resolutions 2254 and 2268, and the activities of the International Syria Support Group co-chaired by Russia and the United States and its target groups.
The Foreign Minister and the Secretary of State exchanged opinions on the implementation of the agreement on the ceasefire between the conflicting sides in Syria with the exception of anti-terrorist efforts. They emphasized the need to further deepen Russian-US military coordination to facilitate observance of the ceasefire terms and expand humanitarian access to the population of the besieged areas. Mr Lavrov and Mr Kerry expressed the hope that the forthcoming Geneva talks between the Syrian Government and a representative range of opposition groups, under UN aegis, would be held in strict compliance with the demands for ensuring the inclusivity of the inter-Syrian dialogue and the interests of all ethnic and religious groups.
They reviewed ways of supporting the UN efforts to end the war in Yemen and start negotiations on a political settlement in that country. Mr Lavrov and Mr Kerry also discussed other international issues, including the developments in Lebanon and the tasks of implementing the Minsk agreements on overcoming the Ukraine crisis, and other aspects of bilateral relations.
Mr Lavrov emphasised the need to end US-fuelled targeted anti-Russian Western media campaigns that by no means facilitates practical cooperation on issues of mutual interest.