Press release on Foreign Minister Sergey Lavrov's meeting with UN High Commissioner for Human Rights Zeid Ra'ad Al Hussein
March 1,2016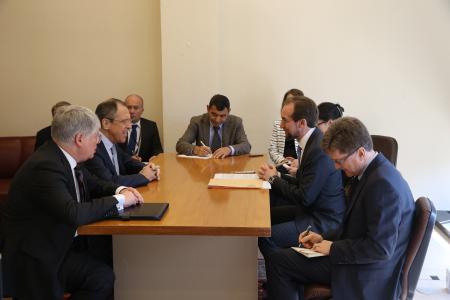 On March 1, Foreign Minister Sergey Lavrov met with UN High Commissioner for Human Rights Zeid Ra'ad Al Hussein on the sidelines of the 31st session of the UN Human Rights Council.
They had a detailed discussion on a wide range of issues within the competence of the UN High Commissioner for Human Rights, including Russia's cooperation with the Office of the UN High Commissioner for Human Rights (OHCHR) and international cooperation for promoting and protecting human rights within UN bodies.
Mr Lavrov drew the attention of the UN High Commissioner to the need for a balanced human rights policy and an objective assessment of human rights issues, as well as to the inadmissibility of the politicisation and bias in the OHCHR activities. He also urged closer attention to current issues important to Russia such as efforts against racism, neo-Nazism, aggressive nationalism, ethnic and religious intolerance and widespread statelessness, in particular in the Baltic countries. Another issue on their agenda was the complex human rights situation in Ukraine.
The officials also focused on the need for a balanced attitude to the situation in Syria and the inadmissibility of using unreliable partisan information. They pointed out that efforts to fight any infringements on human rights in Syria, as in any other armed conflict, should promote the search for a political settlement.