Minister-Counselor Denis Gonchar's Welcome Speech at the «Doing Business with the BRICS» Annual Conference
May 15, 2017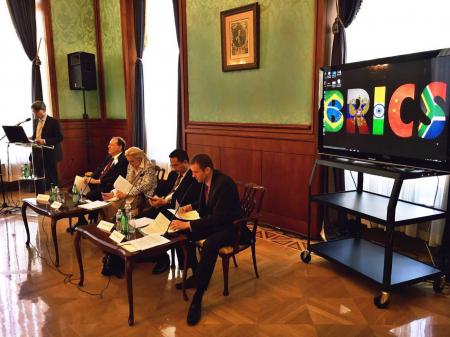 Ladies and Gentlemen, Colleagues and Friends,
It is a great pleasure to welcome all of you here again. It has become a good tradition that the Russian Embassy co-hosts the annual Conference "Doing business with the BRICS" since its beginning in 2013.
We hold it together with "Eurasia Center" and it is not the first time when we cooperate. I am pleased to say that this organization has become our reliable long-standing partner. Colleagues, we appreciate your job providing expertise on BRICS and Eurasia issues as well as your support to our measures aimed at promoting further cooperation within the BRICS.
Every year this Conference provides a wonderful platform for a fruitful discussion as well as an opportunity to communicate with our colleagues and friends from other BRICS embassies here in Washington, representatives of business and expert community.
Last year the BRICS celebrated its 10th anniversary. And our cooperation is already growing far beyond economical and political issues. After starting with an informal status just decade ago, today we have more than 30 tracks of interagency cooperation, including in humanitarian and defense area and law enforcement.
BRICS serves as a multiplier of national interests of five our countries, as well as a positive tool for their integration. We are looking for new ways of facilitation of economic growth together. We are against double standards, unilateral sanctions and unlawful military interventions. We stress that the size of the current global economic challenges requires only joint efforts of multinational transparent fora like BRICS to succeed.
The initiatives taken during the Russia's Chairmanship on consolidation of multifaceted sectoral cooperation and searching for new tracks of interaction, especially in the social and humanitarian area, were multiplied by our Indian friends last year. The summit on Goa demonstrated the fast-growing interest among the BRICS members to further ties within the group.
On economical track the five countries pushed forward the 14th quota reform in the IMF and supported the 15th review for developing countries as major beneficiaries as well as keeping the multilateral trading system intact. In 2016 first five projects were endorsed within the New Development Bank (NDB), two more have joined this year, and most of them are in the area of "green" energy. Our countries adopted nearly all key strategies and regulations necessary for full-fledged functioning of this institution. Memoranda on creation of an agriculture research platform and cooperation between countries' banks of development and NDB were signed and agreement on committee of customs cooperation was adopted. We also implemented our agreement on establishing a Pool of conditional currency reserves. Its main working documents were adopted, the meetings of its governing bodies, i.e. the Governing Council and the Standing Committee, are regularly held. New areas of future cooperation of the BRICS were set: non-tariff barriers, services, standards and compliance.
Contacts between our foreign ministries are also deepening. We continue to work closely both in the United Nations and other international and regional organizations on promoting global security and stability, countering new challenges and threats - terrorism in particular, drug trafficking, corruption, etc. We build capacities to enhance cybersecurity against criminals and terrorists, jointly oppose weaponization of space.
Our nations broaden humanitarian dimension – so called "Soft power" - too. For the last years the Agreement on Cooperation in Culture was signed, the meetings of the Civic BRICS, the Parliamentary and Youth Forums were held. On Goa a Memorandum of Understanding between diplomatic academies of the BRICS was signed. We look forward to the launch of the BRICS Network University this September. The first BRICS Games, film and culture festivals are to be held this year.
Our Chinese collegues - whom I avail myself of the opportunity to congratulate with assuming the Chairmanship on January 1- are setting new ambitious records. They have already planned about 80 events for this year. Among those - almost twenty ministerial meetings, including two summits, two foreign ministerial meetings and a meeting of senior security officials which already became traditional. Another tradition reflects the openness of the BRICS – invitation to the forum's summit extended to a group of countries.
We do have ambitious goals for this year. Three interagency memoranda on the establishment of new BRICS Councils are planned to be signed in September – on culture, on sport and on regional cooperation. We are proud to contribute to the current BRICS agenda by having proposed to sign a Memorandum of Understanding regarding the establishment of the BRICS Energy Research Platform. We expect it to help us organize analytical and research activities in the interest of the BRICS countries –and promote joint investment projects in energy. We also look forward to signing a Memorandum of Understanding establishing the BRICS Coordination Committee on antitrust policy issues. As for trade, the indicative non-binding blueprint of the BRICS strategy of economic partnership adopted at the Ufa Summit in 2015 could be agreed upon.
In conclusion I would like to thank you all for joining our important event. This particular Conference accumulates the spirit of mutual respect, friendship and understanding. With such an approach, I am sure, that its outcomes will be positive and provide your creative minds with food for thought and a sound ground for doing business with BRICS.
I appreciate your attention and wish you fruitful work and further success.