Foreign Minister Sergey Lavrov's statement and answers to media questions at a joint news conference with US Secretary of State John Kerry
March 24, 2016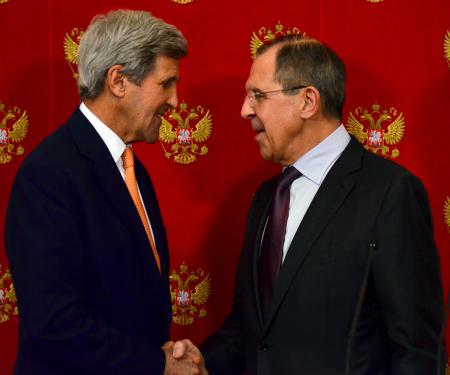 Ladies and gentlemen,
US Secretary of State John Kerry spent today at talks in Moscow. First, we had a long meeting at the Foreign Ministry. Just now, we finished a long meeting with President of Russia Vladimir Putin.
Today's talks covered many issues at great length. We started with a thorough discussion of our bilateral relations. We also had a very specific and in-depth conversation about key international issues.
Speaking about our bilateral affairs, I believe both countries are increasingly aware that further rocking the boat of Russia-US relations is counterproductive. As we ascertained again today, the rhetoric of Russia's isolation has nothing to do with reality.
We appreciate President Barack Obama's attitude as he repeatedly stressed the importance of a respectful and pragmatic dialogue with Russia. We also appreciate the role of US Secretary of State John Kerry who is promoting this dialogue in practice, including through his regular visits to Moscow. In over less than ten months, Secretary of State John Kerry has visited our capital three times. Overall, Secretary of State John Kerry and I had 18 meetings last year. This is perhaps a record for Russia's bilateral relations at the foreign ministerial level.
For our part, we confirmed that we never intended to evade or shut down for cooperation. We are always willing to collaborate equally, based on mutual respect for each other's interests. In this context, we considered a number of specific issues on the bilateral agenda. We agreed to review our relations on a regular basis in order to find mutually acceptable solutions.
The same approach is essential for our cooperation on the international scene. The tone of the Russia-US dialogue has a strong impact on the efforts of the international community in resolving many pressing problems. As you are aware, thanks to our interaction we have made some serious progress in overcoming the Syrian crisis. Thanks to the Russia-US initiative approved by President Putin and President Obama, a framework for international support of the Syrian settlement is in place, better known as the International Syria Support Group (#ISSG). Following a telephone conversation between our presidents on March 14, we agreed today to continue coordinating our action to consolidate the ceasefire and prevent any violation of the latter. We will particularly focus on preventing the use of indiscriminate weapons.
We agreed to continue our efforts to ensure that humanitarian aid can reach the areas in Syria that are still blocked from access. We call on all parties in the Syrian conflict to take extra measures to liberate captives and detainees. The most important result at this point is that we agreed to redouble our efforts to provide the necessary conditions for the political process, the outcome of which must be an agreement among Syrians on the future of their country.
We decided that our immediate task would be to begin direct talks in Geneva between the Syrian Government and the entire range of Syrian opposition forces. This will ensure complete fulfilment of all the criteria set out in UN Security Council Resolution 2264 regarding the formation of a transition government, a new constitution and eventually, free constitutional elections.
We also confirmed that our efforts will go hand in hand with building up coordinated action to fight ISIS, Jabhat al-Nusra and other associated extremist organisations. We are certain that this requires compliance with the UN Security Council requirement to cut off any support to terrorists, be it funding, arms supply, commerce or providing shelter.
Our discussion covered other conflicts in the Middle East and North Africa, including Libya and Yemen. We spoke about moving the Middle Eastern settlement forward from the deadlock and reaching an agreement between the Palestinians and the Israelis within the framework of international law and existing UN resolutions. All in all, this region urgently needs a balance of interests – for all the parties involved in the conflict and key external parties.
We talked about Ukraine at great length. Despite certain nuances, we both understand that the Minsk Agreements must be fulfilled and that there is no alternative. This requires a direct dialogue between Kiev, Donetsk and Lugansk, including on such issues as security and encouraging a political process. I'm talking about the agreements in the Minsk documents regarding local elections, amnesty, Donbass' special status and constitutional reform in Ukraine.
Our talks this morning also touched on the situation in the Korean Peninsula. We stressed the importance of easing the tension caused by North Korea's ballistic missile test launches. Russia's stance remains unchanged. Pyongyang's irresponsible action cannot be used to excuse an inadequate and disproportionate response, specifically the buildup of military potential in Northeast Asia.
We also touched upon the issue of our dialogue on global security. Here we stated the remaining differences between us. This concerns problems relating to missile defence, the treaty on medium and shorter-range missiles and NATO's expansion. What's important is that we agreed to intensify this dialogue, make it more substantive, sustainable and stable in order to try to eventually resolve these problems.
We, on our part, would like to accentuate the usefulness of our contacts with US Secretary of State John Kerry. We believe that these contacts help fulfil the determination of our presidents to address problems both in our bilateral relations and on the international arena. We agreed to continue contacts on all these and other items of our common agenda.
Question: You and the US Secretary of State spoke about concrete steps for talks on a political transition in Syria. What conclusion did you come to on the issue of exerting pressure on both negotiating parties in the Syrian settlement to bring them closer to an agreement? And one more question, it's about the Brussels events. A number of high-ranking Russian officials, including from the Foreign Ministry, suggested that the US is part of the problem in the Middle East because it supports the terrorists. Today you spoke of Washington as a partner. There is some controversy here. How does Russia view the US, as part of the problem or as part of a solution to it?
Sergey Lavrov: As for the need to exert pressure on the Government of the Syrian Arab Republic and the opposition, the issue is not new and requires no additional accords. Ever since the Geneva Communiqué was signed on June 30, 2012, the UN Security Council resolutions on the Syrian settlement urged all the sides capable of influencing the Government and the opposition to take the necessary efforts to encourage them towards a political settlement. And that's what Russia has been doing from the very beginning. Let me remind you that the Geneva Communiqué that everyone is so fond of quoting these days was approved by the [Syrian] Government just days after it had been inked in Geneva, whereas the opposition refused to do that for quite a long time. What's more, the UN Security Council approved the Geneva Communiqué only a year and a half after its signing since our proposal to put it through the Security Council immediately failed to win support from our Western partners who wanted to set forth additional preconditions that were not part of the deal, and since we are in the habit of honouring and fulfilling the deals we sign.
It is safe to recall now how, for more than two years after the Montreaux conference, the organisation of which only became possible after John Kerry visited Moscow in May 2013 shortly after his appointment as the US Secretary of State (the Montreaux conference was not a very lucky experience, but nevertheless), Russia kept working with the Syrian Government and with the whole of the opposition without exception, including with the so-called irreconcilable opposition. They came to Russia, or we met with them in Europe or in other capitals, or in the region, urging both sides to follow the course outlined in the Geneva Communiqué. Let me remind you that this is necessary for the political process, including the coordination of details of a transitional process and the creation of a transitional governing body fully invested with executive authority. And this needs to be done, as is stipulated by the Geneva Communiqué and approved by the UN Security Council, on the basis of the mutual consent of the Government and the entire range of the opposition. We have been and remain wholly committed to this principle in all its fullness. And we expect our partners to follow suit.
I can cite as an example our cooperation with the Syrian Government, which supported the initiative of Russia and the United States that subsequently took the form of the International Syria Support Group (ISSG) and the UN Security Council resolution on the settlement parameters. The opposition remained aloof for a long time, insisting that it wouldn't attend any talks unless the Syrian President's fate was sealed. The opposition spent January fretting, hindering the start of the first round of talks. The talks were only launched in March, and they cannot be described as the direct dialogue that is stipulated in the Geneva Communique. The UN Secretary-General's Envoy for Syria, Staffan de Mistura, whose efforts we actively support as Mr Kerry said, continues to work separately with different groups – the Syrian Government and the opposition – who keep to their rooms. Today we agreed to encourage them to sit down at the same negotiating table as soon as possible.
The opposition, with which we need to keep working, as you said, continues to advance preliminary conditions. It's because of this that we can't implement the part of the Russian-US initiative that provides for an inclusive negotiating process, including an inclusive opposition delegation, meaning that the Kurds must be included too. I won't go into detail as everyone here probably reads the news and knows why the Kurds have not yet been fully involved in the negotiations. We discussed all this today and we have agreed that pressure on all sides should be increased to ensure that all parties to the process comply with the Geneva Communique and the subsequent decisions of the UN Security Council.
As for terrorism and the causes of the current tidal wave that is feeding terrorism, I don't see how this can be an issue of contention. Many analysts and politicians in the United States and other countries, including incumbent officials, admit that terrorism was largely engendered through the erroneous actions of the West in the region. I won't cite the Afghan war, when confrontation with the Soviet Union in the 1980s encouraged the United States to contribute to the creation of a mujahidin organisation that eventually developed into the notorious terrorist group al-Qaeda. On September 11, 2001, this organisation struck the United States.
Unfortunately, all subsequent attempts at external manipulation of developments in the region, especially those that involved military force, only strengthen the "terrorist international". This happened after the invasion of Iraq, where the current ISIS leaders gained prominence in the middle of the past decade. I can cite the example of Libya, which the NATO intervention turned into a "black hole" from which weapons and militants spread through a dozen other countries, including sub-Saharan Africa, not to mention the countries that border Libya. At the same time, Libya has become a hole through which migrants are smuggled into Europe by criminal businesses.
In other words, we are not placing the blame on anyone. As I said, many US politicians have described these decisions as gross mistakes. I believe it would be naïve to suggest that these facts rule out a partnership with the United States. Many of Washington's partners don't share its views. I mentioned the attempts to prevent the involvement of the Kurds in the Syrian political process. This ultimatum has been advanced by one of the United States' partners. But this doesn't mean that our differences on one of the issues should prevent us from discussing anything else. During this news conference, we told you about today's negotiations. There are a number of issues on which we don't agree. There will probably always be such issues. As for issues on which we don't differ and where we have common interests, we want to and will cooperate on them based on equality and a balance of interests.
Question (addressed to US Secretary of State John Kerry): All Ukrainian TV networks without exception open their news shows with reports saying that the main purpose of US Secretary of State John Kerry's visit to Moscow is to pressure Russia on the so-called Savchenko case. Have you been able to put pressure on Moscow? Is that the purpose of your visit? Why are you so thrilled with the fate of a female forward air controller and not Konstantin Yaroshenko or Viktor Bout? And a question for Mr Lavrov: In what terms was the Ukrainian issue raised during the meeting? According to reports, the US has some new considerations, although the US Secretary of State continued to talk about sanctions.
Sergey Lavrov (adds after US Secretary of State John Kerry): During today's talks, a lot has been said about humanitarian issues, and specific persons were discussed. It is true that Mr Kerry has raised the issue related to Nadezhda Savchenko. He received an answer that everyone knows. The Foreign Ministry spokesperson and the Kremlin press office have already commented on this issue. I have nothing to add in this respect. All we did is confirm that Ms Savchenko's health is not in danger, despite numerous speculations to the contrary. Russian doctors are monitoring her health on an ongoing basis. There was an opportunity to have her examined by Ukrainian and German doctors, but when Ms Savchenko went as far as indecently assaulting the court, it ruled against this initiative. Let me say that contempt of court is punished by one- to, I think, two-year prison terms and fines in many states in the US, as well as Germany, the Baltic countries and other European countries. Russia has not invented anything new in this respect.
By the same token, we talked about Russians who, we believe, were illegally brought to the US through forgery and manipulating laws in relevant countries. The condition of a number of such persons is a matter of grave concern for us. This is the case of Konstantin Yaroshenko. State Secretary Kerry said that he was convicted for involvement in drug trafficking. Neither Yaroshenko nor Bout were involved in any business of this kind. When one of them was in Liberia and the other in Thailand, US secret service agents pretended to be drug dealers and tried to convince them to provide transport services. Neither Viktor Bout nor Konstantin Yaroshenko acquiesced to anything else. For this reason, we believe the sentences they received are absolutely disproportionate.
A number of other humanitarian issues are a matter of concern for us, including a dozen Russians who were arrested while abroad upon the request of the US. Russia's continuous calls for making use of the mechanisms envisaged in the bilateral consular convention to address any and all issues the US might have with respect to Russian citizens have so far been falling on deaf ears. Today, it seems that an agreement was reached to hold special consultations on cybercrime, taking into account that most Russians detained by the US in third countries and subjected to extradition proceedings are convicted of cybercrimes. Russia will never give up on its commitment to cooperate with the view of combating cybercrime. We hope that the US will support our proposal to hold expert consultations between the General Procurator's Office of the Russian Federation and the US Department of Justice on the practical aspects of cybercrime prevention.
We discussed Russian children adopted by US couples. We currently lack any means to access those children. We also discussed many other issues.
What I want to say is that Russia has its own rules, procedures, traditions and customs just like any other country. However, today we reached a fundamental agreement to discuss the whole range of bilateral concern and irritants in a calm, pragmatic and professional manner guided by common sense and taking into account the specific situation of every individual, instead of a tit-for-tat approach.
As for Ukraine, the main outcome of today's discussions is the confirmation that there is no alternative to a political settlement based on the Minsk agreements. There are nuances as to how this can be reached. As you know, decisions in this respect were taken in the Normandy format, including during the October 2, 2015 Normandy Four summit in Paris, when the roadmap for the political measures was agreed upon, making a whole out of a complex sequence of actions. Unfortunately, even this roadmap has yet to be implemented.
On top of the Normandy format, a bilateral Russia-US channel of communications between presidents Vladimir Putin and Barack Obama was created in the summer of 2015. Russia values the interest the US has shown in resolving this situation, especially given that all outside players subscribe to the final objective of the Minsk 2 process.
Going back to the beginning of what the US reporter said in his question, we hope that in the Ukraine crisis all parties will be subject to pressure, as was the case in Syria. Given the special relations established between the US and the Kiev government, we hope that these special relations will serve as an incentive for Kiev to honour its commitments. It is true that Russia undertook to pressure Donbass, i.e. the self-proclaimed Donetsk and Lugansk people's republics, into fulfilling the commitments that their representatives subscribed to in Minsk. It's not that we have invented something supernatural. All we did is agree to step up cooperation along these lines instead of moving forward sporadically. I think this decision will be very useful.
Question (addressed to US Secretary of State John Kerry): You have intrigued us with what you have in your briefcase. What have you brought to Russia?
Sergey Lavrov (adds after US Secretary of State John Kerry): So what was in the briefcase?
Question (addressed to US Secretary of State John Kerry): You also brought a guitar with you. Foreign Minister Sergey Lavrov also plays the guitar. When will we be able to enjoy you musical duet?
Sergey Lavrov: I don't play this guitar, I play mine.