Foreign Minister Sergey Lavrov's response to a media question on intra-Syrian negotiating process.
April 22, 2016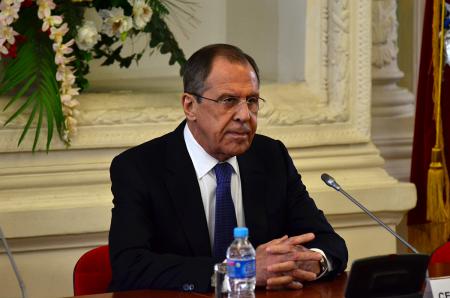 Question: Almost the entire High Negotiations Committee (HNC) of the Syrian opposition left Geneva on Friday. Does it mean that the HNC basically foiled the talks? Do you think it is time to convene the International Syria Support Group to restart the negotiating process?
Sergey Lavrov: You called it "the High Negotiations Committee". That's what this structure calls itself. It is not the only opposition group. There is also the Moscow group, the Cairo group, the Khmeimim opposition, and an independent opposition group that involves very influential and respected people. Several people have already quit the "high negotiations team". They disagreed with the fact that radicals, including Jaysh al-Islam leaders, had free rein in the committee. This shows that we were right. We had suggested that this organisation be put on the list of terrorist organisations, but we decided to compromise for the sake of an early ceasefire and gave them a chance within the relevant International Syria Support Group agreements. This organisation, just like Ahrar ash-Sham, has proved in practice that they fully share inhumane approaches promoted by ISIS and Jabhat al-Nusra. Therefore, I believe Syrian negotiations are moving towards a healthier format.
If those who refuse to recognise the UN Security Council's concept that only Syrians themselves can decide on issues related to their country during talks, then they are the only ones who lose from walking away from the negotiations. If they want to secure their participation by using ultimatums and expect everyone to agree with them, that is their problem. As I said, people of sound judgement have already quit the "committee". We want them to participate in further negotiations as independent representatives.
UN Special Envoy for Syria Staffan de Mistura must fulfil the mandate of the UN Security Council, which involves talking to the whole spectrum of opposition forces. Naturally, you can lead a horse to water but you can't make it drink. If some of these opposition forces want to throw a tantrum, let them. No need to run after them. It is time to work with those who are not focused on their careers and how to please their patrons abroad but those who are really concerned about their country's future.