Foreign Minister Sergey Lavrov's remarks at a meeting with the staff of the Diplomatic Academy
March 25, 2016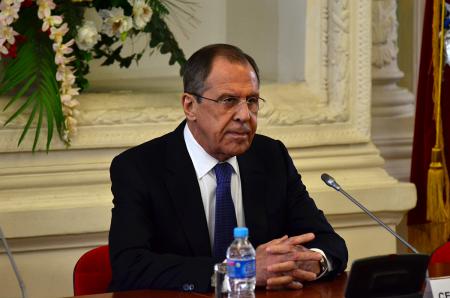 Thank you, Mr Bazhanov.
Of course, it is pleasant to hear Japanese political scientists' flattering remarks about our Ministry, but, of course, we are oriented to the assessments of our work provided by President Vladimir Putin. We are implementing the presidential foreign policy, which implies not only the intense use of all resources available to the Foreign Ministry but also close cooperation with other agencies. Modern diplomacy can no longer be a classical chairborne affair. In the current globalised and interdependent environment, this job embraces all areas of human life. For this reason, diplomats' effective performance would have been impossible unless they cooperated with the military, the security services involved in antiterrorist operations, people who deal with humanitarian crises and catastrophes or respond to emergencies, doctors fighting various diseases and epidemics globally, transport professionals ensuring uninterrupted air, land and maritime traffic, and many other colleagues.
I am very pleased to attend our annual traditional meeting at the Diplomatic Academy. We highly appreciate the Diplomatic Academy's effort to train highly competent and erudite foreign affairs experts and to upgrade the skills of the foreign ministry staff and employees of other agencies involved in international relations. We highly appreciate what you are doing to upgrade the skills of all those participating in international affairs. I visit it here regularly enough. Just a few days ago, I was meeting in this room with graduates of the first courses for diplomats from Latin American countries. Organising courses for different regions of the world is an important part of the academy's effort to promote international contacts and to improve mutual understanding with our foreign partners' foreign ministries and expert communities.
While meeting with Latin American diplomats, I expressed an idea that I'd like to repeat now. We should not be misled by statistics saying that the modern world is far from being in the worst condition for the last 50 or even 100 years. It is important to understand that history doesn't develop in accordance with imagined templets tracing the path to a bright future or the final victory of some single ideology, be it communism or liberal capitalism. The historical process is a complex and hardly predictable phenomenon. Today, by all appearances, we are at a turning-point in world development and are witnessing the emergence of a new international system, a process in which we are directly involved. Importantly, all those engaged in international affairs or planning to become professionally involved therein should feel keenly what I would call the "live nerve" of world politics and the particular significance of the present stage.
What is needed today is a clear and unbiased vision of things and the controversial international situation. The primitive black-and-white approaches are dangerous and unreflective of trends in international development. An interdependent world characterised by dispersed economic potentials and political influences rejects leadership emanating from a single centre or a nation's exclusiveness in relation to all other nations. In this connection, I'd like to quote a European veteran politician, Hans-Dietrich Genscher, who stressed that "the 21st century will be the first global age in human history. Political and economic power centres assert themselves and build up their effectiveness all over the world. This calls for global cooperation and the recognition of equal rights and equal value of all constituent members of the new world community. The perception that some or the other region can dominate others would call into question the stability of the new world order." We fully agree with this comment and proceed from the same vision of global development.
In his recent interview with Atlantic magazine, US President Barack Obama insisted that the United States participates in shaping the agenda of every single important international forum. And it can't be otherwise if it's a question of the most powerful and influential modern state. It's not a matter of sidelining the US from decision-making on key international issues and rather of Americans focusing their participation in working out common approaches not on satisfying their own egotistic interests, but on building a consensus to ensure international security and sustainable development. That's the kind of leadership that, I am sure, the international community would applaud, all the more so that today hardly any more or less serious problem can be resolved single-handedly. There have been lots of examples proving that over the past few decades.
Fyodor Dostoyevsky predicted in his A Writer's Diary in 1877 that the 19th century would end in something "spontaneous and horrible" that would "alter the face of this world". Unfortunately, needless to say, his prophecy fully came true, although with a certain delay. Today, many people tend to draw parallels between the situation preceding the First World War and the current situation in international affairs. It's hard to say if this comparison is justified, but one thing that is clear is that now, like in those times, infatuation with reaping immediate profit, the implementation of momentary tasks, can only lead to a disaster.
We are convinced that future-oriented approaches relying on the strategic understanding of global processes are what is needed today and that there is a demand for realistic policy. Russia, as the successor to the Soviet Union and, as such, also as the successor to the pre-Soviet era traditions in our country's development, is distinctly aware of the counter-productivity of messianism and attempts to force one's own development models and values upon other peoples. In this regard, the Middle East and North Africa are graphic examples showing how absurd wishful thinking and attempts to substitute reality with ideological chimeras can be, how reckless it is to call the era of tragic shocks sweeping the region an "Arab Spring", and that it's wrong to practise geopolitical engineering resulting in an ever-expanding area of chaos that is pretty quickly filled by terrorists.
Western politicians sometimes accuse Russia of revisionism and unpredictability or reproach it for destroying the international system. But if global architecture is understood as based on the international law and the central role of the United Nations, and in European affairs – on the principles of the Helsinki Final Accords, then Russia is the guardian of this order, while our partners in the US, Europe and NATO acted, as you may well remember, as the destroyers of this order when they were bombing Yugoslavia, or invading Iraq, or ruining the Libyan statehood in gross violation of the UN Security Council resolutions.
In our age of information technologies, the boundaries between politics and propaganda are effaced, especially when the key thing a government cares about and, I would even say, is overwhelmed by is how to win a regular election. Russia has firmly and consistently campaigned for steering international politics from "behind the mirror" and for eventually beginning serious joint work to search for optimal solutions common to all problems. This approach works if all participants demonstrate their desire to achieve mutually acceptable compromises. The latest examples are the Iran nuclear deal and the agreements on the liquidation of chemical weapons in Syria and the launch of a political settlement in that country, coupled with a ceasefire and humanitarian aid solutions. In the non-military field, I would single out a highly important comprehensive agreement on climate, which was unanimously approved at the December conference in Paris.
Our country has played for centuries a role of a balancing force in European and global affairs. Today, the course of historical events is bringing Russia to key positions in forming a new architecture of international relations. We have a lot of co-thinkers – the overwhelming majority of states, primarily our partners in the Eurasian Economic Union (EAEU), the Collective Security Treaty Organisation (CSTO), the Commonwealth of Independent States (CIS), BRICS and the Shanghai Cooperation Organisation. I'd like to make a special mention of our multisided strategic partnership with the People's Republic of China that has reached the highest level in the history of bilateral relations.
The format that produced BRICS and was initiated by our great teacher Yevgeny Primakov is in demand on par with the Five. I'm referring to RIC (Russia, India and China). RIC continues operating even after the emergence of the Five – Brazil, Russia, India, China and South Africa. We will host a regular ministerial meeting of Russia, India and China in the near future.
Promoting its positions, Russia by no means wants to push international relations to a new bipolar format – West versus non-West or West versus Eurasia. We are not fighting anyone but stand for resolving international issues on an equitable, mutually respectable and fair basis, which is the only foundation of long-term improvements in our turbulent world. Naturally, in this context, we perceived with regret the recently proclaimed guiding principles for the European Union's relations with Russia, which I consider fairly dull, not to mention the EU's appeal to all countries to introduce anti-Russian sanctions. I believe these positions that are deprived of imagination and understanding the rapidly changing global context, represent the worst version of "tunnel mentality". On this backdrop, Russia is called upon to promote its intellectual approach, display political dynamics and step up its positive influence on the formation of a new global arrangement.
As before, we firmly proceed from the premise that the future structure of global governance should be polycentric and based on the partnership of the main centres of the modern world, which reflect its cultural and civilisation diversity.
Such partnership should be aimed at parrying the challenges of our time, primarily international terrorism. The heinous acts of terror committed recently in Brussels, the European capital, again confirm this truth and justify the initiative made in the UN by President Vladimir Putin on forming a broad international anti-terrorist front. These issues remain central in our international contacts, including this week's meetings with German Foreign Minister Frank-Walter Steinmeier, US Secretary of State John Kerry and the meeting with Italian Minister of Foreign Affairs and International Cooperation Paolo Gentiloni that will take place today.
I hope that the team of the Foreign Ministry's Diplomatic Academy will cope with our ambitious tasks and continue contributing to common efforts to consolidate Russia's authority and influence in the world by training qualified specialists, upgrading the skills of our international experts, further expanding the practice of organising courses for our foreign colleagues, and developing such a useful undertaking as a diplomatic club that we actively support.