Foreign Minister Sergey Lavrov's remarks and answers to media questions at a news conference on the results of Russian diplomacy in 2016
January 17, 2017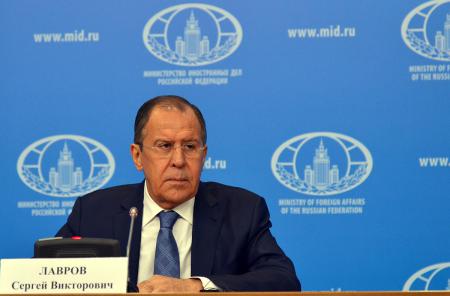 Good afternoon, ladies and gentlemen, happy New Year and best wishes on all holidays.
The past leap year was not easy. In addition to the troubles that usually befall leap years, some man-made events also took place which were not conducive to strengthening international security.
Russia's vision of its goals in the international arena is described in detail in the country's new Foreign Policy Concept that was approved in November by President Vladimir Putin. I am sure that all those who are interested in this sphere of our country's activity have familiarised themselves with it. International issues were very prominent at President Putin's news conference (December 23, 2016), as well as in a number of his other statements. I will therefore not lay out our vision of the year's results. We'll do better to leave more time for questions and answers.
I will only say that last year did not see any reduction in threats. I am referring above all to the threat of international terrorism, which continued doing its dirty business. It has affected residents of cities in Europe, the Middle East and other countries. As a result of a heinous terrorist attack, we lost our ambassador to Turkey, Andrey Karlov. Terrorism has become a genuinely systemic problem. The fact that the international community is still unable to effectively rally and form what President Vladimir Putin described last year at the UN as a united, universal antiterrorist front certainly arouses serious concern and regret.
Why is this happening? There are probably a lot of reasons. We see that pooling efforts to fight terrorism, organised crime, drug trafficking and many other threats is becoming a systemic problem that is compounded by basic differences between the objective trend toward the formation of a polycentric world, on the one hand, and the actions of those trying to hold on to the outdated concept of unipolarity, on the other hand. I am referring to the domination not even so much of one state as one group of states with their own system of values. More and more we are running up against a conflict that has been growing over the past several years and that has asserted itself in a very naked form at the current stage. I'm referring to the divide between what underlies the foreign policy of a particular country – pragmatism, correctly understood national interests – versus messianism, the aspiration to disseminate values across the world, what's more, according to the interpretation that has evolved and developed within this group of states.
If we talk about Western and European values, which are constantly put forward as example for us, these are probably not the values the grandfathers of today's Europeans espoused but something new and modernised, a free-for-all, I would say. These are values that can be called post-Christian. They are radically and fundamentally at odds with the values handed down from generation to generation for centuries in our country, which we would like to cherish and hand down to our children and grandchildren. When during foreign policy battles we and many others face a demand to accept these new post-Christian Western values, including permissiveness and the universality of liberal approaches to the life of the individual, I think it is indecent on a human level. But in terms of professional diplomats, it is a colossal mistake and a completely unacceptable overestimation of your own influence on international relations.
There is a struggle between two trends. The messianic addiction to propagating values (there was the export of democracy, and now we can see an attempt to export values) stands in opposition to the growing desire of serious politicians to focus on pragmatically assessing their own interests, on trying to understand the legitimate interests of other countries and finding areas of overlap in approaches to certain issues, be it terrorism or economic development, without undermining their own interests, and so on. You see, I believe the clash between pragmatism and messianism in foreign policy is adding a new dimension to the contradictions that have been observed over the past few years.
The Russian Federation's choice is well known. We are not intending, of course, to export anything. There used to be the practice of exporting revolution in our country's history. We have ceased doing that, but a bad example is contagious. I repeat, the export of democracy and values continues to sow problems in international relations. It is precisely the export of values and the demand to accept only the European view of things that triggered the crisis in Ukraine. The export of democracy and values led to the so-called "Arab spring", and we are now reaping the consequences. The "Arab spring" has, in turn, sparked the import of migrants in Europe. So, export-import transactions, unfortunately, do occur and don't benefit security one bit.
Our choice is pragmatism based on the core interests of the Russian Federation. Those interests are simple. They remain unchanged and consist of ensuring that our country does well, that the well-being of our people improves, and that our economy and social sector develop steadily in an atmosphere of security and under the most favourable external circumstances possible. That's what our work is aimed at. Here, there is no room for any idealised position or messianism. We are looking for overlapping interests with all who are ready to work toward a global economy that develops in the interests of all countries and peoples without exception. We are looking for common approaches with those who realise that there is no alternative to united efforts against terrorism and other modern challenges, with those who are ready to work with us on an equal and mutually beneficial basis, taking into account mutual interests and striking a balance between interests. We adhere to these positions in our work at the UN, BRICS, the G20, the CIS, the SCO, the CSTO, the EAEU and other multilateral structures. And we adhere to the same positions in building relations with our partners and allies in various regions of the world, whether individual countries or interstate integration associations or other kinds of associations. We are ready to build relations with the United States, the European Union and NATO on the principles of equality, consideration of each other's interests, mutual respect and, I repeat, without the import of values or attempts to impose any values on us, all the more so now that – as the latest information wars suggest – those values or pseudo-values have already been seriously discredited.
I would like our conversation to be frank. I have attempted to express what I feel at the current stage of international affairs. And now I am inviting you to ask your questions.
Question: Both during and after the US election campaign, there were claims of Russian interference in the process. How did the diplomats' working conditions change in 2016 in general? Were there more attempts to recruit Russian diplomats? Foreign Ministry spokesperson Maria Zakharova recently mentioned one such case. Is there evidence of covert pressure on diplomats in host countries?
Sergey Lavrov: Any diplomatic mission can share its experience of working in a particular country. On Barack Obama's watch, we periodically received complaints about the US embassy in Moscow working in unbearable conditions: surveillance, snubbing the ambassador, who was turned down by all Russian agencies. We made a special effort to look into the situation. It turned out to be the opposite of what was claimed. We inventoried the contacts that the Russian ambassador to the United States had at his request during the same period and we gathered corresponding information on the contacts of the US ambassador to Russia with Russian official agencies. Russian ministries, agencies and members of parliament receive the US ambassador dozens of times more often than Americans receive the Russian ambassador.
Regarding recruitment attempts, we have not made public complete statistics on this score, but over the past few years, especially during Barack Obama's second term in office, such unfriendly moves with respect to our diplomats increased. In her recent TV appearance, Maria Zakharova mentioned a case when an attempt was made to recruit an officer from the Russian Consulate General who had come to the doctor to pick up prepaid medication for Yevgeny Primakov. It takes real gall, profound cynicism and unscrupulousness to make a recruitment attempt in such a situation. That was not the only case. April 2016 witnessed unprecedented recruitment approaches with an offer of collaboration at the level of the second in charge at the embassy: minister-counselor. US special services, in a bid to make a recruitment offer, inserted $10,000 with an offer of collaboration into one of our senior-level diplomats' car. If somebody is interested to know, the money was put on the balance sheet by our accounts office and is working for the benefit of the Russian state. There were also some really disgusting episodes when two staff members at the Russian military attaché's office in Washington, who were having lunch with their wives at a restaurant near Washington on a day off, were seized by FBI agents, handcuffed and questioned, while being denied contact with the embassy. In the end, we naturally extricated our comrades but there was not even an apology.
As for the claims that on President Obama's watch, the US embassy in Moscow was subjected to unprecedented harassment, I can see no grounds for such claims. There were a few episodes that came out into the open because the Americans tried to portray them as a hunt for US diplomats. In reality, nothing could be further from the truth. What happened was that intelligence operations by US representatives working under diplomatic cover were stopped. There was a well-known case when a US diplomat in disguise, a wig and fake eyebrows or something got into the US embassy building, refused to present his ID to a security officer at the gate and hit him. There were also several other episodes involving US diplomats in disguise, including a man dressed as a woman, who then changed back into men's clothing in a public toilet. All of that was recorded. Staff members of the military attaché's office at the US embassy very much like driving all around our motherland in rented cars. Therefore they do not have diplomatic number plates. They use Russian number plates. That way it is easier to avoid being spotted. They go to the Kaliningrad, Leningrad, Murmansk and Voronezh regions. They have been repeatedly spotted in Novorossiisk and the republic of Chechnya and they have covered literally every inch of the border with Donbass. This is to say nothing about the fact that in addition to spying, US embassy diplomats have been often observed participating in unsanctioned anti-government opposition rallies, including in disguise. You can make your own conclusions.
I once spoke on this topic. In November 1933, diplomatic relations between our country and the United States were restored. [USSR] People's Commissar for Foreign Affairs Maxim Litvinov exchanged official notes with US President Franklin D. Roosevelt, which, in addition to recording the fact of the establishment of diplomatic relations as such, stated – to reiterate – at US insistence that each side has a right to run its affairs at it sees fit, undertakes not to interfere in the other side's affairs and to keep all organisations under its control from actions disrupting the calm, well-being and security of the other contracting party, including agitation to change the political and social system. This is almost a quotation. To repeat, it was included in the documents on the establishment of diplomatic relations between the USSR and the US at Washington's insistence.
In 2012, long before the events in Ukraine and long before the time when they began to accuse us of meddling in Syria, as well as other sins, a propaganda attack was launched against Russia and our foreign and domestic policy, with different agencies actively working in Russia, including the Agency for International Development. During one of our contacts, I proposed to US Secretary of State Hillary Clinton committing to paper the adherence to the principles that had been recorded as a basis of relations between our countries at Franklin D. Roosevelt's insistence. She politely evaded that conversation. A year later, John Kerry became the secretary of state and I proposed the same to him. He also did not show much enthusiasm about that. Draw your own conclusions and do not forget that the obligation not to engage in any campaigning to change the political and social system, as recorded at US insistence, is grossly violated, among other things, by the Ukraine Support Act that was adopted by the US Congress a couple of years ago, which directly instructs the State Department and special services to impose democracy in Russia the way the Americans understand it. Incidentally, this is about compliance with agreements and the fact that it is necessary to respect international law and remember that a document that was signed and not disavowed is your sacred obligation.
This has been a bit too long. But it's true that the US is doing a great deal, and this is not even everything.
Question: There have been many forecasts and statements expressing hope that Russian-US relations will improve after Donald Trump assumes office. If these forecasts prove accurate, what impact could this have on the Syrian crisis settlement?
Sergey Lavrov: This seems like a simple question, but it would take more than one phrase to answer it.
First, we are realists, and we are certainly watching the incoming US administration's preparations to assume office. I would not go to extremes in terms of expectations. The media and political analysts have made great many forecasts. Some are thrilled, while others say there is nothing to rejoice about and that nothing much will change. But there is no point talking about this now. Only after all seats are assigned and the new administration starts working will we see how relations between the United States and the rest of the world will develop. I said "the world" because Donald Trump has specific views. They differ greatly from the views of his predecessors, both Democrats and Republicans; his views are based on the fundamental US interests as Donald Trump sees them. When he says that his key foreign policy priority will be the fight against terrorism, we are happy to welcome this intention. This is exactly what our American partners lacked before him. On paper, they seemed to be cooperating with us and other countries, drafting relevant documents, but in fact, they were deceiving us when they pledged to separate the moderate opposition from Jabhat al-Nusra, which they did their best to protect from strikes. According to a recent leak about John Kerry's meeting with Syrian opposition forces several years ago, the United States regarded ISIS as a suitable force for weakening Bashar al-Assad's positions.
What Donald Trump and his team are saying now shows that they have a different approach to this and that they will not apply double standards in the fight against terrorism in order to achieve unrelated goals. What Donald Trump has said about his resolve to focus on US security interests and on creating favourable conditions for American business is just what President Putin goes by when setting out Russia's foreign policy guidelines.
I would like to mention one more issue which Donald Trump has spoken about several times. He said that each country must be responsible for its own development. We think so too. We believe that countries must act independently, that there must be less parasitism and more respect for the legitimate interests of all countries. Donald Trump has said that the fight against terrorism will be his main foreign policy priority, as far as I know, and so I hope that our cooperation on Syria and other counterterrorism issues will be more effective than our interaction with the Obama administration. But we will be able to officially coordinate our cooperation in the fight against terrorism in Syria only after the President-elect, the secretary of state, the defence secretary and intelligence and security officials assume office. We believe it will be correct to invite representatives of the UN and the new US administration, as I said at a meeting of the foreign ministers of Russia, Turkey and Iran in Moscow on December 20, to the planned January 23 meeting in Astana between the armed groups that signed a ceasefire agreement on December 29 and the Syrian Government. As you know, this agreement has been approved by the UN Security Council and that Moscow, Ankara and Tehran have pledged to guarantee compliance with it.
We hope the new US administration will accept this invitation and will be represented at this meeting at any expert level it considers appropriate. This could be the first official contact during which we will be able to discuss a more effective way to fight terrorism in Syria. It should be remembered that Russia and the United States created and are co-chairing the International Syria Support Group (ISSG), which has not been dissolved. It has two task forces – a Humanitarian Task Force and a Ceasefire Task Force. There is a good chance we can invigorate these mechanisms, considering that the new US administration is resolved, according to its statements, to fight terrorism in earnest and not as this happened before.
Question: NATO is now deploying troops on the Russian-Estonian border. What is your view on this?
Sergey Lavrov: It's not a good thing and I think it is completely unnecessary. If NATO's military organisation sees no better use for its forces than in Estonia, on the border with Russia, then their intelligence is not doing a very good job and they have little understanding of what is going on in other areas under NATO's responsibility.
Question: Is Russia ready to make changes regarding the occupied territories in Donbass and Crimea once the new US administration takes office?
Sergey Lavrov: Regarding the first question, we have discussed these arguments before and the relation between the events that took place and Ukraine's obligations, including under the Budapest Memorandum's terms. I remind you once again that the Budapest Memorandum contains just one legal obligation binding Russia, the United States and Great Britain, namely, that nuclear weapons would not be used against Ukraine, which had given up its nuclear weapons. This was the only legal obligation cemented in the Budapest Memorandum in 1994. At the same time, of course, this document also contained political obligations declaring that we all desire and would respect Ukraine's sovereignty, territorial integrity and independence. This accords completely with our position. The only thing absent from the Budapest Memorandum is an obligation on the part of Russia or anyone else to agree with the results of an anti-constitutional armed coup d'etat, led by people who made it their first act to proclaim a fight against the Russian language and Russians in Crimea. I can quote the former leader of the Right Sector, Dmitry Yarosh, who said that, "Russians should be driven out of Crimea or exterminated." No one had any obligation to accept political changes of this kind in Ukraine under leaders of this sort. When they violated the agreements of February 20, 2014 and ignored their obligation to form a government of national unity under guarantees from France, Poland and Germany, the Ukrainian coup leaders flagrantly violated the Budapest Memorandum's terms regarding the need to respect in full Ukraine's sovereignty and territorial integrity.
As for the Minsk Agreements, I have no intention of rewriting them. They were unanimously enshrined in the UN Security Council resolution. I have heard nothing suggesting that France or Germany as countries taking part in the Normandy format, or Donetsk and Lugansk as participants in the Contact Group have proposed changing these agreements. On the contrary, the entire international community repeats ceaselessly that there is no alternative to the Minsk Agreements. It is true that high-level political and official circles in Ukraine have expressed the view that no one intends to implement these agreements and that they should be redrafted and that the United States should be involved too, in addition to the Normandy format. We have been hearing this for a long time, right since the agreements were concluded. US President Barack Obama's administration has tried to support the agreements' implementation. These efforts had their use but did not ultimately produce results. I have heard nothing about the Trump administration saying the Minsk Agreements should be buried and the crisis in eastern Ukraine resolved some other way. We have no reason to consider this possibility.