Foreign Minister Sergey Lavrov's remarks and answers to media questions at a joint news conference with US Secretary of State John Kerry and UN Secretary-General's Special Envoy for Syria Staffan de Mistura, Vienna
May 17. 2016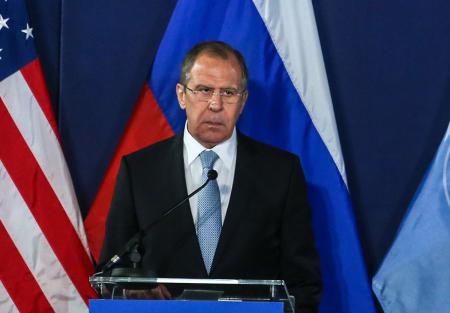 Ladies and gentlemen,
I share the opinions expressed here following our meeting today. US Secretary of State John Kerry put forth the details of the communique we have adopted. I believe that the main takeaway is that we have reaffirmed in full and without any exceptions that our efforts must be based on the Joint Statement of the ISSG and UN Security Council resolutions 2218, 2254 and 2268. The document we have adopted today reaffirms the importance of the agreements that were formalised in the above mentioned decisions. The main advantage of this collective stance is that it comprehensively covers all the key aspects of our efforts. These include, first, the cessation of hostilities and to spread the ceasefire throughout the country, second, expanding humanitarian access and, third, the political process. I'd like to say that we have noticed that progress has been made in all three of these areas. The level of violence has greatly decreased since late February when the ceasefire was announced. Humanitarian access has improved, although much still has to be done in this area. As for the political process, the planned round of talks has been held in Geneva under auspices of the UN Secretary-General's Special Envoy for Syria, Staffan de Mistura, and his highly efficient team.
The necessary conditions have been set for holding the next round of talks, during which all Syrian parties should constructively cooperate with the UN Secretary- General's Special Envoy for Syria. However, we must not forget that our common stance, as approved by the UN Security Council, stipulates the inclusive nature of the intra-Syrian talks. We consider it unwise to exclude anyone, for example the Kurdish Democratic Union Party (PYD), from the Geneva talks. We hope that those parties who have prevented the PYD's inclusion in the Geneva talks will withdraw their objections soon − we are talking only about a couple of countries.
The document we adopted today has formalised all of our prior agreements and complemented them with a number of practical measures, which Mr Kerry has mentioned. Most of these measures are based on Russia-US agreements, including the document, adopted in late March, on joint procedures in the event of cessation of hostilities violations. One more Russia-US statement [on Syria] was adopted on May 9. It also stipulates additional measures to prevent cessation of hostilities violations.
As Mr Kerry has said, we are working on a daily basis. There is the joint centre in Geneva, which was established thanks to the assistance of our UN colleagues, who provide us premises and equipment. This centre is working 24/7. In addition, the military commanders in charge of the Russian operation in Syria, which was launched at the request of the Syrian Government and is headquartered at the Hmeymim base, and the American military stationed in Jordan's capital Amman hold daily video conferences. They discuss ceasefire violations in detail and based on the facts and coordinate their efforts to address concrete problems on the ground.
I'd like to say a few words about what Mr Kerry has mentioned. Russia and the United States are ISSG co-chairs and maintain daily contact on all issues pertaining to the Syrian settlement because they have assumed special responsibility for the implementation of UN Security Council and ISSG decisions. In our joint statement of May 9, we have pledged, and we reaffirm this pledge today, to work with the Syrian authorities to convince them to monitor more closely the implementation of Syria's obligations. The United States committed itself to work with the opposition and regional allies, in particular, in order to help them prevent the flow of fighters, weapons or financial support to terrorist organisations in Syria.
I also want to highlight an issue of utmost importance, because all our efforts are rooted in our common concern over the growing threat of terrorism in the region, including Syria. It is the perennial issue of Jabhat al-Nusra, a group which is known to change its colours and form tactical alliances with various groups, even those that have joined the ceasefire yet violate their pledges when it suits them. We believe that the United States and other countries must honour their commitments to ensure that non-extremist organisations distance themselves from Jabhat al-Nusra, including territorially. This must be done so that the countries that are covertly sponsoring Jabhat al-Nusra will have no pretext to demand that the bombing of its positions be stopped.
Overall, I believe that we have moved forward on all of the above issues. As Mr Kerry has said, this progress has been put on paper and our current task is to bring progress to the ground. We will actively work towards this goal.
Question (translated from English): Could you tell us about the leverage applied to Syrian President Bashar al-Assad? Currently the Syrian president is either ignoring or resisting Moscow's pressure to comply with the ceasefire. How would you comment on this?
Sergey Lavrov (speaking after John Kerry): If by "leverage" you mean sanctions, I'm somewhat concerned with this characterisation, because we have been observing in the EU recently what we have observed in our US partners for a long time. I'm referring to the temptation to reach for the sanctions tool as soon as something goes wrong. The United States, Europe, and a number of other countries, incidentally, have introduced unilateral sanctions against the Assad regime. This can only aggravate the already serious humanitarian situation. Don't forget that, aside from the refugees, there are internally displaced people, nearly 6 million of them in Syria. Thanks to today's communique, this won't be forgotten. The sanctions that have been introduced, this so-called "leverage" for achieving political goals, exacerbate the humanitarian situation for civilians. Incidentally, unilateral sanctions are also being introduced against individuals in Yemen and Libya in a situation where a political dialogue proves hard to establish. We think this is a big mistake that will undermine the efforts to secure national reconciliation in the cases I've mentioned – in Syria and any other situation involving an internal conflict.
In his opening remarks, Mr Kerry said that Russia and Iran were supporting Syrian President Bashar al-Assad, as if it was something that goes without saying. We are not supporting Mr Assad. We are supporting the fight against terrorism. We don't see any more efficient or real force on the ground today aside from the Syrian Arab Republic's army (all its weaknesses notwithstanding) and the opposition detachments which we've contacted through Russia's airbase in Khmeimim. Several dozen opposition detachments and over one hundred communities have declared that they are participating in the process. We are continuing this work. We are not defending anyone personally; we are defending a member state of the United Nations at the request of the Government of this sovereign state, whose sovereignty, territorial integrity and political independence all of us have pledged to respect and secure in our documents and UN Security Council resolutions. This is yet another point that we should not forget.
We must choose priorities. Your question and today's remarks by a number of ISSG members were alluding to the need to choose between the regime and the fight against terrorism. I think this is unacceptable, all the more so when people say that things will work out right away – ISIS, Jabhat al-Nusra and the other terrorist groups will be defeated – as soon as Bashar al-Assad steps down. The UN Security Council has repeatedly approved resolutions saying that the evil of terrorism cannot be justified by anything, that there can be no justification for any act of terrorism. Thus, the implication seems to be that "either al-Assad, or we won't fight terrorism."
Today, when it was asked, why the normal opposition could not be separated from Jabhat al-Nusra so as to obviate pretexts for demanding quarter for terrorists and to provide an opportunity for better performance without complaints on the part of certain people, a colleague said at the meeting: "If we now bomb Nusra, who will seize the positions on the ground that it is occupying?" This is a Freudian slip meaning that these people think in terms that are incompatible with the UN Security Council's approaches. Thus, Jabhat al-Nusra is seen as a deterrent against the current regime. This is a very dangerous development. I think we'll have to continue discussing this point with our US partners and the other ISSG members.
Regarding leverage, I'll say the following. Leverage should not be applied to one side only, as we are constantly demanded to do. The other side also needs to be influenced. We mentioned earlier, and Secretary of State Kerry quoted a portion of our statement, that it is necessary to work to stop the flow of militants, weapons and money coming from abroad that feeds this conflict in Syria. Tanks are being sent to Syria as part of this flow and there were cases of suicide attackers using a tank to carryout terrorist attacks. This is a new development. To reiterate: we need to clarify our priorities. Those who say that they will not stop the bombing until Assad goes, take upon themselves a lot of responsibility. The priorities should be held. Fighting terrorism is the absolute priority. We have discussed this topic frankly with our partners many times, when they were not at the rostrum before large audiences. With very few exceptions, all of them unanimously admitted that the Assad regime was for them the lesser evil as opposed to the terrorist threat growing in the absence of a political process. We are trying to organise the political process but those who have put a stake on toppling the regime are attempting to derail it. They are setting up their charges at the Geneva talks up for an uncompromising and ultimatum-oriented stance.
To reiterate: we need to keep our focus on the priorities. Countering terrorism is for us the number one priority. We are well aware that we should move in all directions at once, expanding humanitarian access, expanding the territory where truce, cessation of hostilities and (prospectively) the ceasefire is in effect, and of course, looking for compromises within the framework of the political process. We shouldn't just leave everything as it is – that's clear to everyone. We shouldn't tear down the state institutions. We have a conceptual basis in this regard within the ISSG resolutions.
As for whether Bashar al-Assad is ignoring our advice and our work with him, he is doing nothing of the kind. President Bashar al-Assad of Syria knows well and remembers that he has assumed commitments to implement the sequence of actions provided under Resolution 2254 (Secretary of State Kerry just mentioned this): forming a joint transitional mechanism between the Syrian Government and the entire spectrum of the opposition in a transitional stage; drafting a new constitution; and holding early presidential and parliamentary elections based on this. All of this should take, we estimate, about 18 months. President Bashar al-Assad has reaffirmed these commitments during his contacts with Russian President Vladimir Putin.
Question: You've already mentioned the border control issue. How can the Syrian-Turkish border be controlled considering reports of arms supplies and the movement of terrorists across the border?

Sergey Lavrov: We've long been addressing this issue, because it is perfectly clear that it is the main supply channel for extremists and hardliners even though they do not formally designate themselves as terrorist groups. There is a border section between Syria and Turkey that is a little over 90 km long that on the Syrian side is controlled by ISIS militants and on the other side, by Turkey. There are two Kurdish enclaves nearby. Turkey periodically states that if the Kurds start trying to eject ISIS from this border section Turkey will not put up with it, nor will it put up with the merging of the two Kurdish enclaves, as this is unacceptable to Turkey. However, in any situation, someone has to fight ISIS along this border section because it is porous. Contraband moved across it in one direction (today, it has significantly declined), while arms supplies for militant groups and militants themselves moved through this border section into Syria. It is generally recognised that this situation is unacceptable, but there is considerable evidence pointing to the existence of a very serious and diversified network that was created on the Turkish side to preserve and conceal this supply route. Some time ago we circulated an unofficial document at the UN Security Council that contains facts from open sources confirming this unseemly and unacceptable activity. Our Turkish neighbors said at the UN Security Council that it was pure fiction, and today, when I reminded him of this, Turkish Foreign Minister Mevlüt Çavuşoğlu confirmed that Turkey categorically denies everything that is written in it. The document gives the names of population centres and Turkish organisations that are involved in this process, and provides many other facts. Instead of merely denying it, they'd better explain to the UN Security Council why this is not true, and if something is in fact true, request assistance, if Turkey is unable to curb these abuses on its own. We aren't gloating or trying to take revenge on anyone; we want to achieve the main goal – resolve the Syrian crisis by peaceful political means and we're doing all we can to bring this about.