Foreign Minister Sergey Lavrov's opening remarks during talks with US Secretary of State John Kerry
March 24, 2016.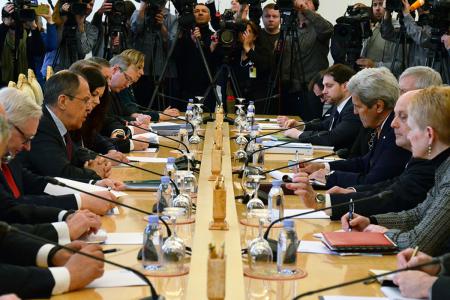 Esteemed Mr Secretary of State, Dear John,
Colleagues,
Welcome to Moscow. We meet regularly on the sidelines at various events but it's the third time in the past six or seven months that we've had the pleasure of receiving you in Russia.
As we agreed before, our conversation today will mostly focus on our cooperation internationally – specifically, the resolution of the Syria crisis, and also on other issues in the Middle East and North Africa. We will share our opinions on how the international community can contribute to the settlement in Ukraine. We have many questions that need to be discussed in the context of bilateral relations between Russia and the US. For a long time, you have expressed your interest in devoting time to this particular topic. I think we can do it today. At any rate, I expect that today's talks will be beneficial and we will be able to report to President Putin at our meeting with him at the Kremlin about our vision for further cooperation internationally.
Once again, welcome!
***
John Kerry: I look forward to our conversations. Let me take advantage of this moment to wish you a very-very happy birthday. I know that it will bring you extra wisdom in our conversations. You look terrific for thirty-nine.
Sergey Lavrov: Thank you, John, but if wisdom is measured by the number of birthdays one's had, I'll never catch up with you.
John Kerry: As long as you respect your elders, absolutely.
Sergey Lavrov: I completely agree with what you said about the importance of Russia-US cooperation. Our joint efforts in Syria and persistence brought us success because we worked and will continue to work together on an equal footing. We found a balance not only between the interests of Moscow and Washington, but between all the involved parties, both inside and outside Syria. This was our key to success. I'm certain if we maintain the same approach in other international affairs and our bilateral relations, we can hope for a pretty good future.