Foreign Minister Sergey Lavrov's opening remarks during talks with US Secretary of State John Kerry
July 15, 2016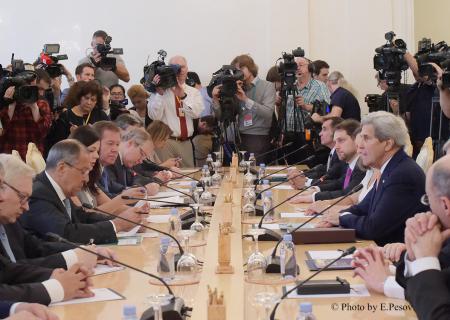 Mr Secretary of State, colleagues,
We would like to welcome you to the Foreign Ministry. We will continue the conversation that we started last evening at a meeting with President Vladimir Putin. I believe it was useful, and that it helped us focus on the need to step up our work to resolve the crises in Syria and the Middle East, and more effectively fight terrorism.
In my opinion, our work has taken on a new urgency in light of the heinous terrorist attack in Nice yesterday. If you don't mind, I suggest we honour the memory of the deceased with a moment of silence.
***
In any case, we need to get to work. Today, we plan to talk about settlements in Syria, Ukraine, Nagorno-Karabakh and the Middle East. You recently visited Israel, so I am counting on a productive conversation, including on our bilateral affairs that you touched on yesterday during the meeting with President Putin.
Welcome.