Foreign Minister Sergey Lavrov's opening remarks at a meeting with the UN Secretary-General's Special Envoy for Syria, Staffan de Mistura
April 5, 2016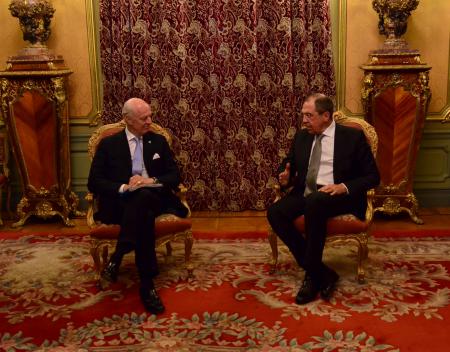 Mr de Mistura,
We appreciate this opportunity to exchange opinions ahead of the second round of intra-Syrian talks.
Russia, which co-chairs the Syrian settlement talks together with the United States, is committed to providing all-round assistance to your efforts as the main coordinator of this process. Interaction between the co-chairs and members of the International Syria Support Group (ISSG) and their resolve to provide assistance to your efforts have become key factors in the relative success of the first round of the Geneva talks that were held in March.
You have analysed the results of that round. None of the Syrian parties have refused to accept them. We consider it vitally important that all parties do their homework when preparing for the second round. We have a solid foundation for all of our subsequent efforts, which is comprised of the ISSG decisions and UN Security Council resolutions. We expect compliance with all the parameters set out in these documents.
As with any other conflict, the key goal in Syria is to ensure the inclusive nature of the talks and resolve to carry on with the direct dialogue between the parties involved. We will provide all-round assistance to your efforts towards this.
We hope your visit and our talks will largely contribute to preparations for the second round of the talks.
***
Sergey Lavrov (speaking after Staffan de Mistura): All the capitals you mentioned, including Washington and the European capitals, are very important, and all these countries should play a major role in promoting the political process. One of your biggest priorities is probably to encourage the unity of the external parties, because the signals they send to the Syrian parties should be synchronised. These should be signals of peace and national accord. After all, solutions to this crisis can only be found on the basis of the fundamental principle that was set out in the decisions of the Vienna group and the UN Security Council and according to which only the Syrians themselves must decide their future.
Of course, we will talk today about ways to better organise our efforts in this spirit. But I would also like to raise the issue of Palmyra, mine clearing and the mobilisation of the UN and UNESCO's efforts towards restoring this world heritage site.