Foreign Minister Sergey Lavrov's meeting with Syrian Deputy Prime Minister and Minister of Foreign Affairs and Expatriates Walid Muallem
September 23, 2016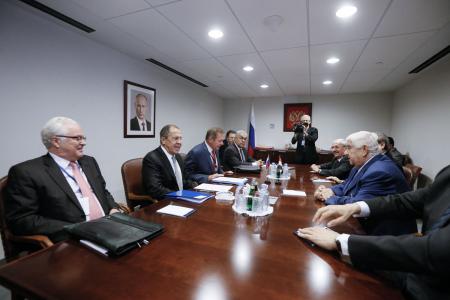 On September 23, Foreign Minister Sergey Lavrov had a meeting with Syrian Deputy Prime Minister and Minister of Foreign Affairs and Expatriates Walid Muallem on the sidelines of the 71st UN General Assembly in New York.
In the course of the conversation the parties exchanged opinions on the development of the situation in Syria and in the whole of the Middle East. A special emphasis was laid on the prospects of intra-Syrian settlement, steps that may take the situation out of the impasse and stop all violence. The Russian side reiterated the principled and consistent line on assisting the political and diplomatic settlement of the conflict as well as helping the Syrian government in countering international terrorists and extremists while upholding the unity, integrity and independence of the Syrian Arab Republic (SAR).
Walid Muallem confirmed the Syrian government's endorsement of the Russian-US agreements and its readiness to implement them.
Some aspects of the bilateral Russian-Syrian cooperation were also discussed at the meeting, including the current issues of economic and political cooperation.