Foreign Minister Sergey Lavrov's meeting with Chairman of the Presidential Council of Libya Fayez al-Sarraj
September 23, 2016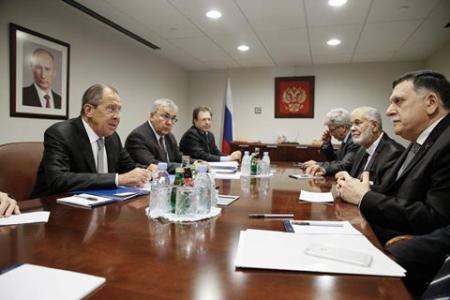 On September 23, Foreign Minister Sergey Lavrov met with Chairman of the Presidential Council of Libya Fayez al-Sarraj on the sidelines of the 71st UN General Assembly session.
The meeting included a substantial exchange of opinions on the situation in Libya with an emphasis on different aspects of the implementation of the intra-Libyan political agreement signed with UN assistance in Skhirat on December 17, 2015. The importance of fully implementing UNSC Resolution 2259, which endorsed the Skhirat agreements as the key element of the internal Libyan settlement, was stressed in this context.
The Russian side underscored its commitment to Libya's independence, unity and territorial integrity, as well as the need to involve representatives of the major political groups, tribes and the country's regions in the formation of the national unity government.