Foreign Minister Sergey Lavrov's answers to media questions during a joint news conference following talks with High Representative of the European Union for Foreign Affairs and Security Policy Federica Mogherini
July 11, 2017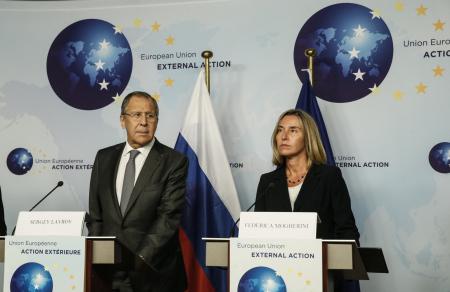 Question (addressed to Federica Mogherini): Russia and the United States signed a ceasefire agreement in Syria. Along with the talks in Astana attended by Russia, Turkey and Iran, this is a direct step towards the promotion of the peace process. In April the EU said again that Bashar al-Assad does not have a future in Syria. Is this the EU's only contribution to the peace process? Are there any other initiatives you can suggest?
Sergey Lavrov (answering after Ms Mogherini): We know what a great contribution the EU is making to alleviate the sufferings of the Syrian people. I think it's high time to look at the humanitarian consequences of the sanctions imposed by the EU and the United States against Syria. We have already discussed this abnormal situation with our colleagues. These sanctions are doing much to impede the development of the production of basic necessities in Syria, including medicines. Syria used to have a highly developed pharmaceutical industry but now it has been damaged by the sanctions and bans imposed on it by our Western colleagues.
Question: Could you please comment on the situation with Russian diplomatic property in the United States? What reciprocal measures can be taken if this property remains blocked?
Sergey Lavrov: We still hope that a country that has always advocated the supremacy of law will respect its international commitments. If this does not happen and we see that Washington does not deem it necessary to take such a step, we will certainly take reciprocal measures. This is the law of diplomacy and international life. Reciprocity is the foundation of all relations.
Question: Could you please explain whether Russia will expel 30 US diplomats and seize US property? If so, when will this happen?
Sergey Lavrov: My answer is very simple. You should have written down my answer to the previous question. I suggest you listen to it once again.
Question: I listened to it, Mr Minister. Could you tell me exactly whether diplomats will be expelled?
Sergey Lavrov: I have answered this question.