Foreign Minister Sergey Lavrov's answers to media questions at a news conference following talks with Finland's Foreign Minister Timo Soini
May 4, 2017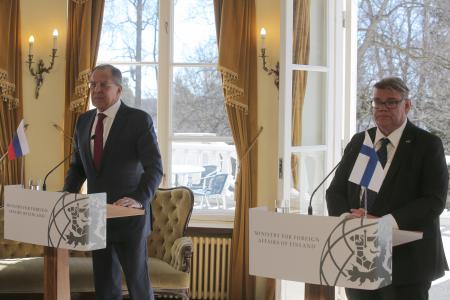 Question (addressed to both ministers): The possibility of a meeting between President Putin and President Trump in Helsinki is being actively discussed. How realistic does this idea seem to you? What do you think about Finland's role in such international issues?
Sergey Lavrov: This question has already been asked during the news conference held by our presidents in Arkhangelsk. President Putin said that if the United States is interested and willing to establish such a contact, Helsinki seems like a convenient place to us. Finland is our neighbour and a friendly country. We are bound by a centuries-old history. Of course, like other countries, we highly value the international reputation of Finland, which it has earned due to its consistent policy of neutrality. So far, there have been no plans to hold a meeting between the presidents of Russia and the United States within the next couple of months. President Putin and President Trump had a telephone conversation several days ago. It was a good conversation. They mentioned the upcoming contacts between them. The G20 meeting in Hamburg in July was named among the nearest available such opportunity.
Question: Russia and the United States are engaged in important talks, including the Syrian settlement. The countries maintain dialogue. The possibility of a presidential meeting is being discussed. On the other hand, the United States is discussing the possibility of influencing the presidential elections in that country. What do you think about Russia-US relations? What should we think about them?
Sergey Lavrov: We want to think positively about any relations with any country. We want to develop normal, mutually beneficial and pragmatic ties. This can only be done based on mutually beneficial respect, equality and a balance of interests. As far as we understand, in the course of his election campaign, President Trump spoke from more or less the same positions, advocating mutually beneficial cooperation with all countries, including Russia. This commitment was confirmed during a recent phone conversation between President Putin and President Trump. Unfortunately, at the time when the White House administration was changing, our relations were at a very low point, as the Obama administration did its best to undermine them. Sadly, the Russophobic campaign unleashed by the Obama administration has kept its momentum in the United States.
Clearly, this is done, primarily, in order to try to use the Russophobic card in the internal political fight in the United States, including on the part of those who failed to come to grips with the outcome of the election, held in full accordance with the US Constitution. We hear numerous hysterical accusations of Russia of all mortal sins. We see the US Congress create obscure interdepartmental groups to investigate the "Russian threat." However, we haven't seen or heard a single fact so far, which would corroborate at least something that we are being accused of. Likewise, we haven't heard or seen a single fact about our alleged involvement in the internal affairs of France and Britain. Recently, even your Swedish neighbours said that we are threatening them in terms of influencing the election outcome and the political situation. We can discuss facts, if there are facts. If there are no facts, we perceive these allegations exclusively as propaganda aimed at achieving not very plausible goals.
Judging by the fact that this question was announced as the last one, I take it that Finland has won this news conference 2-1.