Foreign Minister Sergey Lavrov's answers to media questions at a joint news conference following talks with Minister for Foreign Affairs and Senegalese Abroad of the Republic of Senegal Mankeur Ndiaye
April 17, 2017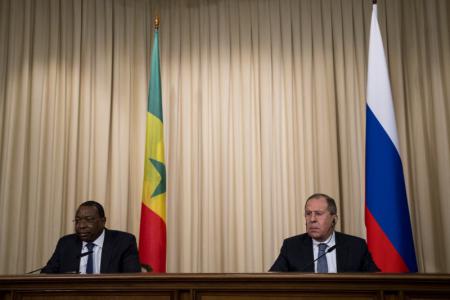 Question: Can you comment on rising tensions on the Korean Peninsula, taking into account US Vice President Mike Pence's comment that the era of strategic patience is over in relations with North Korea and that all options are on the table to achieve security in the region?
Sergey Lavrov: I wouldn't describe relations between North Korea and the Obama administration as an era of strategic patience, because the United States greatly restricted North Korea's ability to develop the industries that could promote the nuclear or energy sectors. The UN Security Council adopted harsh sanctions against North Korea and condemned its policy.
If the figure of speech used by the US Vice President can be understood as a threat of a unilateral military solution, it is a highly risky path. We condemn Pyongyang's opportunistic nuclear missile plans, which violate the numerous UN Security Council resolutions. But this does not mean that other countries can violate international law and use military force contrary to the UN Charter. I strongly hope that no unilateral actions will be taken similar to those we have recently seen in Syria, and that the United States will pursue the line President Donald Trump put forth during his election campaign.
Question: Can you comment on the statement by the US National Security Adviser Army Lieutenant General McMaster that "it's time though, now, to have those tough discussions" with Russia over its support for Syria's government and its "subversive actions" in Europe?
Sergey Lavrov: This is a complex question. I have no desire to comment on the unsubstantiated accusations made against Russia. First they concerned Ukraine, and now the focus has shifted to Syria. I have seen media reports that US or British officials are saying that they could cooperate with Russia if it [behaved] in Ukraine and, Syria, and now the Korean Peninsula has been added to the list. It appears that we must do something for somebody on the Korean Peninsula too, although we did not create the chaos that is reigning there. ISIS, and before it, al-Qaeda and Jabhat al-Nusra, are the offspring of opportunistic projects that involved our Western partners, primarily many US administrations, which began by supporting the mujahedeen in Afghanistan and praising them as freedom fighters, and continued this policy in Iraq and Libya. And now that these countries have been ruined, it appears that we must pay for the consequences. This is not how partners act. This approach is not acceptable to us. We will not listen to what President Trump's adviser has said, but what President Trump himself has said, that he is optimistic when it comes to improving relations with Russia. We are ready for this.