Foreign Minister Sergey Lavrov's answers to media questions at a joint news conference following talks with Belgian Deputy Prime Minister and Minister of Foreign Affairs and European Affairs Didier Reynders
July 12, 2017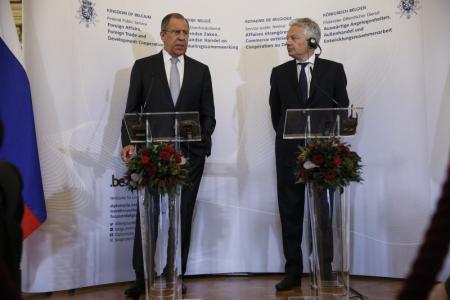 Question: Does Russian lawyer Natalia Veselnitskaya really have any ties with official Russian organisations?
Sergey Lavrov: It was with amused disbelief that I heard about Donald Trump Jr being accused of dealings with this Russian lawyer. In my opinion, this is absurd. Why should dealing with a lawyer become a problem or a threat to anyone?
I did not know anything about this until I read the news item to this effect and saw a television report yesterday. As I switched my television set on this morning, I learned that it was all over the Western media. It is surprising that serious people can make a mountain from a molehill. And maybe there was not even a molehill in this case.
Question: You said that President Trump had accepted President Putin's statements that Russia did not meddle in the US elections. What exactly did President Trump say? What has prompted you to reach this conclusion?
Sergey Lavrov: I put forth our opinion immediately after the meeting in Hamburg. I stand by my words. Unlike many people who write about what happened at that meeting, I attended it.
Question: You recently said that a centre would be established in Jordan to monitor compliance with the ceasefire agreements in Syria. US State Department Spokesperson Heather Nauert was asked a question concerning this centre at a briefing yesterday. Ms Nauert replied that Mr Lavrov "likes to talk a lot and get out ahead of some of the negotiations that are underway." What can you say to this?
Sergey Lavrov: How can this lady know what I like or don't like? We've never met. Regarding her words to the effect that negotiations on this issue are still underway, I don't know about the regulations on access to information at the US State Department, but the document that Russian, American and Jordanian representatives signed in Amman has a clear provision that establishes this centre. Getting out ahead of anything is not good, of course, but it is also important for diplomats to keep up with the issues at hand.
Question: Why do some Democratic leaders and journalists in the United States believe that Russia supported Donald Trump during the election campaign?
Sergey Lavrov: They have continued to ask us over the past few months why we interfered in the US elections. And we keep asking for at least a single fact. Many hearings have been held in the US Congress. Various representatives of the past administration and the current administration have spoken and television talk shows are being held on this issue. And yet, we have not seen a single fact to support these unsubstantiated claims. Please, ask the Congress and those who are doing their best to keep this issue hot. We have no doubt, as President Vladimir Putin has said repeatedly, that this ballyhoo was raised to revise the results of the elections that Donald Trump won.
Question: The United States admitted two days ago that Russia interfered in the US election through a Russian lawyer. Why did that lawyer decide to interfere?
Sergey Lavrov: Your colleague has already asked this question, and I have answered it. We have not seen a single fact proving our interference. If the media accept unsubstantiated claims and refuse to be concerned about the absence of hard facts, there is nothing I can do. It means that this profession has changed and relies on such approaches.