Foreign Minister Sergey Lavrov's answer to a media question regarding Russia-US cooperation in Syria
April 25, 2016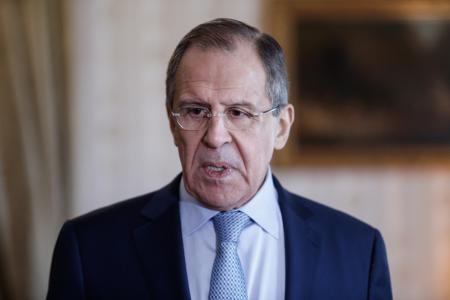 Question: In relation to the situation at the talks in Geneva, do you think that the UN Security Council plan [for credible, inclusive and non-sectarian governance in Syria] can be implemented within six months? How will Russia react to the US initiative to divide Syria into two zones of influence? Can you tell us about the progress in coordinating a new system for monitoring the ceasefire with the United States, the system US Secretary of State John Kerry spoke about the other day?
Sergey Lavrov: The situation at the talks could have been much better had not one of the delegations left Geneva, even though they said they would return. The talks continue; they have not been suspended. The UN Secretary-General's Special Envoy for Syria, Mr Staffan de Mistura, regularly meets with the Syrian Government delegation, the delegation representing the so-called Moscow-Cairo platform, the delegation of the internal opposition or Hmeymim Group, as well as with independent members of opposition. In principle, the UN Security Council has approved a six-month deadline upon the recommendation of the International Syria Support Group. All of us would like this process to take less time, in order that a new constitution be drafted sooner than six months and approved at a referendum to launch a political process, including a process of national reunification and reconciliation. But to achieve this objective within six months, or better still in four or five months, delegates should not slam the door or dig in their heels, as some members of the so-called Riyadh group (although it is a fact that this group is most strongly influenced by Turkey) have done. Delegates should not bring ultimatums to the talks, but should sit down at the table to negotiate an agreement. This is what all Syrians are obliged to do under UN Security Council resolutions. It is obvious that the group of delegates who call themselves the High Negotiations Committee is not complying with the requirements of the top UN body.
As for the UN initiative to divide Syria into two zones of influence, you probably have in mind the recent statement by US Secretary of State John Kerry on a proposal to draw a line between the zones occupied by "their" and "our" forces and to bomb everyone between them. This is a simplistic idea. The main objective must be to rout terrorism. We agreed that those who are connected with ISIS and Jabhat al-Nusra, as well as these groups themselves, which have been declared terrorist groups in UN Security Council resolutions, cannot be part of the ceasefire. We believe that any other groups that cooperate with these two groups cannot be part of the ceasefire either, for obvious reasons. We have accumulated substantial information according to which Jabhat al-Nusra is interacting with or subjugating the groups that had announced their decision to join the ceasefire and cessation of hostilities. We have a great deal of interesting facts, which we will summarise and submit to the UN Security Council so that it can update its list of terrorist organisations.
As for the US idea, we have long coordinated a simple solution for non-terrorist groups that want to join the ceasefire and the subsequent political process as patriotic forces but have suddenly found themselves on the terrorist front lines. This solution is that they should physically leave the areas that are next to terrorists. US Secretary of State John Kerry spoke for this solution at an ISSG meeting back in January, if I'm not mistaken. When we were asked not to bomb certain areas around Aleppo because not only Jabhat al-Nusra but also "good" opposition forces could be deployed there, we agreed that our American partners would use their influence to move "good opposition forces" away from the terrorist front lines, so that nothing would prevent the routing of the Jabhat al-Nusra terrorist group. The United States has not fulfilled the firm promise it made two months ago. Hence, I don't know what our American partners mean when they talk about zones of influence, but I know for sure that they should honour their promises, that is, move the opposition groups that are cooperating with them and are willing to join the ceasefire away from terrorist front lines.
The system of joint monitoring of the Syrian ceasefire has been coordinated. It is used on a daily basis under the guidance of Russian military leaders deployed at the Hmeymim Air Force Base and the US military who are guiding the US-led coalition from their headquarters in Amman, the capital of Jordan. As I said, they maintain efficient and professional interaction on a daily basis, and this helps them address practical tasks without any political slant. The system is effective, even though the Pentagon and lately also the US Department of State have publicly denied any coordination with the Russian military and claim that their contacts with the Russian Aerospace Forces are limited to the agreement on avoiding mid-air collisions. I don't know why the US Department of State and our American partners in general make these statements. Maybe they shy away from cooperation with Russia. But there is no place for shyness in the fight against terrorism.
Many questions have been asked about the US-led coalition's half-hearted fight against Jabhat al-Nusra. We ask our American partners the same and hope that no matter what reasons or desires may underlie their intention to appease their allies in the region, all of us remember that the UN Security Council has explicitly declared Jabhat al-Nusra a terrorist organisation. As I said, those who want to distance themselves from this group must do so physically, by moving away from its front lines on the ground.