Experts from Foreign Minister Sergey Lavrov's answers to media questions at a joint news conference following talks with Foreign Minister of New Zealand Murray McCully
August 17, 2016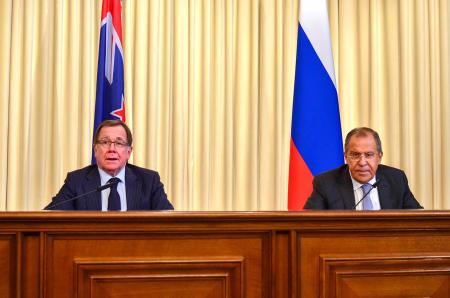 Question: What do you think about the strange trend in the US media and recent statements by US politicians, especially during the presidential campaign in the United States, who see the "Kremlin's hand" in everything? Even presidential candidate Donald Trump has been accused of pro-Russian ties. Is this some kind of a Russophobic paranoia or a global conspiracy theory?
Sergey Lavrov: We can hear and see Russophobia, which is off the charts in the US media. We are portrayed as a "global villain" and the enemy of the United States and the entire "progressive world." Many figures, not only reporters, but also politicians, including official representatives of the US administration, try to blame almost everything on Russia.
Speaking about the current presidential race, some time ago, when it was still far off in the future, news about Russia was almost nonexistent in US domestic conversations and discussions. Remember, we were referred to as a "regional power," which no one needed to be concerned about? I think Washington benefited from Russia not being used in domestic political games, because it made it possible to focus on addressing real issues facing the United States.
However, quite unexpectedly, as the presidential campaign took off and started gaining momentum, the Russian theme gradually moved to the foreground, and has now become an almost central theme. Recently, we have witnessed a volley of Russophobic hysteria. I'm not going to comment on pseudo sensational news, be it cybercriminals who hacked everything there is in the US segment of the Internet, or other ploys used to support one candidate and smear another. These are unscrupulous methods, and I don't want to comment on them. Unbiased US political observers refer to the current campaign as the dirtiest in US history.
President Putin has repeatedly articulated our position and stated publicly that we never interfere in the internal affairs of other countries, do not back any particular political force in matters of internal politics, and treat with respect the choice of any nation (and will do so with regard to the choice of the Americans). We are willing to work with any newly elected president regardless of his or her party affiliation.
The anti-Russian slant which can be felt in the presidential race, creates momentum in the American establishment, which is hardly conducive to promoting our dialogue with the United States, including on topical international issues.
I believe that time will heal all those who are now "sick," and our relations will resume their normal course. However, to do so, it is imperative to do away with Russophobic paranoia and stop trying to exploit instincts that harken back to the era of McCarthyism or the Cold War in order to achieve political goals in the United States.
Question: Where do we stand regarding the coordination of our actions to combat terrorism in Syria? Yesterday, Russian strategic bombers took off from the territory of Iran. Prior to that, Defence Minister Sergey Shoigu mentioned possible cooperation with US counterparts outside Aleppo, and you mentioned in Yekaterinburg that cooperation with Ankara and international monitoring of the border checkpoints are also a possibility. How can all these issues affect the rapprochement between the regional and global players? What can you say about yesterday's remarks by Deputy State Department Spokesman Mark Toner to the effect that Russia may have violated UNSC Resolution 2231 by using Hamadan Air Base in Iran?

Sergey Lavrov: I will begin by answering the last part of your fairly large question. I have a very simple response to this allegation: There are no reasons to suspect Russia of violating UNSC Resolution 2231. According to this resolution, the supply, sale or transfer to Iran of certain types of weapons, including combat aircraft, needs to be coordinated with the UN Security Council. In this particular case, there was no delivery, sale or transfer of military combat aircraft to Iran. With the consent of Iran, these warplanes are used by the Russian Aerospace Forces to participate in anti-terrorist operations in Syria at the request of the legitimate Syrian government. Iran is also cooperating with it. There's nothing to discuss.
If someone out there wants to split hairs with regard to what is happening with the remaining restrictions on trade and other relations with Iran, then we will need to look into why and how huge amounts of cash from the United States was sent to Iran, and why US dollar-denominated bank transfers were made from the United States to Iran, which is strictly prohibited by US law. I think all of that will distract us from our main goal, which, as you mentioned, is to establish coordination as we try to resolve the Syria crisis. This issue is being discussed by our respective military, intelligence services, and foreign ministries.
Yesterday, I had another long telephone conversation with US Secretary of State John Kerry. We use all these formats (at the level of foreign and defence ministries, and intelligence agencies), to discuss specific mechanisms of implementing the agreements that were reached on July 15 during Secretary Kerry's visit to Moscow, where he had lengthy discussions with President Putin and at the Russian Foreign Ministry. We have identified key problem areas that need to be addressed. In general terms, we are talking about achieving a ceasefire, that is, complying with the regulations introduced by the UN Security Council. To do this, it is imperative to cut off the supply lines which the terrorists use to replenish their manpower, stock of weapons and ammunition. The UN Security Council adopted Resolution 2165 to create a UN-led mission to monitor two checkpoints on the border between Turkey and Syria, on the territory of Syria. The United States and Russia are now assisting the United Nations in finalising the monitoring parameters with the Syrian government. Also with the United States and representatives of the UN, we are discussing the possibility of ensuring monitoring after crossing the Turkish-Syrian border on Castello Road which leads to Aleppo and surrounding areas. If we manage to establish such monitoring, and all of us, including the Syrian government, are reasonably confident that the ceasefire will not be used by terrorist organisations to replenish their stocks and bring in more gunmen, then, I'm sure, negotiating a ceasefire between the Syrian government and the groups which joined respective agreements, but regularly break them, will be much easier.
Humanitarian aid is another angle to this situation. Together with the United States and our colleagues in the United Nations, we are now considering ways to bolster the humanitarian initiative, which Russia, in conjunction with the Syrian government, is implementing in Aleppo. As you may be aware, there are seven humanitarian corridors in that area. There's a dedicated corridor that can be used by the militants who have realised the futility of their actions. By the way, they can leave with their weapons. These proposals remain on the table, and these corridors remain open. In addition, as I already mentioned, in conjunction with the Americans and the UN, we are discussing additional humanitarian aid delivery routes to eastern and western Aleppo, which is now controlled by the terrorists. With regard to western Aleppo, we now have a number of options offered by UN professionals, and they are now working on them in more detail.
In closing, I have a point to make. I'm not going to question the genuine willingness of our partners to resolve these issues, but it could have been done much earlier, if the solemn promises to mark off the "healthy" opposition from the terrorists, made during a ISSG meeting in January-February, had been delivered upon. To our deepest regret, our partners have now, in fact, admitted that they are unable to do so. Again, we are not making a tragedy out of it. The kind of work that I described will allow us to go over to what Defence Minister Sergey Shoigu mentioned – coordinated and more effective cooperation in fighting terrorism. However, all of that could have been done much earlier. We could have saved many lives, if separating the patriotic opposition from terrorists had been done earlier, as agreed.