Excerpts from Vladimir Putin's Annual Presidential Address to the Federal Assembly
December 1, 2016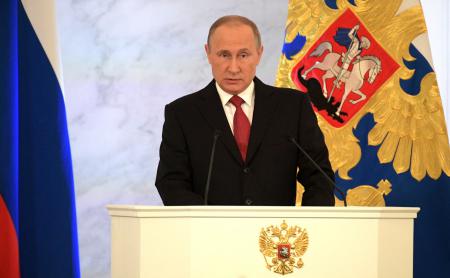 Vladimir Putin: "Russia is also ready to work with the new US Administration. It is important to put bilateral relations back on track and to develop them on an equal and mutually beneficial basis.
Cooperation between Russia and the United States in addressing global and regional issues will benefit the whole world. We have a shared responsibility to ensure international security and stability, to strengthen non-proliferation regimes.
I would like to emphasise that attempts to break the strategic parity are extremely dangerous and can lead to a global catastrophe. We must not forget about it even for a second.
I certainly count on joining efforts with the United States in the fight against real rather than fictional threats, international terrorism being one of them. That is the task our servicemen are fulfilling in Syria. Terrorists have suffered significant losses. The Russian Army and Navy have shown convincingly that they are capable of operating effectively away from their permanent deployment sites."