Excerpts from the Direct Line with Vladimir Putin
June 15, 2017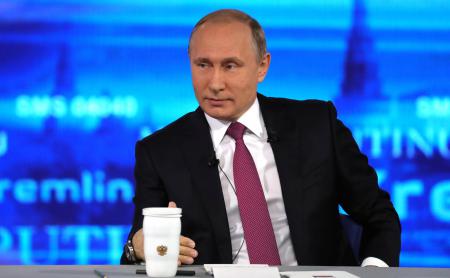 Tatyana Remezova: We received the following question online: "Two weeks ago, Europe extended the anti-Russia sanctions for another year. Do you think we are ready to live under these sanctions for decades?"
Vladimir Putin: In fact, the history of Russia shows that we have usually lived under sanctions whenever Russia started to become independent and feel strong. Whenever our partners in the world saw Russia as a serious rival, they imposed various restrictions under various excuses; this has been the case throughout our history, not just in Soviet times; this was the case even before the 1917 revolution. So no surprises here.
We now know that the US Senate has drawn up another draft law on toughening these sanctions. What are the reasons for this? Nothing extraordinary is taking place. Why have they started talking about sanctions again, for no particular reason? This, of course, testifies to the ongoing domestic political struggle in the United States. In any case, this is happening and I can see no real reason for it. If it had not been Crimea or some other issue, they would still have come up with some other way to restrain Russia. The policy of containing Russia has always been presented like this.
So, what is the situation with these sanctions and what impact, if any, have they had on us? They have had an impact. Has this been fundamental in nature? I do not think so. We have been affected more by the global situation and the drop in prices for our main traditional goods – oil, gas, metals, chemicals, and so on. What view do our partners take?
The US State Department believes that these sanctions have lowered our GDP by 1 percent, the Europeans give a slightly higher figure, and the UN has calculated that we lost around $50–52 billion, and that the countries that imposed the sanctions have lost $100 billion. In other words, sanctions have proven to be a double-edged sword and harm everyone, including those who impose them.
Strange though it might sound, however, there have been advantages too. What are they? For a start, we were forced to concentrate our intelligence, talent and resources on key areas and not simply rely on oil and gas revenue. What result has this brought? We have seen real production growth in important and complex economic sectors.
We have rebuilt substantially our skills in the radio-electronics sector, and we made good progress in aircraft engineering, rocket building, pharmaceuticals, and in heavy engineering. That is not to mention agriculture. We all know that agriculture has posted growth of around 3 percent and Russia is now a leader in exports of grain and wheat. That is the result we have to show.
We have reduced substantially imports and developed our own production of pork and poultry and cover practically our entire consumption needs. What's more, we are now looking for sales markets abroad.
We are in talks with our Chinese friends on opening the Chinese market to our pork and poultry producers. So, there are positive aspects in this situation.
But this is not a normal situation, of course. All of these restrictions do not produce anything good, and we should work towards a global economy that functions without these restrictions.
Natalya Yuryeva: Our next question comes from Jeremy Bowling from America, who not only sent it to our editorial office but also posted it on YouTube. There were heated debates in the comments on this video call – will we put it on the air or not. Even bets were placed. I betted on the positive answer. Just kidding. By the way, Jeremy Bowling said himself that we were unlikely to put it on the air. But let us still listen to it.
Jeremy Bowling: Greetings, Mr Putin. My name is Jeremy Bowling. I live in Mesa, Arizona in America. I am a big supporter of you. I am very pro-Russian and I wish you much health and success in your life. My question to you is this. As an American who sits here in America and sees the racist Russian phobia running crazy in my country, what advice would you give me to help set the record straight, to help my fellow Americans understand that Russia is not the enemy?
Vladimir Putin: To begin with, I am very grateful to you for this call. And I can tell you as the current head of the Russian state that I know the attitudes of our people. We do not consider America our enemy. Moreover, twice in history when we were going through very hard times, we pooled our efforts; we were allies in two world wars. In the past, the Russian Empire played a substantial role in helping America gain independence and supported the United States. We see that Russophobia is running high in America and think this is primarily a result of the escalating political infighting.
I do not think I have the right to give you any advice. I simply want to thank you for this stance. We know that we have very many friends in the United States. My American colleagues told me so, and public opinion polls show the same results. At any rate, those polls taken a month ago show that we have many friends there. True, regrettably such hysteria is bound to affect the frame of mind, but let me assure you that there are also very many people in Russia who have deep respect for the achievements of the American people and are hoping that eventually our relations will get back on track, in which both we and the United States are extremely interested.
Tatyana Remezova: People in this studio also have questions about our relations with the United States.
Olga Pautova has the floor.
Olga Pautova: I suggest talking on this subject some more, considering that when we were preparing for this programme and speaking to our guests, it became clear that this is an issue of concern to practically everyone. Even today, shortly before we were to begin, international issues were being discussed up until the last moment.
I am giving the floor to a person whose question is of concern not only to Russians, but to everyone in the world, without a doubt. Konstantin Remchukov, Nezavisimaya Gazeta Editor-in-Chief.
Konstantin Remchukov: Good afternoon, Mr President. I would like to talk about Russian-American relations. One of the current trends, as you and an American guest have said, is that bilateral relations are deteriorating and there is Russo phobia along with daily reports about new anti-Russia initiatives, including sanctions. At the same time, there is a growing demand not only for stabilising but also for improving Russian-American relations.
At a Senate hearing the day before yesterday, US Secretary of State Rex Tillerson said something to the effect that every time he met with his foreign colleagues since his appointment, they asked him to stabilise relations with the Russians. He indicated that his colleagues from the Middle East and Southeast Asia had the same request. This is how he explained the need to act during a hearing on the 2018 State Department budget.
In three weeks' time, the G20 will convene in Hamburg, where you are to meet with US President Trump. Is it possible that these talks will help prod this negative trend towards a more positive one and possibly even towards a radical improvement in our relationships with the United States? In what areas and on what issues can Russian-US cooperation be productive and mutually beneficial? I believe that these questions are of concern not only to people in Russia and the United States but many other countries as well.
Thank you.
Vladimir Putin: As someone with experience and well-acquainted with the subject, you know as well as I do the areas in which we can work together with the United States. This includes, above all, control over non-proliferation of weapons of mass destruction. We are the biggest nuclear powers and so our cooperation in this area is absolutely natural. This is an area of crucial importance and concerns not just the North Korean issue but other regions too.
Then there is the fight against poverty, fighting environmental damage and so on. We know the position the current US administration has taken on the Paris Agreement, but President Trump is not rejecting discussion on the issue. Cursing and trading barbs and insults with the US administration would be the worst road to take because we would reach no agreement at all in this case, but it makes no sense to seek agreements without the US, which is one of the biggest emitter countries. We must work together to fight poverty in the world. The number of people earning a minimum income has increased in Russia, but there is a disastrous situation in many parts of the world, and this is one of the sources of radicalism and terrorism, this poverty around the world, and we must decide together how to address this problem. Here, we must work with our other partners too, work with China, India and Europe.
By the way, we worked together with the United States to resolve the Iranian nuclear issue, and we did reach an agreement, we did find a solution. There are positive examples of cooperation then. The previous US administration directly recognised the substantial role that we played in resolving this issue. We can reach agreements and work together then. Of course we can.