Excerpts from the Briefing of Russian Foreign Ministry Spokesperson Maria Zakharova
June 15, 2017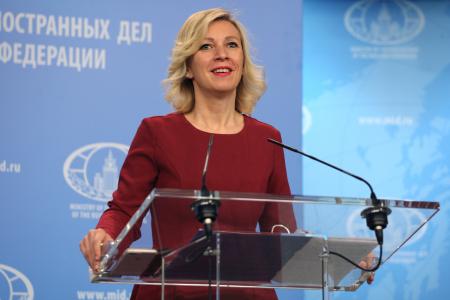 The situation in Syria
The military-political situation in Syria is showing generally positive dynamics.
The implementation of the May 4 memorandum on the creation of de-escalation zones in Syria and the further consolidation of the ceasefire regime allow the Syrian government forces to concentrate on fighting ISIS, Nusra and other terrorist groups.
The focus on forging local ceasefires continues to yield results. Civilians are returning to the towns of Khan al-Shih, Deir Habia and Drusha southwest of Damascus. The Damascus regional authorities are determined to restore the water and power supply system and social infrastructure as soon as possible. Local authorities recently announced their decision to allow residents of the town of Sbeineh to return to their homes. So far, however, that is prevented by ISIS activity in the neighbouring district of Al-Hajar al-Aswad, the only southern suburb of Damascus where terrorists still retain their presence.
Over 100 Syrian families have returned from a refugee camp in Lebanon to their homes in the towns of al-Tufail and Arsal al-Ward in West Qalamoun.
The Syrian Armed Forces have completed the first stage of a wide-ranging operation in the Syrian Desert. According to Syrian military sources, the Syrian government forces have approached the Iraqi border northeast of the Al-Tanaf border crossing point. New realities are expected to provide the necessary conditions for the final rout of ISIS and al-Nusra in coordination and cooperation with their Iraqi partners. Perhaps, Syrian government forces could have achieved more impressive results in this area but that was hindered by USAF military operations. During the past month, the Americans launched three attacks on Syrian troops, which were advancing in the south of the country, under the pretext of self-defence, purportedly to ensure the security of a coalition base near al-Tanaf.
Syrian government forces are still locked in fierce fighting with ISIS in the Homs province east of Palmyra. The Syrian Armed Forces have driven terrorists out of the Arak oil field and regained control of the T-3 airfield. The jihadists retreated from their strongholds near the al-Mustadira strategic height.
The Syrian military fought back an attack by the al-Jabhat al-Islamiyya group, an al-Nusra affiliate, west of the city of Salamiyah. At the same time, the Syrian Air Force dealt a serious blow to ISIS positions, destroying the terrorists' field headquarters in the town of al-Ukairibat east of Salamiyah, thus thwarting ISIS and al-Nusra coordinated attempts to sever the road to Aleppo.
Syrian government forces continued their successful advance from the north to the southeast along the right-hand bank of the Euphrates River. Forward subunits reached western districts of Raqqa province and took control of a section of an important highway between Itria and Resafa.
Subunits of the Syrian Democratic Forces are continuing to storm the ISIS capital of Raqqa and advancing to the city from the east and the west. They have gained control of industrial areas, al-Sabahiya and parts of Hattin and al-Romania. Fighting is reportedly going on in the old part of the city. The southern suburbs of Raqqa, where the most ISIS forces are amassed, have not been sealed off yet. Taking advantage of that, the jihadists are actively trying to evacuate in the direction of Deir ez-Zor and Palmyra. Thousands of civilians are continuing to leave Raqqa at the risk of their lives as the city comes under airstrikes by the coalition air force. According to the independent aUN Commission of Inquiry on Syria, since March, at least 300 people have been killed in the Raqqa area as a result of airstrikes by the US-led coalition.
Several dozen militants from the Liwa Ahrar Mambij illegally formed armed group in the north of Aleppo province have laid down their arms and surrendered to the Syrian authorities. A bloody clash took place in the town of al-Bab between the Sultan Murad Division, Ahrar al-Sham, Feilak al-Sham, First Regiment and al-Hamza Division groups, as a result of which over 30 jihadists were killed. We believe such clashes between militants result from their fierce fighting for the re-division of spheres of influence in Syria and access to outside financial sources.
The audio record of a conversation between M. Alloush, a representative of Jaysh al-Islam, and Jamal al Ward, a member of the Politburo of the National Coalition, which has been posted on a number of online resources, is hardly surprising. Alloush demanded $1 million a month as a condition for that militant group to join the National Coalition's military wing. The leader of the group stressed that such a partnership agreement would not be too onerous for the National Coalition, which is generously financed by other countries. I believe this is a telling example.
The guarantor countries of the Astana process – Russia, Iran and Turkey – are working on a new timeframe for the next round of the international meeting on Syria in Astana. Active consultations are under way to coordinate a package of documents related to the implementation of the May 4 memorandum.
Answers to media questions:
Question: In the end, did the Americans send us their greetings on Russia Day?
Maria Zakharova: It is a very interesting question. We received very many greetings on our national holiday, Russia Day, from heads of state, foreign ministers, other ministers, public figures and the media. I don't need to tell you about this, because you know how it is done. We have dedicated services, such as protocol and country-specific departments and sections, which keep record of such greetings. We have never thought much about the greetings we receive from other countries, because this is a matter of protocol, courtesy and polite behaviour, especially when it concerns national holidays. We have taken note of this after Washington's strange explanation. Before that we did not even think of whether they would send their greetings or not. But the explanation we heard made the story really interesting and even mystical. And then we received numerous questions regarding this from the media. We had to analyse the issue, which is when we learned more about it.
The Americans usually posted an informal statement on such greetings on the website of the Department of State. In principle, this is not how it is done in accordance with diplomatic practice, which provides for sending official signed greetings or telegrams to a specified address. This is diplomatic routine, which goes back decades. But the Americans did this differently. This year they have changed their routine. They have announced that the procedure has changed under the new administration and now they would send greetings via their embassies. It looked like they were returning to the usual diplomatic practice. However, when we saw these public statements and checked on them, it turned out that the US Embassy in Moscow has not sent any greeting to Russian government agencies. At the same time, greetings to other countries are still posted on the State Department website. We checked it after receiving your questions. It turned out that this June Washington posted online greetings on the national holidays of Italy, Sweden, Georgia, Azerbaijan, Great Britain, Portugal and the Philippines. It appears that the US administration has clearly got mixed up, either regarding the practice they should use or their explanations. It is difficult to decide what is really happening there. The situation is strange: they either don't know what they have on their own website, or they are making these statements to cover up for the poor knowledge of protocol. It's really difficult to say. Maybe they are afraid of saying something good to Russia amid the global anti-Russia hysteria. As you can imagine, we can do without US administration's greetings with a smile, but it has clearly got its wires crossed. We would not have taken any note of this if not for the statements made in Washington yesterday.
Question: Several days ago, US President Donald Trump gave the Pentagon chief the authority to send more troops to Afghanistan. Can this improve the situation in that country?
Maria Zakharova: Thank you for asking, because your question is just to the point.
It is an issue of global importance and concerns not only Afghanistan but also US foreign policy in general under Donald Trump, Barack Obama and any other US president for that matter. Just look what's going on: they adopt highly specific and itemised decisions to send more troops to this or that country or region, yet there is no strategic concept for US actions there. They seem to be dealing with issues of secondary importance, and possibly even with the internal matters of the national defence sector. But they still have no strategy for dealing with the problems of Afghanistan or for stabilising the country and the region, which they invaded resolutely with a UN Security Council mandate but have not yet reported on its achievements there even once. Russia and other countries do not know what the United States plans to do in Afghanistan over a period of the next few years, let alone in a decade. Washington has changed its Afghanistan strategy many times over the past few years, even during the term of one administration. First they said they would pull out of Afghanistan, and then they announced that the troops would remain. And they still do not have a foreign policy concept or a military political strategy. In my opinion, this is why they have not reported to the UN Security Council under the mandate that was issued many years ago to the United States and the US-led coalition. Firstly, they don't know what to report, and secondly, a report implies overseeing the current objectives. They didn't monitor what they really did or what they should do there.
They have no strategy and no concept, but they keep increasing, cutting and redeploying troops. I believe this is completely unacceptable in current international affairs. Regrettably, this is happening not only as regards Afghanistan. It is impossible to assess practical steps to build up troops without a clear concept of one's future actions. In other words, this is movement to nowhere, without a clear goal or strategy, and hence it is impossible to assess it in terms of goals or success. As I said, this is the problem with not just the current administration, which has not yet formulated a foreign policy concept for various parts of the world. The previous US administration also used this tactic, or its absence, and the tendency has been growing stronger over the past few years. We consider this approach to be counterproductive.
Question: Did you receive any response from CNN, in particular Christiane Amanpour, to your suggestion to go to Aleppo and make a report about the Syrian boy named Omran Daqneesh?
Maria Zakharova: No, I didn't. Frankly, I would like to talk to them via the CNN office in Moscow. We regularly receive inquiries from CNN reporters working in Russia and CNN reporters in the United States asking us to provide comments on a variety of issues, such as Russian hackers, new sanctions, meddling in domestic affairs, or other topics related to Russia. I receive requests for comments on a daily basis. Perhaps, CNN reporters will, collectively or individually, talk to their leading correspondent, a person who claims to be an expert in international relations, I mean Christiane Amanpour. Perhaps, they will let her know that since she came to Moscow, showed us a photo of that boy at our Foreign Ministry, and recounted his story, which she used to come up with corresponding conclusions regarding the situation in Syria, then maybe she will muster enough courage to make another report to refute her own stories, especially now that CNN is trying to stick to the truth and fight fake news.
To reiterate, it was not just another run-of-the-mill story, but an interview with Foreign Minister Sergey Lavrov. In addition, the interview was recorded shortly before the US election. If CNN believes that Russia had interfered in it in any way – without even providing any facts of evidence thereof – then she could look at her own story and her own materials in terms of manipulating public opinion in the run-up to the elections. This is a concrete case of actual manipulation of public opinion right before the elections in the United States.
They took a story that could leave no one indifferent, because it was about a boy – CNN said the boy was killed in Syria – a young child, in fact. Russia was accused of this crime. Directly or indirectly, the story created a sense that the actions by the Russian Aerospace Forces in Syria, which led to such casualties, were absolutely illegitimate. However, thanks to the efforts of responsible journalists who do their job properly, the truth has surfaced. Now, we are all aware of what happened. To reiterate, perhaps in the heat of its anti-Russian controversy, CNN could set aside some time to refute its own story, which, indeed, was part of the campaign to manipulate public opinion in the run-up to the elections in the United States.
Question: Did you have the chance to see the first two parts of Oliver Stone's documentary about President Putin? Do you think his position and the way he presented Putin's perspective on Russia-US relations can change the Russophobic policy of the US media?
Maria Zakharova: I think that direct speech, the opportunity for Russia and its politicians, leaders and officials to state their position directly, not through the lens of the media, is a very important way to get through to the American audience. It is important not just to exert influence on public opinion, but also to make sure that the American audience has access to alternative information.
Things that we read about ourselves and our country in the US media are terrifying. The information is distorted, fragmentary, and often stitched together and serves only one purpose, which is to perpetuate the already established image of Russia as a potential aggressor. We want everything that we say, and all of our materials, to be available to the US audience.