Excerpts from the briefing by Foreign Ministry Spokesperson Maria Zakharova, Republic of Crimea of ​​the Russian Federation
July 7. 2016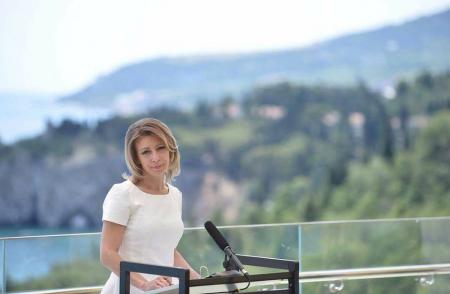 The situation in Syria
Regrettably, the end of Islam's holy month of Ramadan and the start of the fast-breaking festival Eid al-Fitr (Kurban Bayram) have not lessened the violence in Syria.
Clashes continue southwest of Aleppo. Unlawful armed groups have stepped up their activity to the north of Aleppo around Handarat, Kafr-Hamrah and Leramon. Armed groups continue their attempted offensives in the province of Latakia, in the vicinity of Palmyra, which was liberated from ISIS terrorists, and their provocations in Darayya, near Damascus.
It will be possible to fully eliminate this dangerous hotbed of international terrorism in Syria only if we ensure geographical separation between the opposition forces that are ready to respect the ceasefire regime and the terrorist groups part of Jabhat al-Nusra, and if we cut off the channels supplying arms and financing to the terrorist groups. The UN Security Council has fixed precisely these terms in its resolutions.
US involvement in anti-government rallies in Belgrade

We took note of reports in Serbian media about the participation of US diplomatic officers in rallies in Belgrade. The rallies were directed against the government, mind you, of a sovereign state. Importantly, different kinds of NGOs funded from abroad often act as direct organisers of such activities. Apparently, for some reason, their foreign sponsors do not really put much faith in Serbian "civil activists," since US diplomats have to personally participate in the pickets and control the spending of allocated funds. This, of course, represents an entirely new step in ways to support civil society, but there's not much else that can be done. The Serbian citizens showed the real value of the "civil society" protests financed from abroad during the April 24 elections. As it turned out, the coalition led by Prime Minister Aleksandar Vucic won an absolute majority of seats in the parliament.
In general, we can state that the practice of unabashed interference in internal affairs has taken deep roots in the Balkans. Using the same tried and tested schemes with the involvement of an "aggressive minority" that has been paid from the outside, the ground is being prepared for provoking another colour revolution, this time in Macedonia.
Speaking about civil society and what the citizens really think, the opinion of the majority is being ignored. For example, it has been repeatedly stated that Montenegro's accession to NATO is going at full speed, while no one asked the Montenegrins themselves about their thoughts on this account. Meanwhile, the Montenegrins continue to insist on a referendum or any other form of plebiscite that would be really meaningful, before that country takes an important and serious step, which will have consequences in the international arena. All this only adds to the already deep split in society. Unfortunately, Podgorica, with the strong support of the leading countries of the alliance, still refuses to hold a referendum on this extremely important issue affecting everyone in that country.
Work to maintain and strengthen the ceasefire regime continues, including through regular Russian-American contacts via military channels. Furthermore, Russian military personnel are making systematic efforts to get unlawful armed groups' individual detachments to respect a local ceasefire and bring more towns into the ceasefire regime. 173 towns are observing the ceasefire now.
We have taken note of the report by the human rights organisation Amnesty International, which sets out evidence of torture and mass executions committed by armed opposition fighters, including groups that received support and aid from the USA, in northern Syria.
We cannot ignore these shocking new reports, facts and evidence. Sadly, tragic reports of the same kind are coming now from the districts of Al-Bab and Al-Asliya, where ISIS fighters have captured 900 civilians, mostly Kurds, and are using them as a human shield and putting them to work building fortifications and so on.
A new government headed by Prime Minister Imad Khamis has been formed in Damascus. A large number of government ministers have kept their posts. Among the new government's main tasks is to address the serious socioeconomic problems affecting Syria as it continues the difficult mission of resolutely fighting terrorism.
Answers to media questions:
Question: We are now in Crimea. Do you see any threats to Russia on the Black Sea coast? What steps by NATO countries in this region are worrying you the most?
Maria Zakharova: I would encourage you to read the very detailed and thorough interview given by Permanent Representative of the Russian Federation to NATO Alexander Grushko to the newspaper Kommersant. He answered a question similar to yours: What response measures could Moscow take considering NATO's activities on the eastern frontiers and the consolidation of its naval group in the Black Sea region. He replied that we are doing everything to prevent the disruption of the balance of forces in the region. We are watching all NATO's steps. We've said more than once that we are worried by its activities on our frontiers and we don't understand what they are linked with. The only link is the information campaign on the Russian threat conducted by the NATO members themselves. There is no real threat from Russia to the NATO countries. We have our own domestic tasks and goals that we set. They are linked with upgrading our army and holding drills. But this is all happening on Russian territory. We are not expanding or increasing our contingents abroad or introducing them in other countries. To the contrary, this is being done by the NATO members. They accuse us of having aggressive intentions, but keep forgetting that our actions are limited to our territory whereas they are surrounding us more and more all the time.
I'd like to say that such steps will not remain without a commensurate answer but this is not our choice. We believe that now Europe and other parts of the world are facing urgent and very specific security issues. They are by no means covered by the NATO activities along Russian borders and are linked with completely different factors: international terrorism and the growth of extremism (for instance, in the Middle East and North Africa). We don't understand how NATO responds to these threats. We offer to work together. We suggested starting these specific albeit long overdue efforts in the autumn of 2015, as President of Russia Vladimir Putin said at the UN General Assembly. We want this struggle, in part, in Syria to be not only specific and meaningful but also legal. It could be possible to draft a relevant strategy in the UN Security Council.
As you know, all this was ignored. A bad situation became worse over time. Now we can see how that the United States is gradually starting to cooperate with Russia militarily. This was our initiative. It is being implemented with many difficulties and substantial resistance. But further developments in the region increasingly show that military cooperation is a must. Washington admits this now, but the resistance of some groups still remains very strong.
We see everything that NATO is doing. We are responding to it, saying that this is not our choice. If there is a feeling that Russia poses some threat, let's create new formats to discuss this if the existing ones are not enough. Meanwhile, we have the Russia-NATO Council that was blocked altogether for a long time and is just gradually resuming its work. We have a permanent mission at NATO in Brussels and it is also ready to analyse all information jointly, although the headquarters restricted the movements of the mission's employees and reduced contacts to a minimum.
If this is a global choice in favour of an arms buildup and aggressive rhetoric, we won't leave it unanswered but this is not our choice. We stand for a completely different approach. I'd like to draw your attention again to the interview given by Mr Grushko to Kommersant, in which he went into this issue in detail.
Question: Tomorrow, the NATO Summit will open in Warsaw. What are Russia's expectations from the summit, given that NATO Secretary General Jens Stoltenberg has recently said that Russia will remain isolated as long as it continues to undermine peace and order in Europe?
Maria Zakharova: Are there specific examples of how Russia is undermining peace and order in Europe? What lies behind these words? Sweden claims that we are threatening them. The UK says we are a threat. NATO Secretary General Jens Stoltenberg says we are undermining peace and order. What are the specific examples? Show them to us – and we will work on them.
As to the comments regarding the possibility of another Russia-NATO Council meeting, which is also related to the NATO Warsaw Summit, I would like to say that consultations on the contents and schedule of the meeting continue. We are not ruling out the possibility of convening the meeting soon after the upcoming NATO Summit in Warsaw. It will focus on the decision of the Warsaw meeting to strengthen NATO's eastern flank, and its consequences for all aspects of European security. Anti-ballistic missile issues will certainly be on the agenda as well, in the context of the ongoing construction of the US-NATO missile defence system in Europe. The plans also include an exchange of views on a number of other pressing issues on the regional and international agenda.
I would like to say once again that the format, which is being resumed with so much difficulty, was frozen by the alliance unilaterally. Yet, they keep on mentioning the Russian threat, and not directly but in the press and media. This leads to the conclusion that they are influencing public opinion to justify NATO's expansion and a build-up of troop strength in Europe.