Excerpts from the Briefing by Foreign Ministry Spokesperson Maria Zakharova
September 8, 2016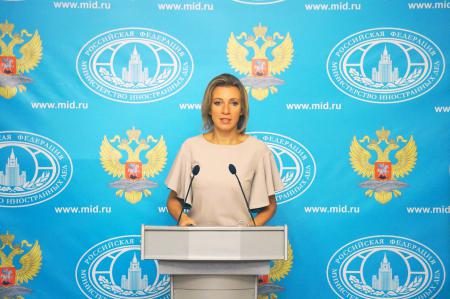 Foreign Minister Sergey Lavrov's talks with US Secretary of State John Kerry

I would also like to inform you that Foreign Minister Sergey Lavrov is expected to hold talks on Syria with US Secretary of State John Kerry. Yesterday the Foreign Ministry informed about the telephone conversation between Foreign Minister Sergey Lavrov and US Secretary of State John Kerry, during which they agreed to meet on September 8-9 in Geneva. The format of the meeting is still being discussed, but we believe that the agreement to hold the meeting has been reached. We will keep you updated about its logistics and time.
The expansion of anti-Russian sanctions by the US

We have already commented on the issue. Yet, I would like to speak about it one more time at greater length. You have probably already familiarised yourself with the numerous comments by Russian officials regarding the sanctions the United States imposed on Russia on September 1 and 6, unprecedented in their scale: 11 of our citizens and 107 legal entities fell under them. With obstinacy certainly worthy of a better cause at this historical time, the outgoing US administration keeps ruining our bilateral relations, citing the developments around Crimea and Donbass as an excuse.
It becomes ridiculous: last year, the United States slapped restrictions on a long-closed liquor and spirits plant in Crimea. We pointed that out. But now their line of thought has stretched farther. It is now the question of, I am not joking, a popular Moscow swimming pool, Chaika. I have been racking my brain, trying to figure out why Chaika, of all things. Maybe, it has something to do with Anton Chekhov (probably someone in the US administration dislikes him and will ban and levy sanctions against anything related to his 'The Seagull,' which in Russian is "Chaika"). I don't know. But there must be at least some reason, I thought. Could it be because the swimming pool is not far from the Diplomatic Academy of the Russian Foreign Ministry and is frequented by Russian diplomats? Is that the reason? I don't know. But I just can't think of any other possibilities.
What effect will such sanctions have? None. Even the White House, it seems, is aware of that and acknowledges that. They failed to rip our economy to tatters – the task proved too hard even for the White House. The policy of isolating Russia in the international arena has failed too. First to look forward to new meetings, call Moscow daily and ask for support in dealing with international crises, and then to talk about isolation – it's just absurd. I'd like to stress that it's not us who turn to the Americans for support, it's them who appeal to us all the time to help and join in efforts to resolve some regional or international conflict or another. The most curious and most ridiculous thing of all is that they ask us to get involved in resolving precisely those conflicts that they themselves instigated. That's as far as the outgoing administration is concerned. Evidently, it is now either politically inexpedient or not possible to admit that the failure of the course that they themselves worked out is their own fault. Therefore, some new steps are needed to emphasise its topicality, the "depth of thought and the height of flight." We realise that behind all that is an attempt to save face before their own public and cheer up their allies who are groaning under the losses they incurred from such a policy.
Unfortunately, despite the fact that we are aware of the foolishness of what the White House is doing, the principle of reciprocity in foreign policy has not been abandoned, with regard to blacklists as well. No one, including the Obama administration and, of course, those who will move into the White House, should have any illusions that the Russian Federation can be put under pressure. I do hope that they will prove to be wiser.
To be continued...