Excerpts from the Briefing by Foreign Ministry Spokesperson Maria Zakharova
July 21, 2016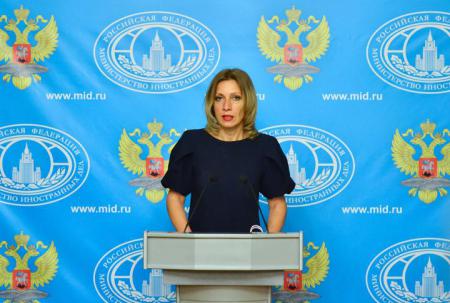 The current situation in Syria
As we turn to regional issues, I cannot but focus on the current situation in Syria, which is characterised by persisting military and political tensions. Clashes of varying intensity between the government forces and the terrorist groups continue in Sheikh Maqsood neighbourhood, Aleppo, Idlib and Homs provinces, and Darayya in the suburb of Damascus. The terrorists persevere in their attempts to change the situation in the Palmyra area, redeploying additional forces and resources there.
On July 17, an ISIS suicide bomber killed 30 local civilians in the city of Ayn al-Arab (Kurdish Kobani).
According to the information coming from the Centre for Reconciliation of Opposing Sides at the Russian Hmeymim airbase, Russian military have been helping to expand the number of populated localities supporting local ceasefires, which currently number 191.
The Russian-US talks held in Moscow on July 14-15 were an important landmark against this backdrop. As reported – and Foreign Minister Sergey Lavrov has repeatedly said as much – settling the Syrian conflict was central to the agenda.
During talks with the US Secretary of State, John Kerry, the Russian side pointed to the need for active steps to increase coordination of efforts in the fight against terrorism on the universal basis and without any double standards and to achieve a political and diplomatic resolution of the Syrian crisis. It was also stressed that the threat of a massive spillover of terrorist activities beyond the Middle East region was increasingly realistic.
We believe that a faithful pursuance of the Russian-US agreements on Russian and US joint efforts in the fight against ISIS and Jabhat al-Nusra and in consolidating the cessation of hostilities regime (COHR), which were reached in Moscow (I think it would be quite fair to call them Moscow agreements), should improve the situation in Syria. We hope that these agreements will substantially facilitate progress on the way to political settlement.
We hope that the US side will live up to its promise to separate the moderate opposition from Jabhat al-Nusra. We have repeatedly discussed this with them and, most importantly, we repeatedly heard our US colleagues say that they not only nurtured plans of this kind but also were ready to do that and would maximally facilitate this. There is no place for terrorists in the Syria of the future and in other countries in the region. They must be destroyed. In this way, conditions will be created for the Syrian people to decide the fate of their country on their own thorough a peaceful and democratic procedure. It is this [plan] that has been included in and provided for by UN Security Council Resolution 2254, as well as by decisions approved by the International Syria Support Group (ISSG) and the Geneva Communique of June 30, 2012, the founding document in this area.
We think it is highly important to make this the basis for a real launch of an inclusive intra-Syrian dialogue under the aegis of the UN Secretary-General's Special Envoy for Syria Staffan de Mistura, without any preconditions let alone ultimatums that are certainly out of place here. Russia will continue to assist precisely this course of events in the most diverse formats. From this angle, we have been preparing our participation in the Russia-US-UN trilateral high-level meeting scheduled for next week in Geneva. We will be able to announce the date after it is agreed.
Crimes in Syria
Shocking reports have been coming in during the last few days about the atrocities and inhuman crimes being perpetrated in Syria. We are gravely concerned about the reports that the Coalition's [air] strikes at the city of Manbij, Syria, to mention just one example, have left dozens of civilians, including children, killed or wounded. This is terrible news. Of course, these reports should be studied and the results of verification and investigation procedures should be made public. If these horrible facts are confirmed, proper conclusions will have to be drawn and all necessary measures taken to obviate the recurrence of anything of the kind in the future.
But this is not the single horrifying report that has come from Syria in recent days. Militants belonging to Harakat Nour al-Din al-Zenki, a group reportedly supported by the United States, made a video recording of their execution of a boy looking no older than 10 or 12 years of age. The "moderates" (as some are referring to them) beheaded the boy for just being suspected of spying for President Assad's supporters. This horrible, inhuman act is part of a video footage. According to the murderers, the boy allegedly was a spy sent by the Al-Quds Brigade.
According to the media, the Harakat Nour al-Din al-Zenki rebel group took the child prisoner not far from Aleppo. You can't watch this video unemotionally. Judging by the child's clothes and the marks on his hands, he was tortured before his death.
To reiterate: If someone refers to these "humans" as "moderates," we will never come to terms with them in this regard. These people have never been in the moderate camp, nor will they ever be. These people are terrorists pure and simple. They have no idea whatsoever of anything related to the general principles this world is based on.
Russian Dmitry Ukrainsky arrested in Thailand
I would like to comment on a media report concerning the arrest of Russian citizen Dmitry Ukrainsky in Thailand. We have received many questions and requests to comment on this. We are commenting on it not just because we've received inquiries but because we are now addressing the situation. I'll tell you about it.
Judging by reports from the Russian Embassy in Thailand, Russian citizen Dmitry Ukrainsky was arrested on July 15, 2016 in Pattaya under a warrant issued by a Thai court. He was placed in an immigration police pre-trial detention ward in Bangkok. Judging by preliminary reports obtained from Thai police through routine communications channels, Mr Ukrainsky was arrested under a US extradition request on charges of alleged involvement in money-laundering in the United States.
I would like to note that, so far, we have not received any official notifications from Thailand or the United States regarding the legal grounds for this Russian citizen's arrest.
In connection with this incident and subsequent developments, Thailand's Charge D'Affaires Ad Interim in Russia was summoned to the Foreign Ministry on July 19 where an official inquiry was presented. The Russian Embassy in Bangkok maintains permanent contact with the local authorities. A diplomatic note stating the unacceptability of a Russian citizen's extradition to the United States was forwarded to the Foreign Ministry of Thailand.
Members of the Russian diplomatic mission maintain permanent contact with the arrested Russian citizen and his relatives and provide him with any possible assistance. We are determined to take any action we can to secure his release or return to Russia.
Statements on Russia by UK Prime Minister Theresa May and new cabinet members

The new UK government did not take long to make public its opinions on Russia. Barely a week after she formed her cabinet, Ms May made a number of very strange statements about a "Russian nuclear threat." And this is not the only such statement she has made. Frankly, we expected the new cabinet to at least revise its terminology regarding Russia. But this has not been the case so far.
I would like you to note that Presidential Press Secretary Dmitry Peskov has commented on these statements, and there is not much I can add. We can only hope that these first, initial statements were written to old formulas, and that the new cabinet will not rely on what was inherited from the previous cabinet but be more creative and show more initiative in developing its own strategy.
I am talking at length about the statements made by the new cabinet because it is not entirely new: there are some members who served in the old cabinet. One of them is Defence Secretary Michael Fallon, who has made very strange and even shocking statements. He said, for example, that Russia's naval activities off Syria were a new challenge to NATO.
The Russian Foreign Ministry and the US Department of State routinely publish the transcripts of joint news conferences by Foreign Minister of Russia Sergey Lavrov and US Secretary of State John Kerry. We also regularly publish press releases on telephone conversations between Mr Lavrov and Mr Kerry, who talk as their countries' top diplomats and also as the representatives of their countries as the leaders of a coalition that is working in Syria to root out terrorists. Does Britain not know that the United States, as the largest member of NATO who actually directs the alliance's agenda, has long been cooperating with Russia on Syria? I'd guess that even kids know this. I should think Mr Fallon would learn about it too.
Frankly, I don't know how to connect the understanding – if there is any – that Russia and the US as coalition leaders are cooperating on the Syrian issue, with the presentation of Russia as a new challenge to NATO. Who are statements like this meant for? I refuse to believe that they're made for the British people. They are too well educated and smart to buy into this. Who is it for, then? I don't think Mr Fallon is chanting this mantra for his own sake.
I would like to believe that some things in the United Kingdom will change.
To be continued...




