Excerpts from the Briefing by Foreign Ministry Spokesperson Maria Zakharova
July 14, 2016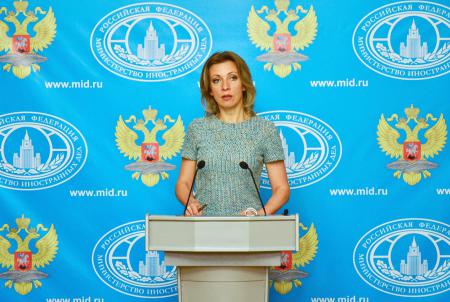 Russia-NATO Council meeting
On July 13, a regular meeting of the Russia-NATO Council took place in Brussels at the permanent representative level. For the first time since this format resumed, the meeting was attended by representatives from the Russian Defence Ministry and the alliance's military agencies.
The discussion focused on the decisions taken at the bloc's Warsaw summit to strengthen its eastern flank and their implications for European and regional security. We heard nothing fundamentally new. Essentially, NATO representatives confined themselves to describing the outcome of the Warsaw summit.
The Russian delegation pointed to NATO's direct responsibility for a possible escalation of military and political tension on the European continent as a result of the unprecedented buildup of the bloc's military capability and its activity in the regions bordering Russia, and in light of the continuing deployment of the US/NATO missile defence system in Europe.
Russia proposed a host of specific practical steps to improve trust, including flights of military aircraft in the Baltic region with their transponders on, pursuant to the Niinistö plan to enhance air safety in the region that we supported. Russia also expressed a willingness to continue an in-depth discussion on the array of military-political issues at the military expert level.
These proposals were made. They are on the table. We are waiting for a response from our colleagues, NATO representatives. We hope that this response will come without any significant delay.
During the meeting, Russia unequivocally and decisively rejected the alliance's attempts to gloss over the discussion on Ukraine with political slogans and declarations. Russian diplomats and experts steered the conversation to a substantive discussion of the situation in the country and the implementation of the Minsk Agreements. We focused on the importance of Brussels' continued contact with Kiev with the aim of ensuring the quick and complete fulfillment of the obligations the Ukrainian authorities have assumed. We pointed to the destructive nature of NATO's efforts to strengthen Kiev's military capability and the military exercises conducted by alliance members on Ukrainian soil.
The discussion on security in Afghanistan and regional terrorist threats proceeded in a more constructive way. It was stated that despite the years-long presence of NATO contingents there, the situation in the country continues to degrade, with terrorist metastases continuing to spread throughout the region. Russian representatives stressed that NATO still bears a certain responsibility for these processes.
Despite the alliance's continuing desire to use the Russia-NATO Council and its mechanism solely as a channel for promoting intra-bloc objectives, we regard it as a necessary mechanism for consultation and the harmonisation of [our] approaches in the interest of strengthening peace and stability on the European continent.
I'd like to stress that we are open to further equitable dialogue with the alliance in this and other formats on the entire range of Euro-Atlantic security issues.
Question: Russian-US talks will be held in Moscow tomorrow. Regular contact and many meetings have not produced any significant results in the fight against terrorism or in the conflict in Syria. What can we expect from the upcoming meeting?
Maria Zakharova: I believe this question should be addressed primarily to our American partners. I would like to remind you that US Secretary of State John Kerry is coming on his own initiative, which I assume was coordinated with the US authorities. We will know today what Mr Kerry brings to Russia and what Washington has prepared for us. As the Presidential Executive Office has announced, Mr Kerry will meet with President of Russia Vladimir Putin today. Tomorrow Mr Kerry will meet with representatives of the Foreign Ministry of Russia.
You know that we maintain contact with our American colleagues not only during personal meetings but also via numerous telephone conversations between the foreign minister and secretary of state, as well as at expert meetings, including at European venues, where they also discuss Syria. The Russian Embassy in Washington is contributing to these efforts too, and we maintain working relations with the US Embassy in Moscow. We are open to the exchange of ideas and proposals. We have never avoided this kind of cooperation, and we are willing to do it every day. We keep these channels open.
We will know soon what Mr Kerry has for Moscow. He knows that Russia is a hospitable country. We try to create a constructive atmosphere for talks, despite the general background, which is not improving, unfortunately. It appears that some forces in Washington do their best to prevent the implementation of all our positive and constructive ideas. We will keep working on this and will try to make our relations more constructive and positive.
Question: On Tuesday, July 12, the US signed a military agreement with Iraqi Kurdistan on mutual understanding and arms deliveries to Peshmerga forces. What is Russia's attitude towards these US actions with Iraqi Kurdistan? Will Russia sign a similar military agreement with this region? Will Russia support armed Kurdish Peshmerga troops to counter terrorism?

Maria Zakharova: To counter terrorism, we don't need to do things in the same way that everyone else does it. We are involved in this process in our own way, you are well aware of this. You know that we support the Kurds and their counterterrorism efforts, in particular, on Iraq's territory, being that you mentioned that country in particular. We are doing this in a manner that we consider to be the right one in terms of international law, as agreed with official Baghdad. We keep you informed and sometimes provide more details about this activity. This work is being done on an ongoing basis.
As for details of the agreement signed by the US, you'd better address this question to the US. I've told you about our efforts.
Question: I would like to ask you about US Secretary of State John Kerry's upcoming visit to Moscow. Can you tell us a few things about the specific issues to be discussed today and tomorrow?
Maria Zakharova: Several days ago, we posted detailed materials concerning the visit and the agenda of the talks on the Foreign Ministry website. I will say that, of course, the parties will focus on the situation in Syria. We will discuss current bilateral issues. Certainly, the parties will touch on the Ukrainian issue and a number of other current issues on the international agenda. This is the basic information we have.
Again, this comment was posted on the Foreign Ministry website.
Question: At his recent conference in Aspen (Colorado), US Secretary of State John Kerry described Ahrar al-Sham and Jaysh al-Islam as subgroups of Jabhat al-Nusra. Does Russia agree with this assessment? Does Russia share the opinion that these two armed groups should be included into the list of terrorist organisations?
Maria Zakharova: With due respect for the American side for their wanting to include some groups or subgroups into terrorist lists, we assign priority to acting within international law rather than agreeing with the US Administration. It is up to the UN Security Council to decide on the status of given terrorist group. Accordingly, the groups recognised by the UN Security Council as terrorist are terrorist groups. There is also national law, which can qualify some groups as terrorist. We do not depend on the volatile opinions of politicians, whose opinions may change, depending on the changing of circumstances. We have always stuck to this position.
Question: Do you think Russia and the US could cooperate in Syria, without the involvement of Syrian President Bashar al-Assad? Perhaps, US Secretary of State John Kerry might come up with an initiative that you are not aware of yet?
Maria Zakharova: Let's not get ahead of ourselves here. Let him bring it to the table first – and it is an important part of the process. First, as we say it in Russia, let him carry it without spilling it. Second, I do not quite understand how you envisage military cooperation between two countries in a third country, excluding the third country. Is it like in Iraq? Or where? Perhaps, like in Libya? Give me an example of how it would look like.
As for the criticism involved, we have repeatedly said that we do not personally support Syrian President Bashar al-Assad, we said we were more concerned about preserving Syria's statehood and perhaps primarily, the forces that would be capable of confronting the terrorist threat "on the ground". It is crucial for the Syrian people and the international community alike. With all our sympathy towards the Syrian people, there is a pragmatic aspect to it too: if Syria surrenders to this terrorist pressure, it is terrifying to think of what will happen to the region and Europe and neighbouring countries. We have said it many times that we do not share the obsession with Bashar al-Assad's personality. We think we should start with cooperation in the fight against terrorists above all, with no preliminary conditions.
Preliminary conditions play into the hands of terrorists. There should not be any. The anti-terrorist fight should be unconditional and prioritised. This should be our starting point.
If you are asking about the political process, we believe it should be intensified to overturn the slowing trend we are seeing now.
Question: The US State Department has recently published a report on human rights in North Korea, and the US Treasury Department has announced new sanctions against senior North Korean officials. In response, the Foreign Ministry of North Korea published a statement denouncing these US decisions as a provocative and hostile act that exceeds the framework of human rights issues and as political intrigue designed to push North Korea into isolation. Can you comment on the unilateral US sanctions against North Korea's top officials?
Maria Zakharova: Yes, I can. We have read the US State Department's report on human rights in North Korea. We have also seen the Treasury Department's sanctions list, which includes top North Korean officials. I will now present our views on this issue.
You know that Russia supported UN Security Council Resolution 2270, which was adopted in March of this year following North Korea's nuclear tests and missile launches. The resolution instructed all UN member states to strictly comply with the sanctions imposed on Pyongyang. However, we consistently protest against using human rights issues for political objectives or as an instrument of political pressure and interference in the internal affairs of states. Regarding the Korean Peninsula, we contend that the current priority is to reduce the level of confrontation in the region. Another priority for all those who can influence the situation is to create conditions for the denuclearisation of the Korean Peninsula. These are our priorities, and in light of them we are urging all concerned parties to avoid any action that could escalate or that are already escalating tensions. We also urge them to continue working towards settling the Korean issue through political and diplomatic measures, which certainly includes dialogue.