Excerpts from the Briefing by Foreign Ministry Spokesperson Maria Zakharova
July 14, 2017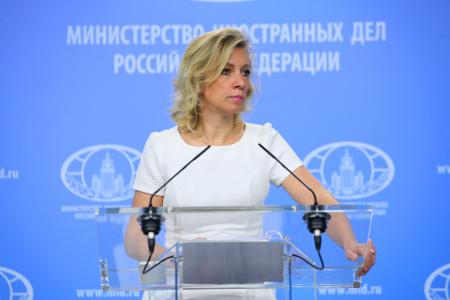 Status of Russian-US relations
Honestly, we were surprised by the tone of comments we have heard at recent briefings in the US Department of State. They probably think we cannot speak in such a tone or comment on bilateral relations – the Americans spoke about some rushing around or Foreign Minister Sergey Lavrov running ahead. They have displayed incomprehensible audacity in dealing with information. Such rhetoric is not our choice but we can use it too, and now I will show you how.
Recently we received many questions about consultations of Deputy Foreign Minister Sergey Ryabkov and Under Secretary of State for Political Affairs Thomas Shannon regarding diplomatic property. There were many leaks; some things were a far cry from the truth, whereas other statements were based on some facts. This is why I would like to comment on this issue.
Indeed, a regular round of Russian-US consultations on bilateral relations was scheduled for July 17 in Washington to be held by Deputy Foreign Minister Sergey Ryabkov and Under Secretary of State for Political Affairs Thomas Shannon.
Initially, this round was scheduled for June 23 but it had to be postponed because the United States was not ready for a meaningful discussion.
We hope that after the Hamburg summit on July 7, the US side will display a more constructive approach. As we all understand, the previous US administration left for the current one numerous problems and irritants it had created in relations with Russia, up to and including the abduction of Russian citizens in third countries and the acquittal of Americans who were guilty of the death of their adopted Russian children. There were many problems. Naturally, if such practices are not discontinued it will be hard to develop fruitful cooperation.
This also applies to the expulsion of 35 Russian diplomats half a year ago (you remember how this was done) and the illegal seizure of Russian property that is protected by diplomatic immunity. Indicatively, as distinct from public statements made in Washington at the time, the notes of the US Department of State that announced on December 29 the decision to block our property, have no references to "Russia's interference in the US election" or some invented cyber break-ins. There is no direct or indirect mention of them. The reasons for the decision were not stated. Apparently, our colleagues from the Department of State were afraid to put down an obvious lie on an official document for fear of having to answer for it.
Regrettably, neither problem has been resolved. The seized property has not been returned. Far from reversing the decision to expel our diplomats, Washington is refusing to issue visas to those who are supposed to replace them. Moreover, they are trying to make absolutely unacceptable linkages that have nothing to do with these problems and are quite a different matter. There is a great deal of rambling on. If there is no progress we will really have to take reciprocal measures, as we have warned more than once through bilateral channels and on the record.
We have something to say in response. The numerical strength of the US Embassy in Moscow far exceeds the number of our employees in the Russian Embassy in Washington, DC. Hence one of the easy options is to even out the personnel, apart from a symmetrical expulsion of Americans. This is all the more urgent since there are too many employees of the CIA and the Pentagon's Defence Intelligence Agency under the cover of the US diplomatic mission, whose activities are glaringly at variance with their status. You have heard and seen what they were doing – there is open access to their adventures with wigs, changes of clothes and other installations and performances. We can refresh everyone's memory.
We are ready to take reciprocal measures regarding property. By blocking our access to Russian facilities in the United States, its authorities crudely violated not only the 1961 Vienna Convention on Diplomatic Relations but also our 1979 bilateral agreement under which we granted the US Embassy in Moscow two plots of land – for a summer house and a storage facility.
Let me repeat (we have said this and explained this many times) that we would not like to go to extremes. We never rush on such matters. As you know, there was a very long pause that has obviously lasted for too long. If our American partners do not understand it in a different way, at some point we will have to take steps in this direction.
US Embassy representative's visit to the Russian-Serbian Humanitarian Centre
On July 12, Assistant United States Defence Attaché in Serbia Hyrum Lowell Garvin, a representative of the US Embassy, visited the Russian-Serbian Humanitarian Centre in Nis.
The Russian-Serbian Humanitarian Centre's Co-Director Vyacheslav Vlasenko and its Serbian employees informed the guests about its history, structure and the legal framework of its operations.
They discussed the Russian-Serbian Humanitarian Centre's substantial contribution to disaster prevention and relief in Serbia and other Balkan countries over the past few years, providing emergency humanitarian relief aid, boosting the efficiency of Serbia's emergency response system, including by training Serbian experts at educational institutions of Russia's Emergencies Ministry and the Centre's training grounds, conducting various exercises and training sessions and by delivering modern firefighting and rescue equipment to Serbia.
The US Embassy's representative received exhaustive answers on all questions of interest to him, including those regarding the draft Russian-Serbian intergovernmental agreement on the terms of the Russian-Serbian Humanitarian Centre's deployment, privileges and immunities of its personnel. He was able to conduct an onsite check of the Centre's equipment and technology. He was particularly interested in how its crisis management facility makes it possible to quickly obtain updates on the regional climatic and industrial situation and to predict its development. This allows local authorities to take the required effective action.
The US Embassy representative's visit once again highlights the Centre's absolutely transparent activities. Its employees only respond to emergencies and provide humanitarian relief in Serbia and other Balkan countries. The US visitor voiced no remarks in this respect.
The US visitor was also told that the Russian-Serbian Humanitarian Centre's humanitarian mine disposal unit would start removing explosive devices on Serbian territory this July, and that the first batch of Russian equipment and technology would be delivered for replenishing the Centre's reserves and for expanding its personnel training capacity.
Delegations from some other foreign embassies in Belgrade are to visit the Centre next week. On July 18, representatives of Austrian, Swiss and Polish embassies are set to arrive at the Centre.
I would like to repeat that, if someone is making any comments and voicing concerns with the actions of Russian agencies or those created with Russian assistance, then we are ready to answer all questions. This is a specific example. The same concerns hackers and all the other nonsense that they are saying about us all the time without providing any evidence. It would be our pleasure to discuss any facts or any unconfirmed reports and to provide the required information, to conduct checks and investigations.
Answers to media questions:
Question: Could you provide more details on the US terms for returning Russian diplomatic property?
Maria Zakharova: This is why we need consultations. This meeting should be more than just a protocol meeting. We have already had a lot of them, and there were also contacts between the embassies. We need a specific discussion. We are expecting the United States to come up with detailed proposals and a deep rather than superficial discussion on how to move past this situation.
I will not speculate on possible solutions. Let's first the experts do their work. I can say with complete confidence that the experts on the Russian side are high-level professionals, people who have engaged in bilateral relations in all their aspects for many years, and they know how things work first-hand. Consultations come first, followed by comments and possible solutions.
Question: Sergey Lavrov and you spoke of possible reciprocal measures in retaliation for the expulsion of Russian diplomats and the seizure of Russian diplomatic property. When should we expect a decision on those reciprocal measures?
Maria Zakharova: I have spoken at great length on the issue today. I can repeat that at the time we did not come up with reciprocal measures straight away, being aware that it a was a "cache", using a military term, made by the outgoing administration and intended to disrupt the normalisation of bilateral relations under the new government. That was obvious and clear. Speaking in plainer language, it was a provocation. We were all perfectly aware of that and we gave the new administration time to sort out this disgusting "legacy" and start building our bilateral relations on a normal and mutually respectful basis to our mutual benefit and with due regard for the interests of both sides. More than half a year has passed. We see no concrete steps, although nothing is preventing the new administration from showing its independence and doing this. We have repeatedly brought up this issue during our bilateral contacts and were ready for consultations, talks and the exchange of possible scenarios, some proposals, in written form. That was not the case either. Therefore, at a certain point, we started saying that more than enough time has passed for the matter to be looked into and addressed.
At present, we have a date for consultations on the issue and our clear-cut position is that time is running out.
Anyway, nothing at all has been done to unblock the situation. During all this time, one might at least have allowed Russian diplomats into the area, started issuing visas to persons who are to replace those expelled, done things that would have not been so categorical in terms of undoing the "legacy" inherited from Barack Obama, but would have made it possible to start acting on a working level, or in other words, simply start unblocking the situation. Nothing of the sort happened either.
So, there is no exact timing. Everything depends on how the American side will react, its concrete moves and the results of consultations that are due to be held in Washington now.
Question: This week, there has been much speculation about the creation of a Russian-US commission on cyber security. Sergey Lavrov said it will happen. When will it happen? Who will represent Russia in the commission? How is it supposed to work?
Maria Zakharova: I can assure you, when we have the relevant information we'll share it with you. So far, there is a framework decision in the form of our intention to work towards this objective. Experience has shown the necessity and importance of this move. Hacks happen everywhere. We've been recording the increasing number of hacking attacks in the last three years.
Today, the United States is exploiting the issue of cyber threats. We aren't exploiting it – unfortunately, we have been living with this threat since 2014 when the number of hacking attacks, in particular, on the Foreign Ministry's resources, increased dozens of times and, maybe, even hundreds of times. At a briefing a couple of months ago, I cited statistics that showed what pressure Russian information resources had to deal with in cyberspace. I can repeat them. Unfortunately for us, and fortunately for the hackers, some of their attacks led to our resources being compromised. We believe that this issue is very important. We can exchange information, build relations, make proposals and write them down on paper, instead of just constantly leaking information to the media without providing any facts whatsoever to prove it. Most importantly, not a single person is held responsible for the leaks. It's all just empty talk. This commission is an invitation to engage in concrete work. We had similar structures under the presidential commission that were involved in addressing roughly similar issues. You know what happened to it – on the Americans' initiative, its work was terminated and the commission was disbanded. As soon as we have something we can share with you, we'll do it.