Excerpts from the Briefing by Foreign Ministry Spokesperson Maria Zakharova
July 6, 2017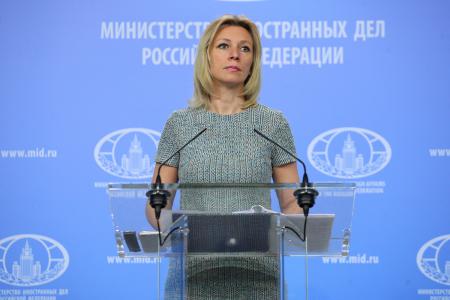 The situation in Syria
Since the memorandum setting up de-escalation zones, designed to consolidate the ceasefire regime, was signed in Astana on May 4 and came into force, the situation in Syria has been characterised by some positive trends.
Over the past two months, Russian, Turkish and Iranian representatives have been working hard to coordinate de-escalation zones and develop monitoring and verification mechanisms. In this context, the fifth high-level international meeting on Syria, which ended in Astana yesterday, has made it possible to take another step in this direction.
Moscow is satisfied with the progress of the Astana process. In addition to the improvement of the situation on the ground, a stable ceasefire, the provision of essential conditions for normalising the humanitarian situation and ensuring the return of refugees and internally displaced persons, it also fosters the progress of intra-Syrian consultations in Geneva under the auspices of the UN. As is known, UN Special Envoy for Syria Staffan de Mistura plans to call the next round of these talks on July 10. We hope that healthy opposition forces, which are seeking, in deed, not in word, to restore peace and order in Syria and ensure its revival, will productively participate in talks with the Syrian government delegation. We urge international and regional partners to provide support to the parties involved in the search for compromise solutions to break the impasse of armed confrontation.
Meanwhile, unfortunately, we have to note the attempts by certain unscrupulous "newsmakers" to denigrate the efforts to achieve a settlement in Syria. This is the only way we can characterise the attempts by certain media outlets, which cite the Feilaq al-Rahman group, affiliated with Hayat Tahrir al-Sham (formerly Jabhat al-Nusra), to provoke yet another controversy, blaming the July 1 attack involving the use of toxic agents in Eastern Ghouta on Syrian government forces. In this context, we can only advise the media not to succumb to the provocations of extremist forces and treat the sources of such so-called sensations more responsibly and verify all facts more thoroughly.
At the same time we would like to draw attention to the fact that the Syrian Foreign Ministry has harshly criticised the June 29 report by the OPCW Fact-Finding Mission (FFM) on the investigation of the so-called sarin incident in Khan Sheikhoun. In a corresponding statement, the ministry described the mission's findings as a "figment of a sick imagination." The ministry asserts that they are based on fabricated eyewitness testimony. For our part, we note that independent international experts have not yet visited either the place of the supposed chemical attack in Khan Sheikhoun or the Shairat military airfield from which the attack was purportedly launched.
Over the past weekend, the Syrian Army, in response to the continuing mortar shelling of residential districts in the Damascus suburbs of Adra and Jaramana, launched attacks against the positions of Hayat Tahrir al-Sham and Feilaq al-Rahman in Eastern Ghouta and the adjacent Jobar district.
As a result of a successful operation near the Itriyah-Rusafa highway east of the town of Khanasir, government troops completely sealed off ISIS forces and then mopped up the Khanasir Cauldron [Trap], pushing the terrorists into open desert terrain under the strikes of the Russian Aerospace Forces and the Syrian Air Force. The Aleppo province has been fully cleared of ISIS. About 1,500 sq km of territory has been freed.
The campaign of anti-Syria media provocations related to the use of chemical weapons
We have warned about imminent media provocations. We have already noticed the first signs, and we have assessed them in the context of media leaks and falsified reports concerning the alleged use of chemical weapons by Damascus once again. We were asked to provide more detailed and specific evidence in case we received such information. Today, I have this information, and I would like to share it with you.
According to available reports, Syrian terrorist groups are planning to stage provocations using poison gas in order to justify US strikes against the positions of Syrian government forces. Most likely, these attacks will be carried out in a residential area that cannot be accessed by Syrian authorities, one of which is the opposition's enclave in Eastern Ghouta where chemical weapons had earlier been delivered. For example, paramilitary units of the Jaysh al-Islam and Faylaq al-Rahman groups are known to have several rockets with chemical warheads in the towns of Ain Terma and Sabka. Each rocket weighs about 150 kilogrammes.
Similar provocations cannot be ruled out in southern Syria where armed groups controlled by Saudi Arabia, Jordan and Israel are operating, and also in eastern Syria. According to current reports, ISIS is redeploying workshops and ammunition-manufacturing equipment from Raqqa to areas of Deir ez-Zor province controlled by them. This equipment can also be used to manufacture ammunition with chemical warheads. Chemical weapons components have been delivered to the city of Abu-Kamal on the border with Iraq. Several chemists are accompanying this consignment, and they are currently stockpiling toxic agents.
Considering repeated statements of the US-led anti-ISIS coalition that they have completely blocked the city of Raqqa and that it will be seized completely quite soon, one is inclined to think that the removal of such bulky equipment virtually from under the nose of coalition forces may highlight a selective reluctance to see the facts and what is happening with regard to militants, to say the least. At most, I believe there is good cause to speak of aiding and abetting of militants. Quite possibly, there are also terrorists among these militants.
Anti-Russian insinuations in the US and American interference in Russia's internal affairs
I would like to say a few words about Russia's purported interference in US domestic politics because we are receiving questions on this subject and because it remains a front-page issue in newspapers and magazines and on websites and TV channels not only in the US but also in other countries.
We always comment on this, providing facts. However, this time, for the benefit of the US political establishment, among others, I would like to cite real, not mythical information of the sort they are using, regarding US interference in Russia's domestic political life in recent years, just to recall what the US has done against Russia.
Three years ago, the Obama administration did not even try to conceal its intentions to create a crisis situation in the Russian economy, incite social discontent and provoke a change of government in Russia. Simply visit the US State Department's website, read and remember the notorious comment to the effect that "the Russian economy is in tatters." After this, will you still talk about Russia's interference in some country's internal politics? It was a call to interfere in Russia's domestic affairs to give the Russian people a sense of so-called isolation. This was stated in so many words in the spring and summer of 2014, when Washington initiated the introduction of sanctions against our country. It may be recalled that this happened after Washington backed the coup in Kiev and provoked a civil confrontation in Ukraine.
Before that, the US Agency for International Development engaged in sponsoring all sorts of political activities aimed at destabilising the domestic situation in Russia. Perhaps not everyone in the US political establishment has heard about that. I will remind them: The grants that they handed out often went to people involved with illegally formed armed groups in the North Caucasus and through them, to outright terrorists.
When the agency was asked to get out of Russia in 2012, the National Democratic Institute and the International Republican Institute, formally listed as NGOs, tried to pick up and continue its cause. In reality, of course, they are subsidised from the US [federal] budget and are nothing but a foreign policy tool of Washington.
I am saying all this so that the people and those political figures who are now seeking votes in support of some sanctions or other against Russia, engaging in political lobbying activities in Washington and trying to impair the development of bilateral relations refresh their memory and recall what Washington's political beau monde has been doing with regard to Russia in recent years.
Over 20 years ago, Carl Gershman, the veteran leader of another such pseudo-NGO, the National Endowment for Democracy, acknowledged that his organisation, which also worked hard to gain a foothold in Russia, was originally conceived as a respectable façade for the distribution of CIA funds among opposition circles in other countries, no more, no less.
The Ukraine Freedom Support Act, signed by former President Barack Obama in December 2014, is also telling. It contains a direct, thinly veiled call for interference in our internal affairs. The US secretary of state was instructed in no uncertain terms, both directly and through NGOs and international organisations, to "improve democratic governance in Russia," naturally, according to the American understanding of the concept, including the abandonment of an independent foreign policy and a country's own national interests, and following the lead from Washington, which, of course, knows better than us how we should live.
After that, our American partners were asked what the response from their official and public circles would be if some other country set the legal goal to "improve democratic governance" in the US or in some other Western country. Nobody could answer that question. They simply shrugged their shoulders and looked away. It never occurred to them that somebody else could teach them how to live, but they evidently can teach others.
I would also like to draw attention to the fact that this 2014 law openly talks about using NGOs to influence the situation in Russia. It authorised $20 million to be appropriated each year through 2018 to carry out those activities. It also talked about the intention to strengthen political organisations in Russia, that is, presumably, to create their own, pro-US political forces.
This information is available in the public domain. This is not some fabrication, retweet or video footage. It is a US law regarding the US establishment's concept of its interference in Russia's internal affairs. And after this, many of those who have initiated this entire anti-Russian hysteria say that it is unacceptable to interfere in the internal affairs of other states!
It is also important to note the enhanced activity of US Embassy and General Consulate staff members in Russia, who constantly travel to Russian regions. We wish they studied the host country to foster bilateral relations, establish ties and useful contacts to improve Russian-US cooperation. However, in recent years the lop-sided focus of their meetings has become obvious. They are interested not so much in prospects for the development of bilateral ties as in the impact of Western sanctions on the economic and social situation in the Russian regions, for example, the level of public trust in the local authorities, the extent of the opposition's influence and problems in relations between the Federation members and the federal centre. What is more, US diplomats have repeatedly been spotted at various protest rallies, as evidenced by open sources. Can anybody imagine Russian diplomats attending protest rallies somewhere in New York or Washington?
These examples are just the tip of the iceberg. If anyone among the US political beau monde, those who pronounce the words "Russia," "sanctions" and "ramping up pressure on Moscow," are interested, we could provide more detailed materials on the issue at hand. Please ask for them through your embassies or directly through us. We can tell them how [the US] has interfered in Russia's internal affairs in recent years on a daily basis. This reads like a thriller. Russia has done nothing close to what I have described with regard to the US. There are simply no such examples. Whatever is being said now is groundless. There are no such facts. All of these are pseudo-expert evaluations and statements by some pseudo-specialists on Russia.
Situation around CNN
The Foreign Ministry is trying to obtain at least some kind of explanation from CNN regarding an incident surrounding Christiane Amanpour, one of the network's leading personalities, who used a photo of a Syrian boy, Omran Daqneesh, for propaganda purposes by showing it to Foreign Minister Sergey Lavrov during an interview. This occurred in autumn 2016 in the run-up to the US presidential election.
Back then, CNN was very much concerned with the fate of this Syrian boy. As we all remember, during the interview with Foreign Minister Sergey Lavrov Christiane Amanpour appealed to the conscience of the Russian government, when she showed the Foreign Minister a photograph of Omran Daqneesh. She stressed that the boy was a victim in a 'besieged, bombarded Aleppo.' In fact, Ms Amanpour accused the Syrian Air Force of 'war crimes,' while also chastising those who supported the counter-terrorist operation in Aleppo. However, CNN did not tell the true story.
Let me remind you that the truth about this incident came to light following a series of media reports. It turned out that the child did not suffer in a bombardment, but in an explosion, as his father said. After the explosion, unknown people emerged out of nowhere and started taking photos of the child without asking his parents for permission or even thinking to administer first aid. Thanks to the interview with Omran's father, we learned that his family, including the boy, was used as pawns in the hands of those playing propaganda games and who presented this incident in a totally distorted way.
The Foreign Ministry offered CNN a chance to use these facts to show the true story. We even offered to arrange a trip to Syria, since Russia has this possibility, in order to meet with Omran Daqneesh's family and confirm that the situation was different from what was shown by CNN. However, there was no response to this proposal.
We raised this issue again by sending a letter to CNN Moscow Bureau Chief Yelena Berezovskaya. Unfortunately, the reply we received lacked substance, simply repeating quotes from the interview that we know all too well.
The fact that CNN failed to provide a clear response suggests that CNN reporters intentionally distorted reality. Before that we could have assumed that maybe CNN journalists were not aware of what was actually happening on the ground, as often happens. Now, however, taking into account that the network is seeking to hush up the entire situation, we have reason to believe that the situation could have moved in a different direction. Maybe the reporters knew that the boy suffered in an explosion, not a bombardment, and was a victim of terrorists. It is quite possible that they knew this in the autumn of 2016.
It is obvious that this photograph and the rhetoric Christiane Amanpour used targeted the US audience as the US headed into the presidential race. She asked Foreign Minister Sergey Lavrov what he had to say about it, and talked about what had happened to this boy. Had the network or the reporter taken any genuine interest in the child, they would have kept track of him, would not have dropped his case, and instead would have followed it all the way through. This was the only way the global audience could have learned the whole truth about the boy. Thank God the boy is alive. People can now talk to him and his parents.
I have a question for CNN: why are you concealing the truth? Why are you lying? Since that is what you are doing. You should be ashamed. You manipulated a photograph of a child and misled the international community, thereby manipulating public opinion inside your country, and now you are doing everything you can to forget this shameful story. There were many stories of this kind in mainstream Western media. Let this one be the last. However, in order to make it the last story like this, they have to acknowledge that they either committed an error or intentionally manipulated public opinion.
Once again, the Foreign Ministry has to repeat that professional journalism should be based on reliable information, facts and evidence. If new circumstances emerge, they have to be communicated to the audience, even if they contradict initial erroneous statements. Statements by Christiane Amanpour about the child being a victim of an aerial bombing were contested by the very people who suffered in this incident, and to whom CNN referred. Unlike CNN reporters, they were present during the incident. Let me repeat that thankfully the boy is alive, even though the would-be rescuers started taking pictures of him without even thinking to provide first aid, so the images could be shown in international organisations as some kind of evidence. To prove what? That there were would-be rescuers who failed to administer first aid? Or that Western journalists were eager to use the images to promote their agenda aimed at creating a pretext for active military action?
We are still waiting for CNN to respond, and we call on journalists to recognise that they were wrong and show the true story. Trust me, we will not leave this alone. I think providing an explanation to the global audience would be in the best interests of CNN and its journalists. They have to be held accountable for their words.
Answers to media questions:
Question: The leaders of two great powers, Russia and the United States, will meet on the sidelines of the G20 summit in Hamburg. What does Russia expect from this meeting? Could it help improve cooperation on the Middle East and Ukraine?
Maria Zakharova: Comments on the summits in which President Vladimir Putin takes part are traditionally provided by the Presidential Executive Office and Press Service. Such comments have been issued. I think that the Presidential Executive Office will make additional comments on the eve of the G20 summit and the President's bilateral meetings. There is a clear division of responsibilities between us.
Question: Can you comment on President Trump's visit to Poland today and his participation in the Three Seas Initiative summit? Analysts say the US President is going to promote the sale of American gas to the region, especially Poland, to make the region less dependent on Russian gas and tie it to America politically.
Maria Zakharova: As for visits by presidents of third countries to fourth countries, you know full well that we respect all our partners, neighbours, countries with which we have common borders, their right to pursue their own foreign policies and develop bilateral relations with whomever.
As regards our relations with Poland and the US we believe there is every chance to develop these relations in many formats and on a bilateral basis. We do not see any need to develop these relations while looking over our shoulder at anyone. With Poland, we have natural historical and economic interests and connections. There are some issues, and I am ready to comment on bilateral relations with Poland and bilateral relations with the US. But others should comment on bilateral relations between Poland and the United States.
Energy dependence on Russia is a cliché. Let us take a close look at "dependence on Russia" in the energy field. Can you remind me of anytime Europe has had a problem with Russia energy-wise? Has Western Europe ever had problems with the USSR? Has the European continent ever had problems with Russia? Maybe Russia failed to deliver just one time? Has Russia ever put politics above economic interaction? Has Russia ever failed to meet its commitments? Give me such an example.
Perhaps it is great to be dependent on equal, full-fledged and mutually beneficial cooperation. Perhaps it is great to be part of a partnership tested not only by time but by serious geopolitical trials and upheavals? Countries have changed, fallen apart, reunited, but energy cooperation between Russia and Europe has remained unchanged. The change of the political system in Russia, the USSR, the break-up of the union, elections of presidents, parties, the advent of more liberal or conservative-leaning political forces has never put into question our country's commitment to energy cooperation. When someone suggests withdrawing from a relationship that has been tested over decades, it is worth asking what they will lose by withdrawing ̶ consider the pros and cons.
Remind me, and even more so, yourselves, of any occasion when Russia failed to meet its obligations and most importantly, has it ever made them dependent on political expediency? This has never happened. I am citing now not my own materials or materials prepared by analysts, but European businesspeople who openly expressed this during the traditional meeting between Sergey Lavrov and the European Business Association (October 25, 2016). I don't remember exactly if it was a French or an Italian businessman (the video is on the Russian Foreign Ministry's website) who said that over many decades the country that used to be called the USSR and today is called the Russian Federation never let Europe down in the energy sphere. This is not to say that Poland cannot develop energy cooperation with someone else. Why not? But no one should be taken in by another "fake" analysis of alleged dependence or unequal partnership. Decades of energy cooperation is a fact.
You know as well as I do that we have had some difficult years in our relations with Poland. Did anyone question energy cooperation when tensions in bilateral relations provoked by various political forces reached their peak? In other words, could it be that the numerous political crises that unfolded, often egged on by non-European countries (and they definitely provoke them), were meant to test this energy cooperation and make the "hand reach for the tap" to switch off supplies to two, three or more countries? Our country has not even considered an option like this.
Draw your own conclusions, but not based on what somebody tells you, but based on your own agenda and the facts. I think you have more than enough relevant facts.
Question: Russia yesterday renewed its call on the countries to re-launch the six-party talks on the Korean issue in which Washington is one of the participants. It looks as if Russia and the US are not effectively coordinating their efforts in resolving the Korean issue. In their joint statement the Russian and Chinese foreign ministries took a tough stand concerning the actions of the US and South Korea. What prevents Russia and the US from pooling their efforts?
Maria Zakharova: Nothing, as far as we are concerned.
Question: Why, then, don't things work out?
Maria Zakharova: Why are you asking us?
Ask the US. There is nothing that stands in our way. And most interestingly, the same is true of China. Russia and the PRC are doing fine in that respect: they exchange information, assessments, make joint statements and hold consultations. Why is there something that prevents Washington from sitting down at the negotiating table, resuming the negotiating process, and perhaps proposing their own formats is a question to be directed to them, not us. Nothing is holding back Russia.
You know how our Western colleagues launch media campaigns: if they declare a "crusade" on some region, it is hard to stop. There are certain laws in the internal political genre; unfortunately, it may be related to internal politics. You know that measures are being taken in this respect.
Question: Latvia has recently extradited to the US Russian national Yury Martyshev, who is suspected of cybercrime. The Russian Embassy in Washington has already described the act not as extradition, but another kidnaping. Could you explain whether it can be considered a kidnaping and why?
Maria Zakharova: Unfortunately, this is not the first and we are afraid not the last such case. The website for Russian citizens traveling abroad has corresponding material, and we advise you to take note of it, which says that this is a potential danger. Of late there have been many such instances, but unfortunately, we suspect that there may be more.
There are certain legal procedures according to which the civilised world should live, when someone belonging to one country commits an offence and is wanted by another country. These are legal procedures and politics should not prevail over law, international law and corresponding bilateral agreements and treaties. The law should prevail over everything else.