Excerpts from the Briefing by Foreign Ministry Spokesperson Maria Zakharova
June 29, 2017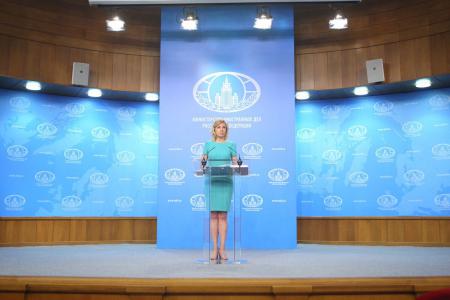 Russian diplomatic property expropriated in the United States
We again have to comment on the matter of Russian diplomatic property expropriated upon President Obama's instructions six months ago. This case took an unusual turn several days ago. Some US media outlets, including The Washington Post, reported that when FBI agents entered the abandoned facilities in Washington and New York, they found that they had been stripped of antennas, electronics, computers and other "sophisticated eavesdropping equipment."
We know all about this spy mania and spying equipment, which is nothing but lies and fake news, which are becoming the accepted norm even from national US television networks and print media. But the story about FBI agents is interesting. There are two alternatives: either these media outlets are lying and there were no FBI agents at our facilities, or FBI agents did enter these facilities. If so, this is a bad case of self-exposure. Since no official US agencies have refuted this information (which can be considered circumstantial evidence in favour of the latter version), this means that US security agents have indeed entered facilities that are Russian property located in Russian territory and hence enjoy diplomatic immunity. This is a gross breach of the 1961 Vienna Convention on Diplomatic Relations.
A year or six months ago, they kept talking about – and this was later used as the reason for US action against Russia – the alleged harassment of American diplomats in Moscow. Nobody explained what this meant. Which US diplomats were harassed, and who did it? No, American diplomats were free to do what they wanted. We never even considered doing to US property in Russia what Americans have done to Russian property in the United States.
This is what happened to Russian diplomats in the United States. Shortly before New Year 2017, the US administration gave us 24 hours to evacuate two Russian facilities. We were not just to evacuate but also mothball these facilities, considering that this happened in winter and winters in New York and Washington are comparable to winters in Moscow, and so the heating systems at these facilities were running at full capacity. You can see how our diplomats were treated in the United States. Moreover, the children's camps, which opened there during holidays, were shut down. The children of embassy staff, diplomats and Russian compatriots were deprived of the possibility of having a good rest, which should concern Washington with its positions on humanitarian issues.
At the same time, they continue to assure us that the abandoned Russian property is completely safe. This is a paradox. The media could be lying and these media reports could be fiction, but if so, why haven't US security agencies refuted these reports? Indirect evidence shows that certain people in the United States have access to the facilities that must be only open to Russian diplomats. We don't have the details, but available information indicates that somebody has entered our facilities. This is why we think so.
The obvious comparison comes to mind from reading what the US media write: our facilities have been occupied. Having failed to occupy Wall Street, they probably decided to occupy Russian property in the United States. It cannot be ruled out that some secret service agents could stage a provocation and set up "evidence" to prove that intelligence equipment had been installed at these facilities at some point. These agents have unattended access to our facilities. As I said, there was no such equipment at our facilities. US media claim that the equipment was dismantled, but our diplomats had less than 24 hours before their departure. Is this sufficient time to dismantle complicated espionage equipment? But there was indeed a great deal of household and other equipment that was dismantled to mothball these facilities.
And while Russian diplomats were removing their belongings and mothballing these facilities, they were closely watched by the police and FBI agents. They not only looked on but used a powerful searchlight to better see what went on in our territory.
My colleagues, who witnessed this arbitrariness, later said that the operation could have been a Hollywood movie. And there definitely were elements of intimidation.
Since then, we have not been allowed to enter our facilities even once. The US Department of State has not granted any of the 15 Russian requests for a single visit by maintenance workers to check the infrastructure in order to prevent possible accidents.
This means that the US authorities will be held accountable for any possible damage to expropriated Russian diplomatic property, as we have said more than once. Are we supposed to break into our property in case of fire or collapse? How should we respond? These are our facilities; we paid money for them and have the deeds to prove it. The US administration and security services have never questioned our ownership of facilities before, not even during the Cold War.
We have also told our American colleagues that the only way to dispel our suspicions that an anti-Russian provocation involving "espionage equipment" is being prepared there is to let us see for ourselves, which means that we need to enter the facilities. Or better still, give us our property back. Otherwise, we will have the grounds for a similar response with regard to US property in Russia. As we said before, and as I can confirm today, we are working on these response measures.
CNN
Once again, we are compelled to talk about the lack of professionalism and the biased approach of certain US media outlets.
Yesterday, we sent an official letter to the CNN office reminding them of the need to clarify the case of manipulating public opinion by the leading columnist of this television network Christiane Amanpour during an interview with Foreign Minister Sergey Lavrov taken in the run-up to the elections in the United States.
As you may remember, a couple of weeks before the presidential elections in the United States, CNN interviewed Foreign Minister Sergey Lavrov. During the course of the interview, Ms Amanpour produced photos of a Syrian boy that she brought along saying that the child had been killed in a bombing raid. Later, this US TV channel posted on its website this interview and the materials to the effect that this boy was a victim of Syrian and, primarily, Russian air strikes.
We believe that this is a case of manipulating public opinion, and that CNN and Christiane Amanpour owe us a response. It's up to them to decide on the form of such a response, but they must explain themselves to the public.
We mentioned that we are prepared to help CNN contact the Russian reporters who found the boy's family, or to have our onsite experts help Ms Amanpour communicate directly with this family in order to correct the gross mistake that took place in late 2016.
Given the size of the CNN audience, this, of course, was a case of mass manipulation of public opinion. We look forward to getting their response.
An article in Iceland's Morgunbladid newspaper about the anti-Russia hysteria in the United States
I'd be remiss to let go unnoticed an op-ed colourfully titled "Scum and Smoke" published by Icelandic Morgunbladid in its June 15 edition. It is not only the title that is colourful, but also the adjectives chosen by its author, former Prime Minister David Oddsson, to describe the erratic anti-Russian election-related attacks going on in the United States.
According to Mr Oddsson, the search for traces of Russia and the Russian leadership's involvement (the notorious "hand of the Kremlin") in the victory of a presidential candidate and generally in the US elections is becoming increasingly bizarre.
The serial allegations about information leaks, always quoting unnamed sources and individuals, and the propaganda-infused materials about Russia's involvement in the elections turn out as sheer nonsense if you just scratch the surface. The article's author also lamented the fact that major publications and popular television channels allow this blatant misinformation to spread all over the world.
The author noted that just before Barack Obama left the White House, his people announced the involvement of some Russian diplomats and hackers in unlawful interference in the presidential elections. Now, it has become a hodgepodge of allegations whereby the Russian leadership, allegedly taking the victory away from Hillary Clinton, was also trying to take the victory away from Donald Trump. It's a senseless mix-up of propaganda talking points.
Please take note of this article, as it is very revealing and indicates that not only here in Russia, but also in Europe people are beginning to get tired of this scum and smoke.
Vancouver events marking 80th anniversary of the Chkalov crew's first non-stop flight from the USSR to the United States
Last week, we celebrated an outstanding event in the history of Russian-US ties, the 80th anniversary of the legendary non-stop trans-polar flight of the Valery Chkalov from the Soviet Union to the United States.
As you may remember, the Chkalov's crew, including copilot Georgy Baidukov and navigator Alexander Belyakov, took off from Shcholkovo airport on June 18, 1937 and flew towards the North Pole. On June 20, over 63 hours later, the plane landed safely on Pearson Field in Vancouver, Washington.
On June 17, the Moscow Region's Shcholkovo District hosted a celebration of this event. A Russian interdepartmental delegation headed by Alexander Radkov, Deputy Head of the Federal Agency for CIS Affairs, Compatriots Living Abroad, and International Humanitarian Cooperation, visited Vancouver, Washington, at the invitation of our US partners, including the National Park Service that manages Pearson Field.
On May 25, 2017, participants in the first meeting of the Foreign Ministry's interdepartmental working group for preserving Russian historical and cultural heritage in the United States made the relevant decision.
Members of the Russian delegation and representatives from the Russian Consulate General in Seattle attended an official ceremony at Pearson Field on June 24, laid a wreath at the monument dedicated to the flight and visited the upgraded Chkalov Gallery, opened last year with the assistance of the Russian Foreign Ministry, at Pearson Air Museum. Delegation members also met with Washington State Senators and Russian compatriots living there.
Search for missing US citizen Steven Beare
We are monitoring the search for US mountain climber Steven Beare. He went missing on June 16, after starting a solo climb up the southern slope of Mount Elbrus. A search and rescue campaign was launched by the Elbrus high-altitude search and rescue team of the Russian Emergencies Ministry when he failed to return to the check point in due time; two helicopters were deployed to search the slopes and the peak.
Unfortunately, harsh weather conditions are hampering the search. The team consists of professional rescuers who rescued a lost climber from Murmansk several days ago.
We are keeping in touch with the US Embassy and Steven Beare's family. His friend is also at the site. We hope that our efforts will bear fruit.
I want to assure you that every effort is being made to find the climber.