Excerpts from the Briefing by Foreign Ministry Spokesperson Maria Zakharova
June 22, 2017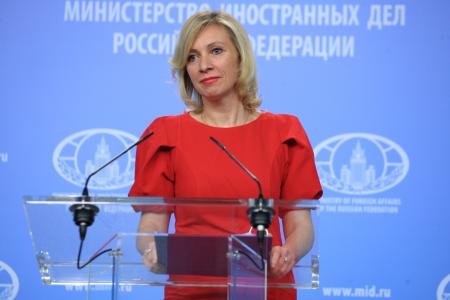 Developments around the Russian-Serbian Humanitarian Centre
We paid attention to a number of statements by US officials, including Department of State official Hoyt Brian Yee, which are aimed at discrediting the Russian-Serbian Humanitarian Centre (RSHC) in Nis (Serbia). They made absolutely unthinkable, absurd accusations in the worst traditions of the Cold War. They alleged, for one, that Russia has all but created a spy nest on the Balkans to threaten the US contingent in Kosovo. Take a map and find Nis and Kosovo on it. Of course, the US Department of State may not know where Nis and Kosovo are located. If they believe that Kosovo had a referendum, why should they know where it is located? Not to mention the RSHC in Nis.
The RSHC project has been designed and implemented as a joint humanitarian mission with Serbia for work in the Balkans in cooperation with all interested parties. It was registered as an international organisation. The centre took part in responding to emergencies in Serbia, Greece, Slovenia, and Bosnia and Herzegovina. We wish US diplomats had found out what these states and their public organisations think about the work of the RSHC before making such absurd statements. Specialists from various countries underwent training in the centre and its facilities were visited by representatives not only of individual countries but also international organisations – the UN and OSCE – who repeatedly invited their colleagues from various countries and multilateral agencies to cooperate with the centre. Incidentally, the US Ambassador in Belgrade was also invited to visit the centre more than once but neither he nor his subordinates wished to take advantage of this opportunity. Why bother? This elegant tactic has been used in many places. If you see something with your own eyes, you will not be able to let your imagination run wild but will have to continue producing fake news.
It is absolutely impossible to understand how four civilian experts from the Russian Emergencies Ministry, several fire vehicles and employees of the Serbian Ministry of the Interior's emergency response department can threaten the security of 600 US soldiers in Kosovo, 150 km away from the centre. Mr Yee said the centre was a threat to security and, in principle, the US contingent in Kosovo. So, four experts, fire vehicles and a couple of employees of the local Ministry of the Interior versus 600 Americans. What's wrong with them? Are they so badly trained that they can't take care of themselves?
We are again urging Washington not to speculate and spook itself, or look for Russian spies in Nis. It would be best to send its experts to the RSHC and draw the appropriate conclusions. It would be great if they could go on record with their account.
Answers to media questions:
Question: IOC President Thomas Bach has said that Russia will not stave off IOC sanctions no matter how enormous the pre-emptive measures in combatting doping it may take. Is this a sports or political decision?
Maria Zakharova: The doping scandal regarding Russia is a political case from beginning to end. I believe that everyone can now see the reasons behind it. As we predicted, no evidence to prove the allegations against Russia has been provided. This is a political affair designed to deliver a blow against Russian sports. What is the reason for this affair? I believe that is part of the isolation policy launched by the United States under President Obama. It was a political put-up job. We have to hand it to them: they never made a secret of their intentions. They called for isolating Russia in all areas openly and publicly. Russia has huge sports achievements, which we have confirmed at the Sochi Olympics. And so sports have become a target for this political offensive.
Not that the doping problem does not exist in Russia. It does, but it exists everywhere, in all countries. This is why they create special organisations to deal with this problem jointly and find solutions to this problem. But instead of using these special organisations, they have decided to make it a political affair. As you remember, decisions were based on the principle of collective responsibility and evidence-free allegations. They used every trick in the book, and so we wouldn't be surprised at anything now. We have been working to combat doping, as Russian leaders have said. We are doing this at home and at the international organisations concerned.
Question: It was announced yesterday that the bilateral Russia-US consultations at the deputy foreign minister level were cancelled after Washington expanded sanctions against Russia. Does this mean that this format was abandoned completely? The US has said that it was open to working with Russia, despite its stand. What steps should the US take for Russia to resume the work and contacts in this format?
Maria Zakharova: In principle, Russia did not withdraw from this format. The Foreign Ministry released a comment by Deputy Foreign Minister Sergey Ryabkov yesterday, clearly stating that the atmosphere created by our US partners was not conducive to holding this round of talks. The statement lays out our position very clearly.
As for the US being open to working with Russia, it is our duty to ask them whether the sanctions are part of their foreign policy work. If so, they have to honestly state that the sanctions are an official element of their foreign policy doctrine. This way, we will all be aware of it. Our US colleagues used to say that sanctions are adopted as a response to specific actions that they could not support or felt their duty to oppose. At least there is some logic in this stance. The latest sanctions defy any logic. Are we seeing renewed attempts to isolate Russia? Or maybe the sanctions were expanded by inertia which is beyond the control of the US Department of State? It may also be explained by the specific nature of domestic politics in the US. This is hard to understand. What is clear is that the decision was not driven by a willingness to promote cooperation. A country cannot be 'open' to cooperation with another country, while also trying to isolate it. This is absurd.
Question: How will the downing of a Syrian aircraft by the US and the incident with the airplane of the Russian Defence Minister affect the atmosphere of the meeting between President of Russia Vladimir Putin and US President Donald Trump that is expected to take place in Hamburg?
Maria Zakharova: Questions on the meeting between the two leaders should be referred to the Presidential Executive Office, which comments on all issues related to summits, bilateral meetings and top-level contact.
If we are talking about the general atmosphere of bilateral relations, as I said when answering the question on sanctions, there is no positive momentum with decisions of this kind, since even for the US these sanctions can hardly be justified.
As for the actions in Syria, the Foreign Ministry just commented on this issue, and statements to this effect were released earlier as well. We are committed to taking action. What matters the most is that Russia's efforts in Syria are bearing fruit. These are not just empty words with nothing to back them. I am talking about foreign policy and international initiatives that really help bring about concrete results and promote normalisation in the country. Of course, there is still a long way to go before the situation in Syria gets fully back on track. This is a very lengthy process that involves not only external players but most importantly the Syrian people. The Syrian people have suffered for many years from attempts to divide them. Russia's efforts in Syria have proven their value and yielded concrete results.
For what reason and why did the US as the leader of the so-called anti-ISIS coalition take such unilateral action that obviously had nothing to do with fighting terrorism? Their strikes are targeting those who are fighting the terrorists. Perhaps just as in previous years there are many people in Washington who still think that through local media they can create an illusion within their country of the legitimacy and effectiveness of their action. Remember when former US Secretary of State John Kerry said at a UN Security Council meeting that he thought he was living in a parallel reality? He was one hundred per cent right. They created this parallel reality, and they live in it. However, with the development of the media and the emergence of a globalised information space, it is no longer possible to sustain a lasting impression that the US-led coalition in Syria is accomplishing something. Everyone understands who the real target is. This is obvious. What everyone also understands is that efforts to remove Bashar al-Assad from power, overthrow his regime, change the constitution of this country are now discredited, have resulted in massive casualties, made innocent people suffer, destroyed civilian infrastructure in Syria, and thrown its economic, financial, cultural, humanitarian and educational indicators many years into the past. And all this because the tactic did not work. It is impossible to understand why these mistakes should be repeated. It may be that some in the US political elite have this illusion that by owning media outlets (usually directly), by controlling or influencing the media, they can present counter-terrorist efforts as positive and effective. This is not the way things are, and everyone understands it. These actions are simply ridiculous, while also being tragic. It is absurd to strike those who are actually fighting terrorists, while continuing to operate under the label of an anti-ISIS coalition.
Question: Do you have any information that the United States is planning to set up a certain security zone on the Syrian-Iraqi border.
Maria Zakharova: Our military experts should comment on this issue because this amounts to the situation on the ground. I believe they will do this.
Question: What was the Foreign Ministry's reaction to the expansion of US sanctions against Russia? Yesterday, Deputy Foreign Minister Sergey Ryabkov announced that the consultations with Thomas Shannon were cancelled. Is the Foreign Ministry preparing additional retaliatory measures to this, yet again, act of political aggression against Russia? What is the ministry's opinion of the escalation of these provocations against Russia?
Maria Zakharova: I cannot say that the consultations were cancelled in response to the new sanctions. These are two different things.
It is customary to respond to sanctions in a mirror-like fashion. As Sergey Ryabkov said, the Foreign Ministry was working on a response. Unfortunately, there has to be a response.
Question: Foreign Minister Sergey Lavrov asked for explanations after the US Air Force shot down a Syrian aircraft. Have you received any comments about this?
Maria Zakharova: No, noting other than public statements. We have made our reaction to this clear: this is unacceptable.
We maintain contact with the United States at various levels, including through talks with the US Secretary of State and between the experts who deal with bilateral relations and Syrian issues. Washington is fully aware of our position. We say that such actions are absolutely unacceptable.