Excerpts from the Briefing by Foreign Ministry Spokesperson Maria Zakharova
April 12, 2017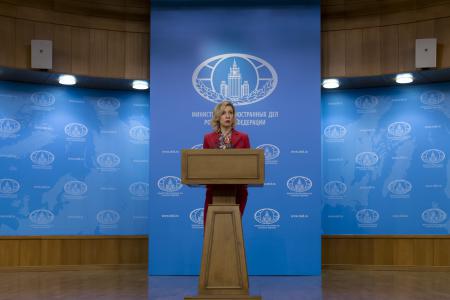 Hacking activity on the Foreign Ministry's website
We would like to revisit the issue of hacking. However, today we will add a new twist to this traditional topic and tell you about hacker activity on the Foreign Ministry's website.
I would like to remind you that for months Russia has been accused of using hackers to interfere in the internal affairs of the US and other western countries, but not a scrap of conclusive evidence has been presented either to us or to anybody else. All of these allegations follow the form of UK Foreign Secretary Boris Johnson's remark that they have no evidence but are sure the Russians have the capability to meddle. Unlike our western colleagues, we do have something to show.
I would like to say that this is quite a sensational story. Today I will tell you about what our agency and just one website regularly run up against, although there are a lot of sites that regularly come under attack. I believe we will be regularly updating you on these statistics. This example will give you an idea of the scale of resources directed against Russian government agencies.
Specialists say the ministry's website regularly comes under attack from IP addresses registered in the US. In February 2017 alone, three attacks were registered. In March 2017, we recorded a significantly heightened level of activity by so-called bots, automatic programmes that can adversely affect the Foreign Ministry's website from the US. Their share of the total number of visitors to the pages was 88 percent (1.51 million bot users of 1.77 million came from US territory). This refers to visits not by ordinary users who are interested in specific materials but those who use the entire array of actions that are usually called hacking attacks, computer systems, everything that does not qualify as legal or legitimate use of cyber technology. Bot visits to our website account for 50 percent of the total (1.47 million page viewings of 2.97 million). Analysis showed that all of them have similar characteristics (they are used by the same programme or organisation). According to our technical services, they come mainly from the US, from California (64 percent of all queries from Mountain View (47 percent) and San Jose (17 percent)), as well as from Ohio (8 percent) and the District of Columbia (8 percent).
I would like to remind you once again that cyber security is traditionally a priority on Russia's agenda not only at home: it is a focus of our international efforts. Russia has put forward an initiative that is known at the UN as International Information Security. We have posted a lot of materials on this issue on the Foreign Ministry's website and the social media and Russian representatives have given interviews on it. We have repeatedly urged our western partners to engage in genuine multilateral cooperation to put an end to hacker attacks, which have become a serious destabilising factor today. We would advise our US partners, instead of trying to bring down the website of Russia's foreign policy agency, to steer their efforts to a peaceful channel and do their best to fight cyber threats together.
To reiterate, we will keep monitoring these statistics. I would like to repeat that these are specific figures for representatives of the relevant US services to work on. If they are so responsive to everything related to cyber attacks, at this briefing we are giving them an opportunity to look into the modus operandi of hackers and people registered in the US who unscrupulously use internet technology based in the US or operate from its territory.
Viktor Bout's case
On April 3, the US Supreme Court has turned down the petition to review the case of convicted Russian citizen Viktor Bout. No reason for the refusal has been given.
The appeal cited substantial proof that the US attorneys had concealed exculpatory evidence from the New York district and circuit courts to mislead them with the charge and the sentence.
The Supreme Court's decision, however disputable, virtually terminates the process of appealing the verdict as all means of Bout's defence provided by the US law have been exhausted.
The Foreign Ministry continues to monitor the situation and provide legal and consular support, and works to help bring him home as soon as possible.
Answers to media questions:
strong>
Question: What would Russia do if the United States repeated its missile strike on Syria?
Maria Zakharova: I did not expect this question. Do you have some information and that's why you are asking? Are you planning something?
Back to top
Question: I am not planning anything. It is unclear what Washington would do next.
Maria Zakharova: That's funny. I was trying to imagine what would happen if a RT journalist asked a question like this at a US State Department briefing. I bet American news agencies would have published reports with headlines like, "RT has information about planned strikes."
Our position is that the strike was an act of aggression from the standpoint of international law and documents on a Syrian settlement. We have stated our point of view publicly and at talks with the foreign ministers of the leading actors in the Syrian settlement. As you know, Sergey Lavrov has had numerous telephone conversations with his western and other colleagues. We will carry this on at the talks with Rex Tillerson.
You probably know that a conference will be held between Russia, Syria and Iraq in Moscow on Friday. The main issue on its agenda is how to return the situation back to the path of collective struggle against international terrorism in Syria and stimulate both the Geneva peace process and the Astana one.
I have a question to your question. Based on what you have asked, it can be assumed that strikes can be delivered spontaneously, without any cause, as I see it. I refuse to believe that a great nation like the United States can do what it did decades ago. After all, this is 2017 and not the 1970s, 1980s or even 1990s, when strikes were delivered against countries simply because someone in Washington decided to do this. There are such things as international law and the international community. These strikes on Syria are a blow to the collective foundations of global decision-making. This is what matters. At some stage, we looked back at US history, the history of the US foreign policy, and saw that this behaviour is characteristic of all US administrations. If I'm wrong, say so, name the administration that didn't do this, that renounced the use of force in favour of peaceful and diplomatic means. The public aspects of these actions varied from open bombing raids to material assistance to the opposition and militants, from mistakes with tragic consequences to violations of international law. A case in point is Libya and the way the resolution concerning it was distorted.
The world has approached a dangerous line, and the new challenges and threats have grown to a scale where such actions [as the US air strike on Syria] can catalyse not just dangerous but absolutely tragic events. I wish the world's largest country – largest on all counts – would see this as the main argument.
Well, if you have any information, don't feel shy to share it with us.
Question: Will Russia raise the issue of the Korean Peninsula where the situation has reached a critical point, and the possibility of resuming six-party negotiations on North Korea, during the Lavrov-Tillerson negotiations?
Maria Zakharova: Let's keep the intrigue, not to tease you but so we can appreciate the results once the visit and talks are over. To avoid making an exception for you and then other journalists, I'd like to ask you to readdress all the relevant questions to Foreign Minister Sergey Lavrov during his news conference this evening.
Question: How will the increased tensions between Russia, the US and other countries in the Western coalition affect Russia's participation in the national reconciliation process in Afghanistan?
Maria Zakharova: Our position is that we should work with the US and other countries to do everything we can to reach a settlement in Afghanistan. We are always ready to do this. You know that we act openly and invite the US to take part in various efforts related to Afghanistan, its security, and the situation in the region in general. We always hope for constructive dialogue with our partners.
Question: How would Russia assess the possibility of a US military strike against North Korea? Is Moscow taking any steps to attempt to settle this conflict through peaceful means?
Maria Zakharova: Yesterday, we published a document just before Rex Tillerson's visit. The document is available on the Foreign Ministry website and it outlines our position and concerns regarding statements on the possible use of force that have come indirectly from US officials and directly from sources and political analysts. I suggest that you to read this document. From our point of view, this is an important part of regional stability and security, and, as I said, this document lays out our position in detail.
Question: How can we reconcile Turkey's support for the US action in Syria and its call to settle the crisis through the Astana format?
Maria Zakharova: The question on how Ankara can reconcile these two approaches is one for the Turkish authorities. I think Turkey's official representatives should explain to journalists and political analysts how Turkey conceptually resolves this. Turkey is facilitating the peace process on the one hand, but on the other, it has welcomed these airstrikes that effectively bury all attempts to bring the opposition and the official government authorities together, and any attempts at specific efforts to transform fighters and terrorists into an opposition organisation and encourage them to renounce armed action. The whole world has just received a bloody lesson in how to "sort things out." For several years now, we have been calling on everyone to come to the negotiating table, and have persuaded the opposition fighters, terrorists and extremists to lay down their arms, including by offering them specific guarantees. These opposition fighters, terrorists and extremists are now asking a logical question: why is one person allowed to act through force, attacking a sovereign state's territory without any approval or clear justification, and they are not allowed, and are constantly pushed to sit down at the negotiating table. No one denies that this is a very complicated process. We have always said that motivating extremists and opposition fighters who have spent years fighting for their "truth" and vision with gun in hand (albeit by taking a mistaken path, perhaps) to sit down at the negotiating table is an extremely complicated process. Let me say again that the opposition fighters, seeing this action, are only encouraged to continue using force.
Many of these people never went to university or even to school. Many of them are young people and the only view they know is the one the terrorist organisations have given them. How can we explain to unsophisticated people how this US action is justified? How can we convince them that force is not the way to resolve the Syrian conflict? Why do prosperous and educated people from a prosperous country use force as the main means to resolve the Syrian conflict? You should put this question to the Turkish officials and get an answer as to how they reconcile these two concepts within a single foreign policy.
Question: Will Russian President Vladimir Putin meet with US Secretary of State Rex Tillerson? One minute we hear that he will, the next minute we hear that he won't. If this meeting does take place, what does it mean?
Maria Zakharova: You know very well that the Presidential Executive Office and the Presidential Press Service are the ones who can comment on the President's meetings. You should ask them.