Excerpts from the Briefing by Foreign Ministry Spokesperson Maria Zakharova
March 30, 2017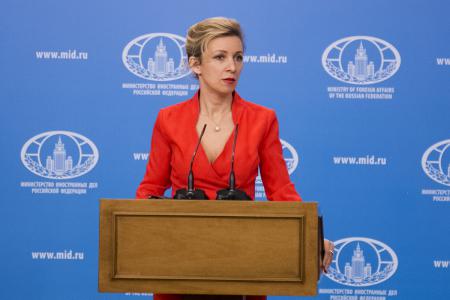 More about Russia's alleged meddling in the US presidential election
We have taken note of yet another attempt to play the Russian card in the internal political debates in the United States. Personally, I wouldn't describe this as an attempt but the continuation of a campaign and a new round of the hellish propaganda campaign launched under the previous US administration. The point at issue this time is a fresh bout of hysterics over routine diplomatic contacts of the Russian Embassy's leaders and staff in Washington.
Some US and other media are again writing about Russia's alleged meddling in the US presidential election last year. It looks as if you are preparing for a new round of an internal election campaign. I think you should see that it's time to do some work in-between the election campaigns. As it is, it looks as if the US administration will approach the next election cycle with only one result – artistic demagoguery about Russia meddling in the previous election. I would describe this behaviour by some US journalists and media outlets as a threat to our diplomats. If our diplomats refuse to give interviews on highly specific matters – we understand that requests for such interviews are made to keep the issue of Russia's alleged meddling in the US elections afloat – fresh batches of "compromising information" will be planted in the media. We see this as dirt throwing and misinformation. We are told about the fake news that appeared in January, which was spearheaded against President-elect Donald Trump and contained allegations about Russia. It was published by BuzzFeed and hinted that Russia should be more actively involved in this information war or they would do everything without us. Actually, this is information blackmail.
I can cite one more example. To avoid generalising, I will provide hard facts. One of the items included allegations concerning our colleague, Russian diplomat Mikhail Kalugin, even though we published a refutation when Mr Kalugin's name was first mentioned in the items about the alleged Russian spies and agents in Washington. We said that this is disinformation that has nothing in common with reality. However, these allegations continue.
I want to once again make it quite clear that neither Mikhail Kalugin nor any other member of the Russian diplomatic and other agencies in the United States was connected in any way with the US presidential election. We believe it's time to stop playing these dirty information games.
I would like to say more about Mr Kalugin. We have taken note of a recent item published by a BBC correspondent in Washington. It is a long item that has no respect for personal data. It includes claims that have no relation to reality and is supplied with many photographs. It is an absurd story that violates BBC principles. As I have said, the item has been published, and I want to comment on it.
This item mentioned Russian diplomat Mikhail Kalugin, who headed the Russian Embassy's economics division until last August. According to this item, Mr Kalugin is a spy and this confirms Mr Steele's dossier about the Russian connection in last year's election campaign in the United States.
I want to say that we have published the necessary refutations. However, more than two months later, the allegation is being repeated in an item that provides photographs, personal data and the photos of the Russian Embassy in order to give more weight to the allegation.
I would like to repeat what I already said at a briefing [in January] that Mikhail Kalugin is absolutely not guilty of the allegations laid against him and the Russian Embassy. He is a Russian diplomat who has worked in the United States for six years. His mission in the United States was to facilitate the Russian and American companies' business in Russia and the United States. He helped promote bilateral economic relations and, contrary to what the media claimed, he left the United States when his contract ended to assume new responsibilities at the Foreign Ministry. He goes to his office [in Moscow] every day. Contrary to what the BBC claims, when he worked in the United States he regularly met with representatives of the US Department of State, the National Security Council and various US economic departments, including the Department of Commerce, the Department of the Treasury and the Department of Energy. I am saying this now to lay to rest the fake news published by BBC and its Washington correspondent. This is all lies, nothing but lies, fake news and disinformation.
Mikhail Kalugin was also engaged in the public sphere giving lectures and interviews on the prospects of our bilateral relations. You can check this information and conduct your own investigations. By the way, the BBC item claims that State Department staff who dealt with Russia did not come across Kalugin. This is nonsense. However, I really do wonder if the State Department knows anything. Based on my contacts with our American colleagues over the past few years, I can tell you that they only admitted six months after the beginning of the Ukrainian crisis that they had a clearer view on what was happening there than they did at the beginning. For a long time, there was nobody in the State Department with whom we could discuss matters. In the past six months, it was unclear whom we could phone there in case of problems. It is also unclear whom the BBC correspondent talked with. He mentioned reliable sources. We know only too well just how reliable these sources are.
I have told you about the areas where Mikhail Kalugin worked and his contacts. As for the claim that he never went to the State Department or communicated with State Department staff, I can tell the BBC reporter Paul Wood that he simply doesn't know that in 2014 the US State Department curtailed communications with Russian diplomats, which had been maintained in full in many areas before that. Russian diplomats could only get an appointment with the State Department in the case of an emergency. All other humanitarian and economic contacts were curtailed. The Russian Foreign Ministry holds regular consultations on information issues with the foreign policy departments of all countries, both those with which we maintain trust-based relations and those with which we are poles apart on information matters. We hold consultations, exchange opinions and discuss issues of concern for us and them. I can tell Mr Wood how we pressed the US State Department to talk with us on information matters. Trying to get an appointment to talk with State Department staff was no easy feat. You are writing nonsense, of course, but at least try not to put your head on the block with such items as this one.
So, the US State Department curtailed any contact with us in 2014 as prompted by the Obama administration. The Russia-US Bilateral Presidential Commission was suspended by our American partners. The same happened to other bilateral formats. When coming to any conclusions on a cosmic scale, remember what writer Mikhail Bulgakov said about conclusions that can turn out to be silly on a cosmic scale.
Although all official forms and methods of interaction were curtailed at the initiative of the Obama administration, our diplomats searched for and found ways to keep our bilateral relations afloat. I have said above with which officials and agencies our diplomats cooperated. It is an absolutely normal practice.
And lastly, I would like to present this "tough, arrogant KGB man", as the BBC reporter described him. Can you imagine this? A "tough, arrogant KGB man" in 2017? Guys, the KGB was closed down long ago. What are you talking about? Mikhail Kalugin goes to his office every day, but today he changed his routine to come to the Foreign Ministry Press Centre. Here he is, this "tough, arrogant KGB man". He will be available to make comments, and he will tell you about his work. This is a paradox, an information paradox. We have to comment on these rumblings, which are published again and again. There are such problems as Yemen, ISIS, Jabhat al-Nusra, drug trafficking, organised crime, migration, illegal migration and Afghanistan. However, the intellectual power of Washington, including the media and analysts, are busy searching for the Russian connection in all their problems and failures. There will come a time when these cases will be cited in textbooks as drivel, and this horrible period in our history will be sharply criticised in the United States itself. People will come to their senses and they will see that they wasted their time on fighting imaginary dragons. Regrettably, it will only happen later, not now.

Answers to media questions:
Question: Italian newspaper La Stampa carries a contribution on the US administration warning Rome about the major political party Five Star Movement's direct contacts with Russia, which tries to influence Italy and other European countries at future elections as it implements its interference strategy. Can you comment on this information? Is it a hoax?
Maria Zakharova: I don't quite see what "a political party has contacts with Russia" may mean. What hard facts are there behind this statement? You have come to the Foreign Ministry Press Centre, and it is possible to say that Italian journalists have contacts with Russian government agencies. Anything can be misinterpreted as you wish.. It is also possible to say merely that Italian journalists visit the Foreign Ministry spokesperson's news briefing and ask her questions.
You know our strategy of non-interference in other countries' internal affairs, and our approach to this matter. We maintain contacts with national capitals and official governments, work on NGO lines within Russian legal limits and with due respect for the relevant laws of other countries. We have official contacts with many opposition and pro-government parties and movements in keeping with diplomatic traditions.
That was the case before the US presidential election, when Hillary Clinton's people came to Russia but no one took any interest in it afterwards. They came repeatedly to talk to officials and had very informal meetings with particular people to discuss diverse matters. However, the US press takes no interest in this- for some reason. However, Russian Embassy phone calls in Washington (I needn't say how many people in the US relished these conversations) give reason to accuse the election winner of some kind of ties with Moscow.
I think this is just a mere part of an information campaign. If you have hard facts I can confirm or deny, please cite them. I have no idea how to comment on vague allegations of Italian parties' ties with Moscow.
Question: Has the date for US Secretary of State Rex Tillerson's visit to Russia been set?
Maria Zakharova: As I said before, this visit is a possibility. However, at this point we don't know the precise date and have no other information about the visit we could share with the media. If these plans come to fruition and we coordinate the format and date that would be suitable to both parties, we will inform you about this. As I said during the previous briefing, preparations for a visit are not limited to agreeing on the visit and setting the date. Preparations also include the agenda and the choice of issues that would be of concern to both parties, as well as working with experts. In short, a great deal of factors must first click into place.
Question: The United States has refused to attend the Moscow conference on Afghanistan in April. Will Washington's absence affect the outcome of the conference?
Maria Zakharova: I have already commented on this too. We sent an invitation to our American colleagues at their request, because they had expressed an interest in this. A while later, they said they would not attend the conference. So the conference will go ahead without US representatives. We wanted as many countries as possible to attend it not because we are after numbers, but because different countries could make different contributions to the common search for a solution to this complicated issue.
I don't think I need to tell you about the US role in Afghanistan. As an Afghan journalist, you know what the Americans were doing all these years in Afghanistan. I would like to remind you that apart from their interest and political involvement, here is also the factor of the UN Security Council mandate for a US-led counterterrorist operation. I would like to remind you that in the decade since this operation was launched the United States and the US-led coalition in Afghanistan never reported to the UN Security Council about their achievements there. The UN Security Council issued the mandate and set the goals, but it has never learned if these goals were attained and what strategy the United States pursued in that region. We could only judge about this from the statements made at a national level. There was no documentary proof in the form of a report.
Our American partners expressed a desire to attend the conference, we duly sent the invitation to them, but they have refused to come. I have the impression that, unfortunately, this decision was taken largely because at present Washington does not have a global foreign policy strategy yet. We are waiting for them to formulate this strategy, so that we will be able to interact more actively. We are open to any form of US involvement in the formats where our American partners are traditionally present, including on Syria and Afghanistan.
Question: The US Congress has proposed putting North Korea on the list of terrorism sponsoring countries. Do you think such sanctions will promote the Korean Peninsula settlement?
Maria Zakharova: You know our position regarding unilateral sanctions – we consider them absolutely non-constructive. In the context of Korean Peninsula, as well as in other situations, we have always emphasised that only sanctions imposed by UN Security Council resolutions can be effective. We regard a collective approach to crisis settlement, rather than its exacerbation, as the sole opportunity for using sanction instruments.
We proceed from the assumption that the current situation on Korean Peninsula is just the case that demands collective efforts to settle the crisis rather than bring it to a head. It is questionable whether the US rhetoric and moves you mention will improve the situation. We suspect the result will be quite the contrary.