Excerpts from the Briefing by Foreign Ministry Spokesperson Maria Zakharova
March 16, 2017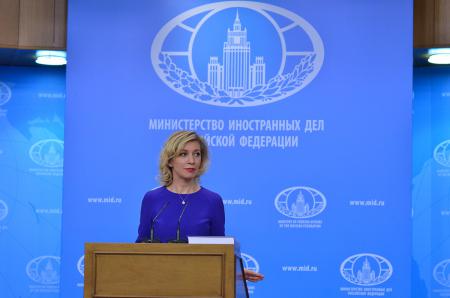 Situation around Russian citizen Mark Vartanyan
We continue to closely follow developments around Russian citizen Mark Vartanyan who was extradited on December 9, 2016 from Norway to the United States on charges of developing and circulating malicious computer software to steal bank data and embezzle funds.
Officials from the Russian Embassy in the United States regularly visit Mr Vartanyan who is currently being held at a pre-trial detention facility in Lovejoy, Georgia. He has no complaints about his conditions or his health.
According to Vartanyan's lawyer, a plea bargain is currently being negotiated with the district attorney's office by agreement with his client.
Answers to media questions:
Question: US Ambassador to the United Nations Nikki Haley said that Russian hackers were involved in Yahoo hacking, and that Russia is a big threat for the United States. What can you say about that?
Maria Zakharova: Russia is a big threat? I can say that the US Ambassador to the UN Nikki Haley declared that US officials should not trust Russia.
What can I say? When people are mistrustful, it points to a certain preoccupation. The feeling that you mistrust someone can be overcome when you verify information. That is, one can mistrust others and live with eternal phobias, but let me reiterate, this is an indication of a preoccupation. We can go the way of cooperation and checking each other. This way is laid down in international law, in bilateral agreements and declarations. Nobody in the Russian Federation has given it up. What are the problems here? Cooperate, interact, talk, and you will get rid of your preoccupations. I think this is the way psychoanalysts work.
There is another side to this issue. What has caused the mistrust towards Russia? When did we betray or cheat someone? True, we do not allow others to cheat us, and historically we have not let anyone enslave and conquer us. That's a fact. But cheating?
Question: What can you tell us about the situation regarding yesterday's move by the US Justice Department to bring cyber criminal charges against Russian citizens and attempts to somehow use this case as proof of a link between the Russian secret services and hackers?
Maria Zakharova: I do not rule out that this is an attempt to divert world public attention from the latest materials published by WikiLeaks, because in European capitals everything possible is being done to prevent the latest WikiLeaks revelations from making it into their media and being actively covered. And this despite the fact that those revelations directly concern those countries, exposing very unseemly facts, particularly matters related to cyber crime. I do not rule out that what we are witnessing now is just an attempt to divert world public attention, through the media, from global and serious matters. It cannot be ruled out, of course, that this is the continuation of the hyped-up topic of proverbial Russian hackers in the internal political struggle in the United States.
Question: The officers who were mentioned today and whom the US media writes about are operatives of the Russian Federal Security Service (FSB). Does this mean that Russia has something to do with this? Or is the FSB simply unable to control its people?
Maria Zakharova: I think everything linked with this issue is quite strange because it is not transparent, and, speaking more figuratively, even murky. One of the aspects attracting our attention is that we are dealing with certain events from 2014. We have heard nothing of the kind, although Russia has held many meetings and telephone conversations with our American colleagues over this period. Nor did we receive any requests for cooperation on this specific issue.
Unfortunately, media outlets, including your channel, create the impression that Russia simply runs hacker schools. Hackers are outlawed in Russia. We are fighting them. To us, this is illegal. This activity runs counter to Russian law. We constantly and regularly request, including during our contacts with American partners, that they inform us about arising US suspicions on these issues. Unfortunately, they are not cooperating in any way. All this is very suspicious, considering that the issue of "Russian hackers" became a driving force in the US election campaign and in post-election infighting. I repeat, we have grounds to believe that all of this is a continuation and part of the domestic political struggle in the United States.
Question: We see that the situation regarding South Korea is continuing to deteriorate, with US-South Korean war games and the planned deployment of the THAAD system. North Korea has reacted sharply to this. What is Russia's current position on this?
US Secretary of State Rex Tillerson is on a tour of Asia. He visited Japan yesterday, where he said at a news conference that the efforts of the past 20 years to bring about North Korea's denuclearisation have failed and that a different approach is required in light of the growing threat. Does Russia believe, as a member of the six-party talks, that new tools and approaches are needed, or that old approaches should be revived?
Maria Zakharova: I fear that Mr Tillerson may have problems at home if I mention that we have been saying for years that Washington's approach to the North Korean problem has been wrong. There is evidence of a shallow approach, including in Washington, in that the situation is deteriorating and tensions are growing in the region. We had a very frank discussion on this issue with various US representatives, including diplomats of different ranks at international organisations, such as state secretaries and special envoys on North Korea. You can also read statements on Russia's policy on North Korea made by our representatives at the UN. I invite you to analyse our position retrospectively, not over the past year or two, but with a 10-year perspective. You will see that it is a comprehensive and coherent approach on what should be done in this region. We stand for active international efforts to reduce tensions based on international law and in keeping with available agreements. As I said, we explained our position not only to our American partners but also to all interested states. It is an open and consistent position.
Regarding your first question, I believe that I have answered it, in part. We take a negative view on the growing instability and tensions in the region. But then again, this view is part of our long established, consistent position, which we have put forth very clearly. It covers stability, relations between regional countries and the belief that all these issues should be addressed on the basis of international law within the framework of bilateral agreements.
Question: The United States has announced its intention to withdraw from the UN Human Rights Council over concerns, according to Secretary of State Rex Tillerson, about the human rights record of the other council members, such as China, Saudi Arabia and Egypt. How would this affect the other council members and the council as a whole?
Maria Zakharova: It is difficult to comment on issues when they are taken out of context. We would like to look at the US foreign policy concept as a whole (if the new administration decides to revise it) to see the direction in which the United States is moving. At this point, we only see individual elements of this concept. Russia, for example, has a foreign policy concept, which everyone can read to learn about our priorities, the issues of utmost importance to us and our relations with countries and regions which are crucial to us for historical and other reasons. We would like to see a similarly comprehensive, and possibly revised, foreign policy concept in Washington, a concept that would shed light on the foreign policy of this global power. This will help us formulate our attitude toward its actions. This is all I can say at this point, because it is very difficult to comment on individual statements.
It is impossible to say now whether the decision [to withdraw from the HRC] has been made or if this is more of an intention, whether certain steps will be taken if the reasons behind this intention are removed or some other approach will be offered. We will maintain contact with our American colleagues, including on this issue.