Excerpts from the Briefing by Foreign Ministry Spokesperson Maria Zakharova
March 10, 2017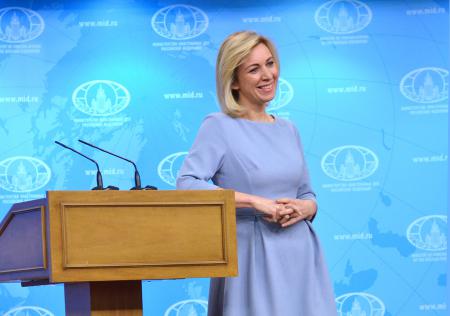 The Russian chapter in the US Department of State's latest International Narcotics Control Strategy Report
We have carefully studied the chapter regarding Russia in the 2016 report.
Regrettably, this largely technical document contains hints that the Russian side is allegedly to blame for the fact that our anti-drug cooperation, which was fruitful in the past, has been curtailed. In addition to our cooperation in the bilateral format, we closely worked with Washington in international anti-drug structures, including in preparing and holding such an important event as last year's special anti-drug session of the UN General Assembly in New York. And we also expect to cooperate with the American delegation during the 60th session of the UN Commission on Narcotic Drugs, which is due to open in Vienna on March 13.
We have noted that US President Donald Trump, in his March 1 speech to the Congress, repeatedly pointed to combating drugs as one of the top priorities for his Administration. We believe that his concerns over the present fairly dramatic situation with drug trafficking and drug abuse in America are paving the way for the more active involvement of the United States in a global anti-drug dialogue.
We are convinced that it is necessary to build such cooperation in order to move towards a drug-free world. This meets the vital interests of both the Russian Federation and other responsible members of the international community.

Statements by Vice Chairman of the US Joint Chiefs of Staff Gen. Paul J. Selva

We have noted statements made by Vice Chairman of the US Joint Chiefs of Staff Gen. Paul J. Selva, in which he told the US Congress that Russia had allegedly deployed a land-based cruise missile that violates the "spirit and intent" of the Intermediate-Range Nuclear Forces (INF) Treaty.
Such statements are certainly disappointing. As you know, this is not a new story. An informed person representing the military leadership of a major country should have known better. In particular, he could have finally explained what exactly they consider our "violations" to be and how they came to this conclusion.
However, this is not the first time that public accusations of Russia's non-compliance with the INF Treaty ​​are not backed up by any evidence. They seem to be following what has already become a familiar pattern – making claims and immediately evading any specificity.
We have repeatedly affirmed our commitment to the INF. We explained to the US side that all missile tests in Russia are in compliance with the Treaty. During all negotiations, consultations and meetings we asked them to list Russia's specific actions that are causing concern in Washington. Invariably, we got little in response except vague proposals to guess what they meant. This hardly seems like a serious approach.
Indicatively, though, the Americans are threatening to retaliate for Russia's mythical violations with certain steps of a military nature. The very fact that US representatives are persistently using such rhetoric, without bothering to bring any evidence or specific examples whatsoever, raises questions about the purpose of these false media narratives.
At the same time, the Americans stubbornly refuse to discuss our well-founded claims concerning their own compliance with the INF Treaty. I am referring to the Mk-41 vertical launching units in the Aegis Ashore ground-based anti-missile systems, which the United States has deployed in Romania and plans to deploy in Poland, and which can reasonably be considered cruise missile launchers. The large-scale programme of building ballistic missile targets for missile defence-related applications, with similar characteristics to intermediate-range and shorter-range missiles, is also causing a lot of questions. In addition, the United States produces and uses unmanned combat air vehicles, which fit the definition of ground-based cruise missiles contained in the INF Treaty.
Once again, we suggest abandoning this unsubstantiated rhetoric and public accusations without specific examples in favour of a substantive dialogue aimed at addressing existing concerns and clarifying potential points of disagreement. All the mechanisms are there. We are open to such a dialogue through the appropriate channels.
Question: How do you comment on media reports about the possible appointment of Jon Huntsman to the post of US Ambassador to Russia?
Maria Zakharova: We don't consider it necessary to comment on press reports because a standard procedure is launched whenever any country deems it necessary to have its ambassador replaced. Diplomatic practice exists for this purpose. Obviously this is a decision for the Administration in Washington to make. And the procedure is then launched via the appropriate channels.
Question: Could you comment on Russia's decision not to attend the March 22 meeting of countries, members of the anti-ISIS coalition, in Washington DC?
Maria Zakharova: As you know, the Syrian peace settlement has many formats. We are traditionally involved in some formats that have, among other things, been established through the efforts of the Russian Federation. We have never been involved in some formats, and this is not news or anything sensational. We simply did not take part in these meetings. I have just mentioned our efforts concerning the Syrian peace settlement. We are focusing on precisely these efforts.
Question: Recently, WikiLeaks published new documents. Mr Lavrov implicitly mentioned the possibility of the CIA hacking mobile phones and other electronic devices. What measures will Russia's Foreign Ministry take in this regard to prevent further hacking and opportunities for spying?
Maria Zakharova: The possibility of attacks by hackers, people who have mastered the latest technologies under the guidance of US intelligence agencies, or the impact of this process on mobile phones and other telecommunication devices was not so much mentioned by Mr Lavrov as it was pointed out in the WikiLeaks materials. It was these documents that made it clear that there is a strong possibility of such attacks. If this information is true, it is scary that this is what US intelligence agencies engage in and amuse themselves with. We learn about such facts from time to time, and previously this information had always been confirmed. However, there have always been attempts to remove this information from front pages, to "airbrush" it somehow and tone it down, but practically every time these facts were confirmed.
This is extremely dangerous, as first of all, it would mean undermining the existing system of international relations based on certain principles embodied in the UN Charter – namely, non-interference in internal affairs, and so on. There is a large number of documents related to information and digital security that are, among others, signed by US representatives. Therefore, if confirmed – and they had been confirmed earlier – such actions simply undermine the trust between countries that has been built with such great difficulty. Of course, this also means, to a great extent, undermining the relations between states in bilateral and multilateral formats.
But I think this is not the worst thing – because, as paradoxical as it sounds, many counties that have fallen victim to illegal wiretapping by the United States even took some pleasure in learning this information, which was a great surprise. Any state that has dignity and national interests should react to this unambiguously. I think the most horrible thing is that these hacking technologies have become public domain and may be used by the terrorist organisations we are talking about and trying to fight together (no one knows – maybe terrorists have already made use of these technologies). Earlier, the word "terrorism" meant a car rigged with explosives, suicide belts or suicide bombers. Today, the definition of international terrorism is much broader. It includes cyber-terrorism, recruiting supporters via the internet, and influencing the collective consciousness, targeting young people and children. It is scary that if confirmed, all this poses a great threat to the world and global security (and we would very much like the US intelligence community to give a comprehensive response to these documents with all the specific facts they have). The information component of international terrorism is a priority today. Of course, equally important are examples of chemical weapons use by terrorists. Today terrorists make use of the whole range of technologies to promote their ideology and reinforce their actions, and this is really scary.
Question: Can we say that recent reports about the alleged US actions in cyberspace are reason to end the information war against Russia?
Maria Zakharova: This would have been possible if the global media – the global information corporations that call the information tune around the world – were objective. But expecting objectivity from them is absolutely unrealistic in principle. You see what is going on in the United States. The media have turned from a mechanical instrument of political struggle into an active participant of the information war. These are two different things. The information such as you mentioned is unlikely to be used for an objective analysis of the situation. We have pointed to a very dangerous trend: the public is losing trust in the global media at a time when there are objective data that need to be carefully analysed. Unfortunately, these data are often hushed up and disregarded, while fake news about hackers and their influence on elections and internal political processes are published on front pages.
Vice Chancellor and Federal Minister for Foreign Affairs of Germany Sigmar Gabriel, who was in Moscow yesterday, said clearly that the federal government of Germany and German officials have never blamed Russia and never accused it of fabricating fake news and interfering in election campaigns. As he said, the responsibility for this rests with the German media. He stressed that he only speaks on behalf of the German government.
Question: Do representatives of the US administration and the State Department make any attempts to restore relations by acting in a non-public field?
Maria Zakharova: What do you mean by a non-public field? Foreign policy assumes a certain amount of publicity. Are you talking about behind-the-scenes talks? We are doing regular diplomatic work with regard to both the United States and other capitals and countries. We cannot keep adjusting to the fluctuations coming from Washington. We are based on the approved Foreign Policy Concept. In our work, we use methods and traditions that were laid down by the history of Russian foreign policy and are based on international law and basic principles of international relations. We are trying to work in a normal and constructive manner. Once again, the methods of our work are open and clear: negotiation diplomacy, meetings, contacts, etc.
Question: Can you comment on the Constitutional Court in South Korea confirming the impeachment of President Park Geun-hye? You have already very harshly commented on the deployment of a missile defence system in Europe. It became known that parts for the THAAD anti-missile system were brought to South Korea. It is planned that the work to deploy this system will be completed in May. China in this regard strongly criticises the government of South Korea and is imposing sanctions. What can you say on this account?
Maria Zakharova: We closely follow the developments in South Korea, where the Constitutional Court approved the decision of the National Assembly on the impeachment of the head of state on March 10. We look forward to seeing the internal political crisis in that country overcome as soon as possible. We are confident that it is unlikely to be able to affect the level of Russian-South Korean relations in any way.
As for deploying the US missile defence system around the world, our position is known. Not so long ago we issued an additional comment on this matter. Of course, this undermines regional and international stability in many respects. Our position on this issue is clear, and we make it so to our partners, to the people with whom the head of the Russian Foreign Ministry meets. We voice it publicly. Our position is clear, and it has not changed.