Excerpts from the Briefing by Foreign Ministry Spokesperson Maria Zakharova
February 3, 2017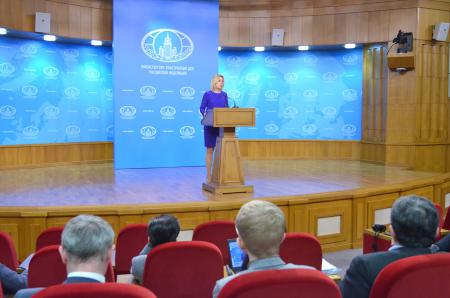 Possible meeting between the Russian Foreign Minister and US Secretary of State Rex Tillerson
With Rex Tillerson sworn in as US Secretary of State Thursday, we were asked to comment on the possibility of a meeting between the Russian Foreign Minister and the US Secretary of State. I would like to inform you on where we currently stand on this.
Russian Foreign Minister Sergey Lavrov has sent a message of congratulations to his new American counterpart Rex Tillerson on his appointment. The message reads in part, "US-Russian relations continue to play a special role in the modern world, remaining a key factor in ensuring strategic stability and security. I look forward to a constructive dialogue with you on the full range of issues on the bilateral and international agenda. I am confident that, guided by the principles of equality and balance of interests, our countries will be able to resume pragmatic cooperation in various fields, and make a significant joint contribution to resolving the most pressing global and regional problems."
I would like to make it clear that we have no schedule for contacts yet. When we have the relevant information, we will certainly let you know. There have been questions regarding the possibility of a meeting between the foreign ministers of the two countries on the sidelines of various international events that are planned in February. We are not ruling this out. As soon as we have specific information on this matter, we will let you know.
Answers to media questions:

Question: Last December, the Armenia-Azerbaijan Platform for Peace civilian initiative was launched in Baku. This project involves public activists from Armenia and Azerbaijan and politicians, with representatives from other countries also joining in. What does the Foreign Ministry think about this form of citizen diplomacy? Can it help resolve the Nagorno-Karabakh conflict? Can you comment on a statement by US Secretary of State Rex Tillerson that the conflict threatens US national security interests? How effectively can Russia and the United States cooperate on this issue?
Maria Zakharova: Regarding the establishment of the Armenia-Azerbaijan Platform for Peace initiative, I would like to reply in general that such venues and initiatives do exist. We praise the role of citizen diplomacy in helping resolve conflicts. The most important mission of citizen diplomacy is to convince public circles of conflicting parties that there is no alternative to a peaceful search for mutually acceptable compromise solutions.
We believe that any initiative should accomplish this objective first of all. We welcome any public initiative stipulating this goal.
Regarding the statement by US Secretary of State Rex Tillerson on Nagorno-Karabakh, this is certainly his opinion as a US representative. While not commenting on the position of the United States, which has a right to independently evaluate threats to its national security, I would like to say that we should proceed from the assumption that the conflict itself mostly threatens the security, stability and future development of Armenia and Azerbaijan.

Question (translated from English): Do you expect any other stance from the new United States Ambassador to the United Nations that would differ from the one set forth yesterday when she accused Russia of aggression in Donbass and said the sanctions would not be lifted until Russia returned Crimea to Ukraine?
Maria Zakharova: Russian Ambassador to the United Nations Vitaly Churkin answered precisely this question yesterday, while discussing the statements of the United States Ambassador to the UN. I can add nothing else here because he has already commented on this statement.
As I have said, contact with the United States is still forthcoming. Let's wait until it is established, after which the sides will be able to discuss a number of issues, and then we can comment on it.
Question: The defence ministers of the United States and South Korea, who met in Seoul today, have reaffirmed their plans to deploy the THAAD anti-ballistic missile system in South Korea regardless of Russia and China's protests. Can you comment on this meeting? What will Russia do if these plans are implemented this year?
Maria Zakharova: I will not comment on this meeting, because it was held by defence ministries. As for the deployment of ballistic missile defence systems, Russia's position on this issue has been presented more than once and has not changed.
Question: What does the Russian Foreign Ministry think about President Trump's new executive order to ban the entry of people from some countries into the United States? What impact might this order have on international terrorism?
Maria Zakharova: We have said before that we need to cooperate with the United States on this issue [terrorism]. It is a fundamental position that does not depend on who sits in the White House. We have taken note of the new US administration's intention to give this international issue priority attention. We applaud this intention and will do our best to resume counterterrorism cooperation with the United States, including Russian-US cooperation.
Counterterrorism cooperation was curtailed through no fault of ours but due to the conscious decision of the Obama administration. Our cooperation was reduced to a minimum, if not zero, in the existing formats, including between related agencies and within special bilateral institutions – I am referring to the Bilateral Presidential Commission, as well as in international organisations.
We regard cooperation in this area as extremely important, especially since we have made considerable progress and created the necessary infrastructure for cooperating with the United States.
As for your first question, it is a US decision.
I would like to remind you that a Russian delegation led by Foreign Minister Sergey Lavrov was in the Middle East, or more precisely, it attended talks in the United Arab Emirates. I believe it is important to listen to the opinion of the regional countries on this issue because it directly concerns them. A news conference held there was attended by Arab League Secretary-General Ahmed Aboul-Gheit and UAE Foreign Minister Abdullah Al Nahyan, who said that they viewed this US decision as a temporary measure aimed at settling current problems. It was in this spirit that they talked about it.